Online RN to MSN Programs: Building a highly educated nursing workforce
Healthcare has, in recent decades, taken on a complexity that yesterday's practitioners couldn't fathom. This is a result not only of the needs of the patient population but the body of treatments – and information —available.
There is a substantial amount of research out there about the value of a highly educated nursing workforce in improving outcomes; among them are the well-respected Robert Wood Johnson Foundation and the American Association of Colleges of Nursing. The AACN has worked toward increasing the percentage of frontline nurses with bachelor's level education and the number of very highly educated nurses in roles such as clinical nurse leader, nurse educator, and nurse practitioner.
Wherever one is at on the educational path, there are organizations vested in making degree completion convenient enough that one can pursue it while continuing to meet other obligations (such as continued employment in professional nursing). Among the options are online RN to MSN programs. A nurse does not need to have a BSN in hand to start working toward their master's. The RN to MSN option can be significantly quicker than pursuing bachelor's and master's degrees separately.
Most coursework can be completed at a distance. There are plenty of legitimate, well-respected schools offering online learning. Some research is in order, however. Nursing degrees that do not result in a higher level of licensing are often not regulated by boards of nursing. However, accreditation is important. As one climbs the ranks, both institutional and program-specific accreditation play a role. Institutional accreditation assures that one's degree will be recognized as such; regional accreditation is often considered more academically rigorous than national accreditation and can be important for entering higher level degree programs.
Master's Level Nursing Roles
There are choices to be made at different points along the way. RN to MSN programs do not teach an identical curriculum – there is far too much breadth to the nursing discipline. The program may prepare nurses for any of several roles. There is enough of a common core, though, that those who want to take on other roles later may find a short path. (A person who was moving from a macro 'systems' focus to an advanced clinical role would have a lot of content to master. Some role changes, though could be completed quickly.)
The RN to MSN program may offer several distinct tracks such as the following:
Nurse Leader
Nurse Educator
Nursing Home Administrator
Family Nurse Practitioner
There may be a generalist track. The student may have the opportunity to tailor the curriculum to meet his or her career goals. Elective coursework could include epidemiology, care coordination, compliance, and/or teaching.
Competency-Driven Curriculum
High-level education programs are most often accredited by the Commission on Collegiate Nursing Education (CCNE); they are designed to meet AACN Essentials. The 2011 MSN Essentials cover nine areas. All master's level nurses are expected to have competencies across areas, though the level of expertise from domain to domain will vary. The following are among the Essentials:
Background to practice
Organizational/ systems leadership
Informatics/ healthcare technology
Clinical prevention/population health management
Quality improvement/ safety
<!- mfunc search_btn -> <!- /mfunc search_btn ->
Background to practice recognizes the disciplines which nursing draws from or intersects with. Content could include offerings as diverse as genetics and genomics, bioethics, and healthcare economics. Prevention and population health content could include epidemiology, biostatistical analysis, global health models, social determinants of health, alternative therapeutics, and behavior management, among other concepts. Quality improvement content could include quality improvement models and tools, error analysis, simulations (disaster management, codes) and participation in patient safety rounds.
Master's level nurses who will be taking on direct care roles (for example, care coordinator or case manager) can expect advanced coursework in physiology/ pathophysiology, health assessment, and pharmacology in a program like a Master's in Nursing Administration.
The student will have practical experience. There is a possibility that this will take place at the nurse's own worksite, but the goals and activities will be distinct from usual work activities. Master's level clinicals include experiences like translating evidence to practice, leading interdisciplinary teams, designing innovations, and working toward quality improvement.
Advanced practice represents a more narrow focus than direct care. Future nurse practitioners will develop skills carrying out physical examinations, prescribing medications, diagnosing illnesses, and using resources to inform follow-up care. In some cases, the RN to MSN student will achieve an advanced practice credential. In other cases, the master's coursework will lay the groundwork (and perhaps result in an intermediate certification), and the nurse will complete additional coursework and clinical experiences at the doctoral level. Many, but not all, advanced clinical training programs now confer Doctor of Nursing Practice (DNP) degrees.
Nurse practitioners help fill a big gap in the healthcare system: that of primary care provider, but other graduate roles are also vital to patient care. One is that of nursing educator. Nursing shortages are driven by factors other than lack of interest in nursing. Schools often struggle to find the resources to produce the number of skilled nurses that their own communities will need in the coming years; lack of adequate faculty is a frequently cited 'bottleneck' issue. Educators also have a crucial role in staff development. An experienced RN may be just a program away – even if he or she doesn't currently hold a BSN!
Additional Reading
Master's in Nursing: A Transition to New Roles
<!- mfunc search_btn -> <!- /mfunc search_btn ->
Find Nursing Licensure Requirements in Your State: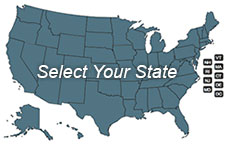 Learn about becoming a Registered Nurse, LPN or LVN in your state:
To View Full U.S. Map Click Here.