RN to Physician Assistant: Not the most common progression, but a quality option
A person who has proved himself or herself as an RN has brought multiple healthcare careers within easier reach. The most obvious choice may be advanced practice nursing. However, it is far from the only one. A nurse may instead opt to become a physician assistant. Here, too, the nursing background can prove very useful – starting with program entry.
Multiple organizations have placed physician assistant among the nation's top jobs! Like APRNs, physician assistants are independently licensed providers who carry out duties traditionally carried out by physicians; they can diagnose conditions and prescribe medications and other treatments. They work under physician supervision. They may have different specialties.
<!- mfunc feat_school ->
Featured Programs:
Sponsored School(s)
<!- /mfunc feat_school ->
The surgical specialty comprises a substantial majority – this is an area of practice more frequently obtained by a PA than an NP. In the early years of physician assistant practice, in fact, there were two main types of physician assistant, generalist and surgical, each with their own educational standards. Since the 90's, though, physician assistant preparation has been broader: offering preparation for general and surgical care, including clinical rotations in different settings and with different populations.
An RN can't expect to locate dedicated RN to PA bridge programs. However, he or she may be at a considerable advantage when it comes to admission. Many programs require previous healthcare experience, and they can be selective about the type. Some accept volunteer hours. Others admit only those with paid nursing experience. Some programs give preference to individuals with particular types of background such as RN and Emergency Medical Technician or paramedic.
Whatever the formal admission requirements, one can expect a high level of selectivity. A person who has made himself or herself very competitive may find that there are plenty of options for crossing that bridge.
PA programs are time intensive. A majority are full-time, and about a year is spent out in the field. It may be difficult to work as a nurse while in PA school. So is this the path to take for more advanced practice and a very substantial increase in salary? It depends. There is a geographic element to scope of practice. Healthcare professionals in certain areas of the nation may find they have more opportunities with a physician assistant license. In others, though, the trend will reverse.
<!- mfunc search_btn -> <!- /mfunc search_btn ->
Physician Assistant Program Prerequisites
Prerequisites are an area of potential advantage for a person already licensed as a nurse (at least a small one). Nurses do most of their prerequisites at the RN level. PA programs generally expect students to enter with a bachelor's degree already in hand and to have taken a number of foundational courses. A person with a Bachelor of Science in Nursing will likely have completed more of the prerequisites than a person who has done his or her bachelor's in an unrelated field. He or she will have had foundational coursework in natural sciences such as anatomy and physiology and chemistry and likely will have a strong foundation in research and statistics as well. Psychology is a common prerequisite for both nursing and physician assistant.
There is a good deal of variation, though, from program to program. Some PA programs have a more science-heavy list of prerequisites. Many do not require the nutrition course that is typically required for even lower level nursing. However, some do. It can be a good foundation regardless. (Lack of nutrition coursework has been a frequent criticism of the medical model – this is one area where a doctor may have less preparation than a nurse.)
The RN is not necessarily at an advantage over the person with the 'hard sciences' major with regard to prerequisites. However, when the totality is considered – including healthcare experience – he or she may well shine. If one wants to bridge from RN to PA, it pays to research programs carefully and know the profile of the typical admitted student and/ or what backgrounds individual programs value most. The title or track won't tell the full story!
What to Expect While Enrolled in a Physician Assistant Program
The Accreditation Review Commission for the Education for the Physician Assistant is the accrediting agency for PAs. PAs must graduate from accredited programs in order to practice in the United States. This is the case for everyone – even if they're physicians somewhere else. (An accredited program, though, may choose to grant foreign-educated physicians or physician assistants advanced placement within their program.)
Physician assistant programs take about three academic years of graduate level study though the timeframe varies; the average time has been alternatively placed at 25 or 27 months. The education typically confers a master's degree. As of 2017, there are still some programs awarding bachelor's degrees, but they are transitioning. The University of Washington, for example, notes that beginning in 2018, there will be some changes in their application process; all applicants will need to meet prerequisite requirements for their master's level program.
A PA student can expect to spend about a year completing clinical rotations in a variety of settings. The amount of time won't be reduced because of previous healthcare experience, but a registered nurse may enter with confidence, having already spent some time doing rotations in a variety of units.
Combined NP/ PA Education
For the healthcare professional who wants the most comprehensive and versatile education possible – and who wants to poise themself for many different options – there is a combined nurse practitioner/ physician assistant option. There is indeed a common base. Pursuing both disciplines can be just a little more time consuming than selecting one.
Additional Information
RN to Nurse Practitioner Programs
Additional information is available from the following organizations:
Find Nursing Licensure Requirements in Your State: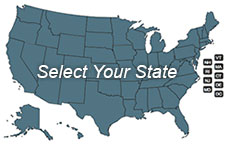 Learn about becoming a Registered Nurse, LPN or LVN in your state:
To View Full U.S. Map Click Here.