How to Become an LPN: Start Here for Licensed Practical Nurse Requirements
Some states call them practical nurses or LPNs; others call them vocational nurses or LVNs (LVN in Texas and California). They're the same: entry level nurses with a practical education.
Prospective LPNs first complete high school, then do about a year of full-time nursing education. The program includes theory and clinical practice in core areas like medical, surgical, pediatric, and obstetric nursing. It takes some advance planning to get into a program. A nursing candidate may need a background check and even a physical before beginning her studies. Sometimes there's an aptitude or basic skills test.
The Importance of Attending a Board Approved School
In order to be licensed, a nurse must complete a program that is board approved. That means it must have gone through an approval process with the licensing agency in its own state. Nursing boards respect the approval process carried out in other states, so a graduate can generally test, and become licensed, in a different state than the one where she attended school.
The danger is in attending a school that is not approved; some boards have issued warnings about unauthorized programs. State boards generally have a list of approved programs.
Some nursing programs have accreditation through the NLNAC. This is not universal – and not nearly so important.
Alternate Pathways to Becoming and LPN
Some states have alternate pathways to licensure as an LPN. They may allow candidates who began higher level professional nursing programs, but did not finish – or who completed higher level programs, but did not pass the licensing exam – to test as practical nurses. Some accept equivalent training done through the military.
Just because one state will accept a candidate's training, however, it doesn't mean another will. Some states will not license a candidate who did not complete an approved LPN program even if she's been working as a nurse elsewhere.
<!- mfunc search_btn -> <!- /mfunc search_btn ->
The NCLEX-PN Licensing Exam
Sometime after graduation, the candidate will need to pass the NCLEX-PN; this same test is given around the country. Each state has the responsibility of authorizing candidates to take the exam.
A nursing student can sometimes begin the application process before graduation. She turns in an application to the board in her state, or the state where she wishes to become licensed. There may be several steps to the application process. The candidate may need to have her fingerprints done. She may also need to get a notary signature. There will be at least a small fee assessed.
The candidate will pay a fee (currently $200) to register for the licensing exam. Once she's authorized, she'll be able to schedule her own test. It's computer adapted, and given at centers around the country. The candidate does not need to test in the state where she is seeking licensing. What she does have to do is make sure that she schedules the exam during the window granted by her authorization to test.
If a candidate does not pass the NCLEX-PN on her first attempt, she can try again. However, she will have additional fees. Some states allow candidates to work under a temporary permit while they are waiting to test, but rescind the privilege for those who don't pass the first time around.
The examination is usually the last step before licensure. The successful candidate may receive her license in the mail, or she may be asked to verify it online.
The LPN may need to apply separately for some privileges. Some states require LPNs to be certified to do IVs.
Endorsement Licenses
Once an LPN has a license in one U.S. state, she will usually find it easy to be licensed in other states, provided she has a certificate from an approved program and has maintained a record free of disciplinary issues.
How to Become an LPN/LVN in Your State: Select Your State for Specific Requirements
Find Nursing Licensure Requirements in Your State: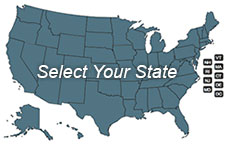 Learn about becoming a Registered Nurse, LPN or LVN in your state:
To View Full U.S. Map Click Here.