Nursing License Requirements in Georgia – A Faster Way to Locate Licensure Information
There are 110,702 registered nurses and 36,534 practical nurses licensed in Georgia as of April 2, 2013. A nurse may be licensed by either of two agencies, depending on education and practice level. Registered Nurses (RNs) are licensed by the Georgia Board of Nursing. Licensed Practical Nurses (LPNs) are licensed by the Georgia Board of Nursing as well. In each case, the licensing process involves an approved course of study, a national exam, and a background check. There are some differences in the process, however, which are outlined below.
Georgia is not a member of the nurse compact. LPNs and RNs licensed in other jurisdictions are both eligible for licensure by endorsement, but again there are some differences in requirements.
<!- mfunc feat_school ->
Featured Programs:
Sponsored School(s)
Sponsored School(s)
All school search, finder, or match results, as well as colleges and universities displayed as "Featured School(s)" or "Sponsored Content" are advertisers that compensate us for placement on this site. The resources, editorial content, and school evaluations published on this site are developed independent of the schools that advertise here.
<!- /mfunc feat_school ->
Select the type of Nursing License you are seeking:
The Georgia Nurses Association is not involved with the licensing process, but provides additional resources for nurses and nursing students. Students are eligible to compete for scholarships through this organization.
LPN License Requirements in Georgia
LPN Education
A candidate can start by enrolling in a state approved practical nursing program. A list of approved Georgia practical nursing programs can be found on the Board site (http://sos.ga.gov/index.php/licensing/plb/45). Programs approved by other state nursing boards are also acceptable (so long as the requirements are at least as high).
Read "Choosing an LPN Program in Georgia" to gain a better understanding of the LPN program education requirements and process.
NCLEX-PN
Temporary licenses are not issued to examination candidates, so a student may want to take steps toward licensure immediately upon graduation. This will involve getting fingerprints done and taking the NCLEX exam. The background check consent form and information for fingerprinting, including codes, can be downloaded from the Board site (http://sos.ga.gov/cgi-bin/plbforms.asp?board=13).
<!- mfunc search_btn -> <!- /mfunc search_btn ->
The Application Process
Application by examination costs $40 (http://sos.ga.gov/acrobat/examboards/lpn/fee_schedule.pdf). The fee is assessed again if a candidate needs to retake the exam. A candidate must also pay the testing company (http://www.pearsonvue.com/nclex/).
If a candidate does not pass the examination upon first attempt, the Board will send an application for reexamination. Candidates must wait 45 days between attempts. A candidate must pass the exam within five years of program completion.
Out-of-State LPN Candidates in Georgia
Candidates who completed their education outside Georgia may apply by endorsement or equivalency depending on whether they are currently licensed in a U.S. jurisdiction and have already taken the NCLEX-RN.
LPNs from other states are eligible for interstate endorsement if they meet all requirements. This includes a practice requirement: three months or 500 paid hours of practice earned at some point during the preceding five years. This requirement does not apply to LPNs who are applying within one year of the time they graduated or were first licensed. There is an employment verification form in the application packet (http://sos.ga.gov/acrobat/PLB/13%20LPN%20Endorsement%20Application.pdf).
If a candidate has not met the practice requirement, a refresher/ re-entry course will be required. The course must have been taken within five years of application. The length of the refresher course will depend on the length of time the nurse has been out of active practice.
LPNs who are applying by endorsement must also submit license verification. The form is included in the application packet. The LPN fills out the top part of the form and then submits it to the applicable Board(s).
LPNs who graduated from programs in other nations must have their education evaluated for equivalency and must also pass a test of language proficiency. There are several to choose from: TSE, TWE, or TOEFL. LPNs who have not yet taken and passed the NCLEX should use the equivalency application (http://sos.ga.gov/acrobat/PLB/13%20LPN%20Application%20By%20Equivalency.pdf).
If an endorsement candidate is determined to need more clinical experience, a temporary permit may be issued.
The cost to apply by endorsement is $75.
RN License Requirements in Georgia
RN Education Requirements in Georgia
A prospective RN must enter a traditional or nontraditional professional nursing program. The Board has separate requirements for each. Nontraditional programs are for those already licensed as LPNs or who have training as paramedics or medical corpsmen in the military. A preceptorship will be required of nontraditional applicants who do not have sufficient pre-licensure experience. The length depends on the amount of experience and how recent it was.
"Choosing an RN Program in Georgia" offers several additional resources to learn about selecting an appropriate professional nursing program.
Details can be found in the nontraditional application, found in the "download forms" page of the Board website. Graduates of nontraditional programs will submit transcripts from their original education (e.g. LPN) as well as their RN training.
Nursing education will be approved if it meets all Georgia standards even if it is completed in another jurisdiction. The Board has published a list of RN programs approved in Georgia (http://sos.ga.gov/plb/rn/RN%20School%20Directory.pdf). It is current as of March 2013. A list of NCLEX-RN pass rates by school for the years 2009 – 2012 is available (http://sos.ga.gov/plb/rn/NCLEXSCORES.pdf). Acceptable NCLEX pass rates are among the requirements for programs to maintain their approval status with the Georgia Board. The Board defines acceptable performance as having 80% of graduates who are taking the test for the first time pass.
The RN Licensing Process in Georgia
The licensing process has several steps. The first is initiation of the background check. The ORI number is listed as GA922931Z, but candidates should check that all information is up-to-date before initiating the process. Background check registration can be done online (http://www.ga.cogentid.com).
It will also be necessary to register with Pearson, the company that administers the NCLEX-RN exam (http://www.pearsonvue.com/nclex). This should be done promptly. The Board notes that if this step has not been done at the time the application is reviewed, it will result in a delay in processing.
RN candidates who are applying by examination may now complete the application process online as well (http://sos.ga.gov/index.php/licensing/plb/45/licensure_as_a_registered_nurse).
Official transcripts are required. Fingerprinting is a licensing requirement. There is a separate process for examination candidates who are not living in Georgia.
There is a $40 charge to apply by exam (http://sos.ga.gov/index.php/licensing/plb/45/licensure_as_a_registered_nurse). An additional $200 is paid to the examination company.
A candidate who fails the licensing exam must re-apply to the Georgia Board. Candidates must pass the exam within three years of graduation.
Out of State RN License Candidates
Endorsement candidates for RN are expected to have at least 3 months (or 500 hours) of work experience unless they graduated in the preceding four months. If they do not meet experience requirements, they will need to have a refresher course.
Endorsement applicants should download application forms and any applicable supplements (http://sos.ga.gov/cgi-bin/plbforms.asp?board=38). They should include an email address in the application; that way, the Board can provide information that will allow them to track the status of their application. There is a $60 fee to apply by endorsement.
There is some additional paperwork for endorsement candidates who completed nontraditional programs. Forms can be downloaded in PDF form.
Foreign candidates are eligible for licensing, but there are additional requirements. They must have educational equivalency evaluated. They must also demonstrate English proficiency.
Resources
Georgia Board of Nursing Licensed Practical Nurses
The Georgia Nurses Association
<!- mfunc search_btn -> <!- /mfunc search_btn ->
Find Nursing Licensure Requirements in Your State: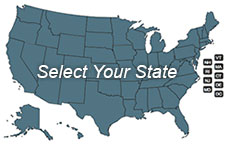 Learn about becoming a Registered Nurse, LPN or LVN in your state:
To View Full U.S. Map Click Here.