A Male CNA: Brad Justin's Perspective
Brad Justin, CNA. It's a title that feels good to wear. Justin has had various forms of employment, at one point having worked the Alaskan fishing boats. Now he provides direct care services for people with developmental disabilities, dementia, and physical challenges such as those brought on by cancer.
Justin trained as a Certified Nursing Assistant and then went to work for a home health agency. The year he spent working for an agency provided him with valuable experience. Ultimately, though, he found more flexibility and more reward in self-employment.
He's not without professional support. The most fortuitous event in his career, he recounts, was finding a private care givers' association where members share tips and referrals and where they organize themselves into 'care teams'. A recent passion has been taking clients on outings, which can be anything from a walk around the neighborhood or some time at the local library to a trip to Discovery Park. Sometimes only a brief outing is feasible. With a younger adult whose challenges are cognitive, though, a whole day hike could be a possibility. Justin hasn't done it yet, but he's hoping to.
Finding a private care givers' association where members share tips and referrals was a fortuitous event in his career.
Surprisingly, the job can facilitate connection with community members as well as clients. Justin is conscious of living in a society that emphasizes 'stranger danger'. Out in the community in the role as care giver, he can find himself conversing with families: young and old alike.
Nursing Pathways
CNA training can be brief. Justin progressed from classroom instruction to clinical experience in just a few weeks. Much of the learning, he says, takes place on the job. There's a good deal that he brings to the role besides health training. He cites meditation retreats and nonviolence training. He was 37 when he became a CNA. It helped to have some maturity, both professionally and spiritually. The latter, he feels, can help a person go beyond the 'yuck factor' to human connection.
Justin progressed from classroom instruction to clinical experience in just a few weeks.
Self-employment can also take a level of maturity. Those wanting to map out their own paths in the health professions can face obstacles beyond needing to determine when a day outing is feasible, and for how long. Individual states set requirements for health service providers. They may require an extra certification to work as a home health aide. They may place greater limits on the services one can provide in a self-employment context. It takes time, too, to build a clientele. It would be hard, Justin says, to find full-time work doing what he is doing. As it is, his schedule gives him the flexibility to take on more responsibilities at home while his wife busies herself with graduate studies.
The Gender Factor
One thing that hasn't proved an obstacle: gender. Immersed in the work, it can be easy to forget that, as a male and as a nursing assistant, he is part of a particular demographic group called "male nursing assistant". Once, before an informal care team meeting, team members brought up the fact that he was the only male; they wondered if he felt comfortable. He did. Healthcare, he says, is about caring, not gender. "When a job is your passion or calling," he says, "gender becomes less relevant. Especially, when you work in the helping professions, surface appearances are not as important–whether clients or coworkers."
One thing that hasn't proved an obstacle: gender.
There are some practical concerns when working with clients. Justin felt a little unsure of himself when he first took on a role as overnight nursing assistant with a female client. Would her family feel comfortable with the situation? They did. "Once I got started with the work," he says, "It all felt perfectly natural. Obviously, there are boundaries one must take into account when working with opposite genders, but in this instance and others, I was pleasantly surprised how trust was established so quickly."
Where to start? Click Here to learn about the Nursing Assistant requirements in your state.
Read about Brad Justin's experience providing Dementia Care in the COVID-19 era.
Find Nursing Licensure Requirements in Your State: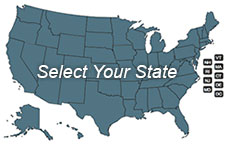 Learn about becoming a Registered Nurse, LPN or LVN in your state:
To View Full U.S. Map Click Here.