The Pediatric Nurse
The Institute of Pediatric Nursing has produced posters with tiny tots pointing straight at the viewer. "You would be an amazing pediatric nurse," they declare. Another poster, designed to attract new nursing talent, states that it's an old myth that a nurse needs to start out in adult med-surg nursing (http://ipedsnursing.org/). Children are, after all, not small adults.
"You would be an amazing pediatric nurse." ~ Institute of Pediatric Nursing
Pediatric nurses work in settings that provide medical care to children and adolescents; their patients range from infants to very young adults. Often the work setting is the pediatric ward of a hospital. Sometimes it's a specialty hospital that serves only pediatric populations. The hospital may have various specialized pediatric units, for example, cardiovascular intensive care.
<!- mfunc feat_school ->
Featured Programs:
Sponsored School(s)
<!- /mfunc feat_school ->
Ambulatory care represents another option. Some nurses work in traditional pediatrician's offices or outpatient pediatric care. They may also work at pediatric specialty clinics. Children's Health in Dallas, for example, has a cystic fibrosis clinic. Phoenix Children's Hospital has a comprehensive survivorship clinic for children who have had cancer.
Pediatric nurses understand how to work with families as well as children. Often they need to provide parents with education about how to continue care at home.
They can be innovators as well as caregivers. Boston Children's Hospital, for example, has an Innovation Acceleration Program. Among the things that Boston Children's nurses are credited with: creating a Mylar head wrap to warm babies post-surgery (http://www.childrenshospital.org/centers-and-services/programs/f-_-n/nursing-program/nursing-lead-innovations).
Preparing for a Career as a Pediatric Nurse
Nurses who enter the field with a Bachelor of Science in Nursing typically find the most opportunity, though limited opportunities exist as low as the LPN level. While the initial professional nursing education is generalist – preparing a person to provide nursing care across the lifespan — individuals can find opportunities to tailor their experiences, both at the student stage and in the time immediately following graduation. Some premier institutions (for example, Children's Hospital of Michigan and Children's National in DC) offer externships or other training opportunities for nursing students.
Residency is a transition to practice program that typically includes preceptorship and additional role-specific training. They are not mandatory but are becoming common in hospital settings. The Institute of Pediatric Nursing has included a list of pediatric-specific residencies, representing 18 states and the District of Columbia (http://ipedsnursing.org/residency-success). Some large states boast multiple residencies. Bayada Home Health offers a pediatric residency that crosses state lines.
Most of the featured residencies are at children's hospitals. The list does not represent all that is out there or may potentially come open. However, it's a good starting point for those who want to start their careers working with kids.
Prospective residents may need varying degrees of flexibility with regard to unit(s). The matching process varies. Children's Hospital of Colorado asks applicants to identify their top three areas of interest from a list that includes general medical, hematology/ oncology, cardiac step down, behavioral health, and ambulatory/ clinic, among others. Phoenix Children's Hospital offers two tracks: acute care and critical care. Critical care includes emergency department as well as pediatric intensive care, neonatal intensive care, and cardiovascular intensive care.
<!- mfunc search_btn -> <!- /mfunc search_btn ->
Pediatric Skilled Nursing and Home Health Settings
Children who are technologically dependent and/ or very fragile sometimes receive long-term care through pediatric nursing facilities or extended care hospitals. These can be very different from nursing homes serving adult populations. Exceptional Care for Children provides skilled nursing services such as trach and ventilator care, peritoneal dialysis, feeding tubes, IVs, and wound care (in addition, to physical therapy and other therapies). School-aged children attend school when possible; those whose airway needs can't be managed in a public school setting attend school in-house. The building includes multiple murals and themed settings like the Arctic room.
In many cases, children with skilled nursing needs are cared for at home. Home health is an area of high need, one that can fare poorly in times of shortage. One issue is salary. Salaries vary from place to place, but the per-dollar amount does tend to be less. Many nurses, too, feel unsure of themselves when they're working alone, away from the supports of a large facility. Not all places have pediatric skilled nursing facilities to provide transitional care. Sometimes this means children are left in hospitals beyond the time they're able to go home — long past the time their parents are ready to have them there.
A prospective employee may want to consider the strength of the orientation program as well as what he or she brings to the table. Bayada Pediatrics, a specialty Bayada Home Health practice, offers a comprehensive program with a four-week intensive training period that includes mentoring, preceptorship, and lab experiences, followed by nine months of residency out in the field. A BSN is not needed. In fact, there are opportunities here at both the LPN and RN levels.
Pediatric Specialty Certification
The RN licensing exam is generic. Many nurses, though, use third party certifications to validate their pediatric nursing competence.
The Pediatric Nursing Certification Board offers Certified Pediatric Nurse (CPN) certification (https://www.pncb.org). A nurse applies only after he or she has had considerable experience in pediatric nursing. The nurse may qualify on the basis of 1,800 hours accrued during the prior two-year period. A more experienced nurse may qualify with as little as 1,000 hours in the most recent two year period.
<!- mfunc search_btn -> <!- /mfunc search_btn ->
Find Nursing Licensure Requirements in Your State: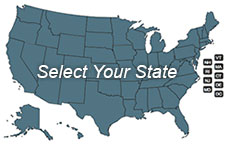 Learn about becoming a Registered Nurse, LPN or LVN in your state:
To View Full U.S. Map Click Here.