Online Family Nurse Practitioner Programs
Family practice nurse practitioners are in-demand independently licensed providers. Many people utilize them as their primary care providers. Family nurse practitioners are educated at the master's level or higher. They carry out advanced assessments, make diagnoses, and prescribe and monitor treatments, consulting with other practitioners as necessary. Scope of practice varies from one state to another.
Organizations at different levels are vested in facilitating progression to this level of practice: hence accredited online learning programs. Nurse practitioner credentialing requires advanced clinical experience, patient care that must be completed in an actual healthcare setting. In many cases, though, most of the program can be completed online. This makes it easier for adept nurses to pursue additional education. This in turn can mean that rural clinics and other health practices get the practitioners they need.
Choosing a Family Practice Population Focus
Family practice is a very common population focus but it is one of a number of specialties. It is designed primarily for practice in ambulatory settings – that is, ones where people enter and leave on the same day.
Vanderbilt University notes the following among the possible work settings:
Health departments
Rural health clinics
Ambulatory care centers
Migrant clinics
Private practices
Selecting family practice does not mean one will always be limited in the positions he or she can compete for. A student who completes an advanced practice degree can complete an additional post-master certificate for a new specialty/ population focus later.
Online FNP Program Admission Standards
Students typically enter nurse practitioner programs with bachelor's degrees in nursing; some have master's. (An exceptional student who is not yet a nursing professional but has a degree in another field may find schools that will accelerate the initial degree.)
It doesn't take as many academic accolades to become a nurse practitioner as a physician, but programs are competitive. Both professional experience and academic proficiency are valued.
The student will generally need to demonstrate that he or she has a license to practice professional nursing. Some programs require recent nursing experience.
Most prerequisites will have been included in the bachelor's nursing program. The hiring committee may, however, look for a recent course in statistics. Schools typically set the minimum GPA at 3.0, though exceptional candidates may be considered with less. The GRE or other admission test may be required.
The prospective student will submit several references. He or she will need articulate a clear vision in a statement.
For a competitive program, one may need to go well above stated minimums.
There is a state by state element to advanced practice requirements and to the school and field placement approval process. Some programs will not be available in some states; this information is typically displayed on the website.
<!- mfunc search_btn -> <!- /mfunc search_btn ->
Progressing through the Program
Like other nurse practitioners, family practice students take coursework in advanced physiology and pathophysiology, advanced assessment, and advanced pharmacology. Their specialty includes women's health and care of children. Practitioners learn how to incorporate the latest research and how to carry out their own inquiry. While the focus is on clinical work, students also learn to affect change on a systemic level.
The National Organization of Nurse Practitioner Faculties (NONPF) is an influential organization; it periodically revises and publishes expected competencies. Some competencies are considered core; they are developed across nurse practitioner programs. Others are specialty-specific. The following are among the core competencies:
Using available evidence for continuous improvement of clinical practice
Managing patients with existing diagnoses and those without
Using skills like consensus building to affect change
The following competencies are among those expected of practitioners who choose to focus on family practice across the lifespan:
Performing and documenting comprehensive and symptom-focused examinations with patients across the lifespan
Identifying health and psychosocial risk factors for patients and families
Managing common chronic and acute illnesses
Assessment and management includes mental health as well as physical health.
Some online programs utilize a blended approach. The student may need to come to campus for an occasional intensive. A student can expect to maintain at least a 3.0 to progress.
Fieldwork and Program Culmination
The student can expect to complete about 600 hours of fieldwork and to receive appropriate supervision and evaluation from the university throughout. The clinical experiences will prepare the nurse practitioner to work with the range of populations seen in family practice. There may be multiple short practicums. The student will have the opportunity to complete the experiences locally. The school may have many affiliations in its local community. Students may, however, have to seek out their own experiences and preceptors. (This is often the case with distance learning.)
By the end of the program, the student should be prepared to sit for the family nurse practitioner certification examination through the American Nurses Credentialing Center (ANCC) or the American Academy of Nurse Practitioners (AANP).
The student can also expect a capstone or final project.
A professional who holds a bachelor's in nursing can earn a family nurse practitioner credential and a Doctor of Nursing Practice (DNP) in about three years. The CCNE accrediting agency has been instrumental in transitioning many nurse practitioner programs to the doctoral level, but there are still plenty of master's options. This of course means a quicker entry to advanced practice. Some students are done in less than two years. Others find a three-year pace more comfortable.
<!- mfunc search_btn -> <!- /mfunc search_btn ->
Find Nursing Licensure Requirements in Your State: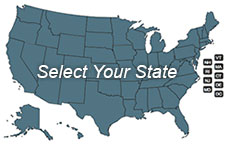 Learn about becoming a Registered Nurse, LPN or LVN in your state:
To View Full U.S. Map Click Here.