LPN to RN Bridge Programs
If you have your LPN or LVN license, you may be well on your way to a career in registered nursing. LPN to RN programs are very common – they are considered valuable for meeting healthcare workforce needs as well as individual career goals.
LPNs and LVNs can earn an ADN or BSN degree online and in some cases, in 1/2 the time and 1/2 cost of traditional programs. All applicants must be either an LPN or LVN to apply to these LPN to RN programs.

An LPN to RN program won't necessarily be a separate track, at least all the way through. You may complete preliminary requirements and then enter an RN program partway through. LPNs sometimes enter professional nursing programs at the second year level.
If you are not yet an LPN, may want to consider career ladder programs that give you the lower credential and let you continue on for a higher one. In this instance, your decision may be based on LPN career opportunities in your area as well as your need for a paycheck along the way.
General LPN to RN Program Considerations
You may opt for an associate's (ADN) or bachelor's (BSN) program. Prospects are often better for BSNs, but this depends on your geographic location as well as the type of nursing you're interested in. If you're going for the LPN to BSN program, your total number of academic credits becomes an issue. If you opt for an ADN program, you may finish in as little as one calendar year.
There are multiple program models that shorten the path to becoming an RN. They're not all equal. Some models were designed in part as an alternative to older models that granted advanced standing to LPNs who met a serious of rigorous assessments. (The problem was that the process was sometimes seen as too intimidating to even attempt!)
Programs may be offered in a primarily online format. You will, however, need to complete clinicals in the field.
LPN to RN Bridge Programs
Many LPN to RN program tracks are transition programs that include bridge courses. You complete a transition course and any needed prerequisites, then enter the standard RN track at about the second year level. The bridge course will help you understand the RN scope of practice and professional role and fill in likely gaps in your training. Bridge courses are variable with regard to credit hours. Often you receive only a small amount of credit for the course itself. However, you may receive a much larger block of credit for prior learning upon course completion; the course may be considered a form of validation. Transition programs may utilize tests as part of the admission process.
LPN Advanced Standing
It is also common for RN programs to grant LPNs advanced standing on the basis of formalized evaluation of prior learning. Often there is a test to validate nursing competence at the level expected of a practical nurse. Some programs will grant you some credit just for having an active LPN license. You may have the option of testing out of additional professional nursing coursework. The assessments will not be identical to those used in past decades.
Individual circumstances may have a bearing on the process. If you didn't complete your LPN training in the recent past, you may need to demonstrate a certain amount of work experience. On the other hand, there are places where experience may be accepted en lieu of tests.
If you peruse the student handbook of the University of New Mexico-Carlsbad, for example, you will see multiple scenarios for awarding credit: one for LPNs with relatively recent coursework, two for those who completed their coursework further in the past but took one or more nursing mobility assessments.
Some LPNs will have significant amounts of transferable credit.
<!- mfunc search_btn -> <!- /mfunc search_btn ->
Career Ladder Programs
Some programs are designed to act as a career ladder. You may enroll in an ADN program at the start but have the option of earning an LPN along the way.
You may complete your registered nursing prerequisites at the onset – This may mean a little more rigor at the onset but a seamless transition.
Both practical nursing and professional nursing programs have prerequisites, but there may be more at the professional nursing level. For example, microbiology is a common requirement at the higher levels of nursing. If you are seeking a BSN, there is a good chance statistics will also be among your prerequisites.
The RN program you select may also require more difficult courses than those you took at the LPN level. For example, you might have taken anatomy and physiology in the past but the particular course you took may not meet the prerequisite requirements.
Some coursework may be completed as co-requisites. However, the amount of prerequisite coursework and the grades you received can affect your chances of getting in the program.
Recency of coursework is a consideration.
Your school may have a mandatory information session.
Testing
Schools use different assessments to evaluate LPN to RN candidates. Use of the Nursing Acceleration Challenge Exam (NACE) is common. The NACE is under the banner of Health Education Systems, Inc. (HESI).
Some schools use the NACE I Foundations of Nursing, designed for the LPN to RN transition. The NACE II is designed for nurses advancing to the BSN level. It includes multiple sub-tests:
Childbearing family
Child
Adult
Individuals with mental disorders
You may or may not need to take all of the sub-tests.
The program may also have an option for testing out of some foundational coursework — e.g. science.
You may need to take an assessment of academic aptitude. This is separate from the NACES/ HESI. The examination utilized may be the Test of Essential Academic Skills (ATI TEAS).
Some schools use tests to predict likelihood of passing the NCLEX licensing examination.
California Nurses: Special Considerations
Most programs will qualify you as an RN anywhere in the nation, even if you have to take a few extra steps to become licensed. However, this is not always the case. The California LVN + 30 is a non-degree option that is not accepted for reciprocity in other states.
Resources
Find Nursing Licensure Requirements in Your State: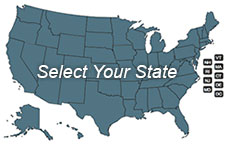 Learn about becoming a Registered Nurse, LPN or LVN in your state:
To View Full U.S. Map Click Here.