LPN to RN Online Program Options and Outcomes
LPN to RN programs are designed to help nurses make a very important bridge: from practical to professional nursing. There are programs in place to benefit them. And for those who take the leap, there can be some major benefits.
Why Pursue LPN to RN Education
Practical nursing is still in demand: for certain settings and certain roles. However, healthcare organizations also need a pipeline of professionals who can perform duties at an RN level.
RNs have more jobs open to them. There are more types of healthcare units looking to hire them – and more varied roles open to them. What's more, they tend to make quite a bit more!
What to Expect from an LPN to RN Program
LPN to RN programs are true bridge programs. An LPN (or LVN) may be awarded quite a bit of credit for his or her license and what it stands for. Programs have different ways of assessing competence. Students may complete one or more examinations. They may be awarded credit after completing transitional coursework. Prospective students may make a demonstration of skills. They may be asked to verify work experience.
There are articulation agreements in some states to facilitate the process.
There are lots of LPN to ADN programs that result in associate's degrees. There are also RN to BSN programs that result in a bachelor's degrees. Some programs have articulation agreements which allow the students to enroll in an LPN to RN program, earn an associate's degree and an RN license and then continue on for a higher degree.
Some RN to ADN programs are located in community and technical colleges.
Some LPN to RN programs are online. Students will have clinical requirements. However, they can arrange to meet them in their own communities. Online LPN to RN programs have geographic restrictions. However, a program may be available in multiple – or many – states.
LPNs should be aware that the academic standards are higher at the RN level (including those required for admission).
<!- mfunc search_btn -> <!- /mfunc search_btn ->
Online LPN to RN Programs
The University of Arkansas offers an online LPN to BSN. The school is known for the strength of its online programming overall – it's #21 in the nation. The University of Arkansas LPN to BSN program is CCNE-accredited.
Indiana State University offers an online LPN to BSN program that is available in more than half of the states in the country. It is ACEN-accredited. The program is 71-75 credits. There are a number of prerequisite support courses that one can't count on having just because they have an LPN license. There are courses that a student may take at a local college – or even test out of.
Galen College offers well-prepared LPNs in multiple markets the option to earn their ADN quickly and conveniently. The program is available in Ohio in Cincinnati, in Texas in San Antonio, in Kentucky in Louisville and Hazard, and in Florida in Miami and Tampa Bay. It has received initial ACEN accreditation. The Ohio Board has granted full approval; it takes this step after a program has graduated its first class
Salary Considerations: LPN vs. RN
Salary is determined by a number of factors, including years on the job. However, the mean wage for an RN is more than $20,000 more a year than the mean wage for an LPN. RNs at the 90th percentile make well over $50,000 a year more than their LPN counterparts. Data via BLS – May, 2020
The following is a look at what LPNs and RNs at the 10th, 50th, and 90th percentiles make:
10th percentile
• LPN: $34,560
• RN: $52,080
50th percentile
• LPN: $47,480
• RN: $73,300
90th percentile
• LPN $63,360
• RN $111,220
Scope of Practice
Practical nurses have a practical education – one focused mostly on carrying out procedures and care activities. They typically make fewer decisions. LPNs typically can't develop a plan of care or perform telephone triage. There are often supervision requirements in place for LPNs that aren't in place for RNs. There are frequent prohibitions on more advanced tasks. Sure, years on the job matter, and so do those tidbits one gleans from other nurses. However, there are still restrictions set at the state level.
RN programs include more science and more 'why'. They include more evidence-based care, particularly at the bachelor's level.
Nurses should be aware that the prospects for LPNs vary by state, and so does the scope of practice, though the National Council of State Boards of Nursing has been working for some years on making standards and duties more consistent.
LPN vs. RN Work Settings
The majority of LPNs are employed in long-term care and in related fields such as home health. Hospital employment is much lower, and there has been a downward trend. Major stakeholders have been encouraging hospitals to employ nurses with a high amount of education.
The long-term care employment level was 209,440 in 2019. Add to this the number in assisted living/continuing care (53,290) and home health (88,630) and one finds a huge segment of the workforce supporting those with sub-acute needs.
By contrast, the number employed in general and surgical hospitals is 86,700. Non-psychiatric specialty hospitals comprise just a little over 7,000
Doctor's offices and outpatient centers together comprise a little over $120,000.
So who is very likely to need higher credentials? The nurse who wants to head off to a new setting is a natural candidate. So is the nurse who wants a greater role in managing care.
For those who do love long term care, there are roles for RNs. In fact, the services they provide are critical, though it typically entails some role transition. There are still roles for RNs in home health, too. In some geographic locations, there are significant advantages to being an RN – like being able to provide services for children with critical needs.
Resources
Find Nursing Licensure Requirements in Your State: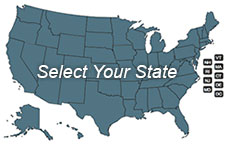 Learn about becoming a Registered Nurse, LPN or LVN in your state:
To View Full U.S. Map Click Here.