The RN Licensing Process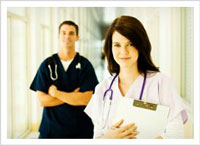 All states license registered nurses, and in all states, they are referred to by the same title: Registered Nurse or RN. First time RN licensing is referred to as license by examination; candidates take the board exam after they have completed their registered nursing educational requirements.
When a registered nurse is already licensed in one U.S. jurisdiction and seeks licensure in another, the process is generally referred to as licensure by endorsement.
<!- mfunc feat_school ->
Featured Programs:
Sponsored School(s)
<!- /mfunc feat_school ->
Find RN Licensing Requirements in Your State
Sometimes it's not necessary to get a new license to take a position in another state. About half of U.S. states belong to the nurse licensure compact, an agreement that makes it easier for registered nurses to practice in multiple states (either through telenursing or by being physically present in the state). An RN holds a license in only one compact state at a time. The RN is allowed to work in other compact states on the basis of a multi-state license issued in their own home state. If the RN changes their primary residence, though, they'll need to transfer their license fairly quickly.
The particulars of the licensing process are different from state to state, but there are many commonalities. Registered nurse licensure involves education, examination, good character — and often quite a bit of paperwork. It's imperative that a candidate become familiar with their own state licensing agency and with the licensing agency of any state where they plan to work. The following overview, though, gives an idea of what to expect.
Initiating the Process: Applying for Examination and Licensure
All 50 states use the same licensing exam: the NCLEX-RN. They all have the same standard for passing, as the exam is computer adapted and graded pass-fail. A nursing graduate or soon-to-be graduate must apply to a particular state licensing agency. They may opt for the state where he or she lives or the state where they intends to work — at least if the RN licensing candidate is in a non-compact state. If the candidate lives in a compact state and wishes to work in any compact state, they will apply to their own state board.
In some states, registered nursing students turn in their applications before they graduate. While they won't actually be licensed until afterward, this can expedite the process. In some states, the nursing school provides official verification when program requirements have been met. In others, official transcripts must be requested — even for in-state candidates.
States have differing policies about working as a nurse in the period following graduation. Some issue temporary permits to candidates who are waiting to take the NCLEX and receive exam results. Some allow them to work for a short period under supervision as graduate nurses. Some states will not allow them to work as registered nurses until the NCLEX is passed and the RN license issued.
<!- mfunc search_btn -> <!- /mfunc search_btn ->
Establishing Eligibility: Professional Fitness
All states take into account a registered nursing license applicant's professional and legal history. More than half have a fingerprint-based criminal history check; that number is expected to grow. In some states, the CBC is performed before application, in others, after.
The application also asks for self-disclosure about legal and professional issues and, in many cases, medical conditions that may impair practice. Many states require all legal information, including minor juvenile offenses. Candidates should be aware that having something on their record won't necessarily mean they are barred from licensure. However, withholding information could. In some states, a candidate signs a waiver, which allows all information to be released — including some that normally wouldn't be.
Some, but not all, states require a notary signature. In addition to certifying the veracity of the application, candidates may be asked to certify that they have read the rules and understand their responsibilities.
RN License by Endorsement
A nurse whose license is in good standing and who has been actively practicing can get a license in another state without repeating steps they has taken – at least not the major ones like education and board examination. The RN will need to provide license verification from at least one state; some states require verification from every jurisdiction the RN has practiced.
If the registered nurse has been out of practice for a significant period of time, the RN may be required to take a refresher course prior to RN licensing in the new state.
Select a State on the Map for Nursing License Information
Select a State for RN Licensing Information
Find Nursing Licensure Requirements in Your State: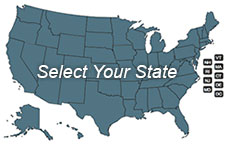 Learn about becoming a Registered Nurse, LPN or LVN in your state:
To View Full U.S. Map Click Here.