BSN Completion Programs: Online and Traditional
BSN completion programs are probably the easiest type of nursing course or degree to take online. The course of study leads to a degree, not a new license or certification, and therefore it usually doesn't fall under the regulation of state boards of nursing. There are few clinical hours that need to be completed, and since the nurse is already a licensed RN, he or she can complete them working under his or her own license. A preceptor may be required, but this isn't always the case. RN to BSN programs are highly compatible with distance learning, and this is a good thing since there are so many organizations, from ANA to the AACN, encouraging nurses to complete their BSNs.
<!- mfunc feat_school ->
Featured Programs:
Sponsored School(s)
<!- /mfunc feat_school ->
Why are the ANA and AACN supporting the push for Nurses to attain a BSN? Learn more about it here: From RN to BSN: New Skill Sets and the RN to BSN Program
Nurses who heed the call will find themselves with a plethora of choices. Some may be in their own neighborhood while others will be across the nation. How does an RN choose? One of the big decisions is whether to opt for an online program or a traditional one. There are times a traditional program is indicated. Some young students — new ADN graduates, for example — may want the full campus experience, including internship opportunities and student clubs. Some nurses work at institutions that have partnerships with particular schools. Classes may be offered on-site one or two days, and the nurse may find her expenses paid by an employer after he or she successfully completes the program.
For many working nurses, though, online is the most convenient option. Distance courses are offered by a number of institutions, public as well as private. A nurse will want to make sure the program is accredited and that it has a good reputation, but she shouldn't feel that online is less authentic.
Online, it should be noted, doesn't necessarily mean self-paced. Some programs include synchronous, as well as asynchronous, learning. In other words, nurses may convene at particular times for online discussions and other activities. A student who has some difficulty with self-pacing may still benefit from distance learning, but the student will want to make sure they choose a program that's a good fit. If a nurse does feel that the traditional classroom is the best choice, he or she can often find a nearby program that offers nontraditional scheduling, for example an evening schedule or a one or two day a week schedule.
<!- mfunc search_btn -> <!- /mfunc search_btn ->
Beyond the Virtual Classroom: Hybrid Programs and Clinical Hours
Online or traditional isn't always an either-or decision. Some programs are hybrid. Most of the coursework may be completed at a distance, but the student will need to come to campus for an occasional intensive. There may, for example, be a week long clinical course that utilizes the school's simulation lab.
Some courses of study have no required clinical hours. As a BSN completion student, you may never need to set foot in any healthcare institution other than the one where you work. Other programs have one or more classes that include a practicum. A student may, for example, need to spend some time at a public service agency while studying public health. There can be advantages to this, of course, especially if a nurse wants to work in that type of setting after graduation. Practicum work can generally be completed in a student's own community. It doesn't necessarily make a difference if the school has its physical location on the other side of the state, or even the other side of the nation.
Some programs are carried out online until the end. There may be a culminating project that involves some combination of work service and travel. At Colorado Christian University, for example, BSN completion students have wrapped up their distance studies with a healthcare expedition to Costa Rica.
Traditional and Online RN to BSN Programs
Select a State for RN to BSN Program Information
Find Nursing Licensure Requirements in Your State: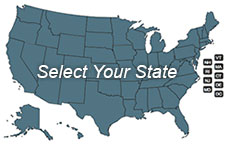 Learn about becoming a Registered Nurse, LPN or LVN in your state:
To View Full U.S. Map Click Here.