Becoming a Military Nurse: What they do and the Branches they Serve in
Military nurses work in the uniformed services, including army, navy, and air force. They may opt for active duty or the reserves. They're in demand many places, but the army employs more than any other branch.
The armed services recruits nurses with differing specializations. There is need for nurses with expertise to care for the critically wounded. Nurses, though, also help service members with routine care and non-combat illnesses and injuries. They support their families as well. Some, for example, work in labor and delivery or neonatal care. Some even work in mental health.
Military nurses go on deployments and humanitarian missions. They're also needed at military bases throughout the country. Some work on ships.
<!- mfunc feat_school ->
Featured Programs:
Sponsored School(s)
<!- /mfunc feat_school ->
Nurses may seek military careers for multiple reasons, from patriotism to monetary rewards. The armed services are known for generosity to those who are in alignment with their mission and ready to make a deep commitment. There are scholarships available to individuals at different stages of life – from those who are still in high school to those who are already serving in the military in other capacities. Some nurses receive loan repayment in exchange for their commitment.
Nurses are commissioned officers. They must hold degrees at at least the bachelor's level (BSN) to be eligible for commission. Requirements are similar, but not identical, from one branch to the next.
Some have degrees beyond the bachelor's level (MSN, PhD, DNP – Military Nurse Practitioner). They may be employed as advanced practitioners, taking on many of the tasks a doctor would (e.g. diagnosing health conditions and prescribing treatment.
Nursing is a career for both genders. The majority of military nurses are women, but the proportion of men is higher in military nursing than civilian nursing. An article in Air Force Medical Services casts a light on men in military nursing (https://www.airforcemedicine.af.mil/News/Display/Article/1519921/best-job-in-military-health-for-these-men-its-nursing).
The national guard requires a small routine commitment with the possibility of deployments and/ or humanitarian missions.
The Navy Nurse Corps
Navy eligibility is dependent on being between 18 and 41 and being a student or graduate of a CCNE-accredited nursing program. Selected candidates participate in a five-week program at the Officer Development School (ODS) in Newport, RI (https://www.navy.com/careers/nursing). Among the possible work settings are deployments, humanitarian missions, and hospital ships.
Navy nurses also work with members of the marines.
Nurses in some specialty areas can receive loan repayment and/ or accession bonuses in exchange for an active service commitment.
<!- mfunc search_btn -> <!- /mfunc search_btn ->
The Air Force Nurse Corps
Air force eligibility age is 18 to 47. Some air force nurses work for aeromedical evacuation units as flight nurses. One will find emergency/ trauma nurses and critical care nurses. Air force nurses are employed in a number of other capacities, though, caring for military families as well as soldiers. Among the careers listed are pediatric nurse practitioner and even neonatal nurse practitioner.
The air force offers critical care/emergency trauma nursing fellowships.
An article in Minority Nurse features an air force nurse who manage a Aeromedical Evacuation Liaison Team, or AELT (https://minoritynurse.com/stories-from-inside-military-nursing).
Some nurses transport wounded and ill service members through the Air National Guard.
The Army Nurse Corps
Army eligibility is extended to those between 21 and 42. The website in 2021 lists 11 army nursing careers, four of which are advanced practice. Perioperative nurse, critical care nurse, family nurse practitioner, and psychiatric nurse practitioner are listed as featured careers. Among the other nursing options are army public health nurse. Candidates need to be able to attain secret service clearance.
There are incentives in place for nurses with very specialized training. Some are graduate level. The army is currently providing some big incentives to fully qualified Certified Registered Nurse Anesthetists (CRNAs) who are ready to make a four-year commitment. The army also has programs for professionals who are interested in becoming CRNAs.
The recruiting page features videos of two service members in critical care nursing roles (https://www.goarmy.com/amedd/nurse/profiles.html).
New officers attend the Army Medical Department (AMEDD) Officer Basic Course (OBC) in Texas. They are introduced to the military healthcare system – and their role as officers – over the course of about 11 weeks.
Professional Credentials
Military nurses are expected to hold professional licensing at the time they come onboard (unless the military is providing the training). Licensing may be from any state. Licensing is more fundamental than professional certification.
Military nurses, like civilian nurses, can use professional certification as added validation of expertise. Certifying agency will vary by specialty.
The Board of Certification for Emergency Nursing (BCEN) recently announced a discount for military nurses in emergency, trauma, and transport (https://finance.yahoo.com/news/bcen-announces-military-discount-emergency-181000677.html).
Other Opportunities to Work as a Nurse with Service Members
Working with military populations doesn't always entail enlistment. For those whose primary interest is in working with military populations, there are some civilian options. These may be referred to as Direct Hire.
Resources
Army nurse recruitment information: https://recruiting.army.mil/MRB_Nurses/
Navy nursing career information page: https://www.navy.com/careers/nursing
Air Force nursing career information page: https://www.airforce.com/careers/specialty-careers/healthcare/careers/nurse
<!- mfunc search_btn -> <!- /mfunc search_btn ->
Find Nursing Licensure Requirements in Your State: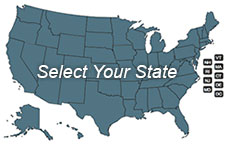 Learn about becoming a Registered Nurse, LPN or LVN in your state:
To View Full U.S. Map Click Here.