BSN Programs
BSN stands for Bachelor of Science in Nursing. It's not the only pathway to a professional nursing, but increasingly it's the one hospitals want. This is also the case with many positions in other settings like public health. The majority work in hospitals. Positions can be very varied, including cardiac ICU, step-down, emergency, high risk prenatal, and oncology, to name just a few.
BSN programs include the same fundamental nursing coursework as associate's programs, plus additional coursework to support nursing leadership, critical thinking, evidence-based care, population health, and research. Leadership is far broader than just supervision or management.
The Nursing School Curriculum
The following are among the typical classes:Programs include a lot of clinical work. CCNE-accredited programs are expected to have at least 500 hours of direct patient care (https://www.aacnnursing.org/CCNE-Accreditation/Resources/FAQs/Clinical-Practice). It is not uncommon for programs to boast around 1,000 clinical hours.
There is often a senior practicum or transition to practice. This is an immersive experience that can be both a challenge and an opportunity. Students sometimes compete for select practicum experiences. The experience can lead to jobs after graduation. If one has a practicum in a particular setting – e.g. labor and delivery – it can make it easier to get a job in a similar setting after graduation. Nursing is versatile, though, and there should be additional opportunities down the line.
<!- mfunc search_btn -> <!- /mfunc search_btn ->
Selecting a BSN Program
BSN programs are typical accredited by the Commission on Collegiate Nursing Education (CCNE). Some are accredited by the Accreditation Commission for Education in Nursing (ACEN).
Choice of program is highly individual. Some want the full college experience at a high ranking university. Some want a program they can complete relatively quickly while maintaining a life outside school. Some programs can be completed in less than three calendar years. Students attend classes year-round. Schools may offer some coursework online.
At some schools, professional study takes place in the last two years of the program, with freshman and sophomore years consisting of general studies and prerequisite classwork.
Students may take into account the following:
• Facilities, including simulation labs
• Certificate, minor, or dual degree options
• Extracurricular experiences
• Study abroad opportunities
• Research opportunities
• NCLEX pass rates
• Pacing and scheduling
• Value
Top BSN Programs in the United States
The University of Pennsylvania offers a direct entry program; clinical experiences begin sophomore year. Penn Nursing clinical affiliations include premier facilities such as Penn Medicine, Lancaster General Health, Penn Presbyterian Medical Center, and Children's Hospital of Philadelphia (CHOP). The Helene Fuld Pavilion features realistic mannequins in varied settings with video feedback and monitoring. Students can opt for one of four minors, including global health, nutrition, or health communications. Second degree students can pursue an accelerated program.
The University of North Carolina – Chapel Hill, another top nursing school, has been designated as a Center for Excellence in the 'Enhance Student Learning and Professional Development' by the National League for Nursing. The UNC Education-Innovation-Simulation-Learning-Environment has a reputation for clinical simulation excellence. The traditional BSN track is five terms; it is designed for those who have completed 60 credits of college coursework.
Meeting Admission Requirements
Pre-nursing students typically take two semesters of anatomy and physiology coursework with labs. Chemistry and microbiology are other common prerequisites; students generally take an introductory psychology course. Nursing students will take composition courses on a par with those expected of other university students. Like non-nursing majors, they will have some choice with regard to liberal arts coursework. At the UNC-Chapel Hill, for example, students take a course from the following: philosophical and moral reasoning, visual and performing arts, or literary arts.
University students can expect a nursing school application process that is separate from general college admission. Bachelor's programs often use a subjective process, taking into account many factors, including subjective ones like essay and personal statement.
There are multiple reasons to consider a bachelor's, including increased job opportunity and increased skill in handling complex issues. A professional nurse who starts as a BSN will have a shorter path if he or she eventually decides to go into advanced practice. This will require an additional degree, but one that can often be completed in conjunction with professional employment.
The American Association of Colleges of Nursing (AACN) releases data about local employer preferences based on a survey of nursing schools offering degrees at the bachelor's level or higher (https://www.aacnnursing.org/News-Information/Research-Data-Center/Employment/2020). The 2020 report suggested that more than 40% of hospitals and other health employers in the reporting schools' target areas were requiring the BSN; more than 80% had at least a strong preference.
A scan of job postings in early 2021 reveals that many are listed as BSN preferred or BSN required within a specified period of time. The following are among the numerous positions listed as BSN preferred:
• Anticoagulation Clinic RN for a medical group in Stillwater, Minnesota
• Registered Nurse NICU IV for a medical center in Denver, Colorado
• Registered Nurse – Digestive Health for an academic medical center in Seattle, Washington (BBSN noted as highly preferred)
• Nurse Residency program at a children's hospital system in Atlanta, Georgia
• RN -Labor and Delivery for a major health system in Cincinnati, Ohio
Johnson & Johnson published an estimated salary range for BSN and ADN nurses with a few years' experience. There was a striking difference at the high end of the scale.
<!- mfunc search_btn -> <!- /mfunc search_btn ->
Resources
Prospective students can check CCNE accreditation status on the AACN website (https://www.aacnnursing.org/CCNE-Accreditation/CCNE-Accredited-Programs).
Resources
The Future of the Associate Degree in Nursing Program
Find Nursing Licensure Requirements in Your State: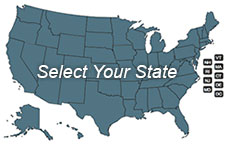 Learn about becoming a Registered Nurse, LPN or LVN in your state:
To View Full U.S. Map Click Here.