Orthopedic Nurses
Orthopedic nurses carry out a range of duties much like those of other RNs. However, they provide care for a particular population: patients with orthopedic conditions and injuries.
Some like this branch of nursing because they enjoy seeing their patients go through the surgical/ rehabilitative process, recover, and go home. This is an area of nursing where new graduates can find preceptorship and employment. It's also an area where one can specialize and advance.
Orthopedic Nurse Roles and Duties
The work can including assessing patients, formulating treatment plans, administering medication, and providing patient education. Orthopedic nurses frequently need to position patients for procedures.
Orthopedic patients are often in a good deal of pain; orthopedic nurses may help patients manage their pain through both pharmacological and nonpharmacological processes. Many orthopedic nurses provide perioperative care. They may specialize even further (for example, pre-op, post-op). Post-op orthopedic nurses might provide multi-faceted interventions for patients who had had hip or knee surgery. They can help them reduce swelling, heal physically, and regain mobility. They can assist in managing anxiety and confusion as well as physical pain. Assessment is crucial; they assess everything from the status of the incision area to activity tolerance and even appetite.
Some orthopedic nurses are involved in case management. Some provide preventative care.
Orthopedic nurses typically work closely with orthopedic doctors. They may delegate basic duties to unlicensed healthcare workers.
Orthopedic nursing generally requires a registered nursing degree. The Bachelor of Science (BSN) is preferred in many settings. There are some positions for LPNs in orthopedic settings. However, they do not have the same scope of practice.
Advanced practice nurses can take on specialty roles in orthopedics; duties may include making diagnoses and prescribing medications and devices. Orthopedic practice is a nurse practitioner subspecialty.
Orthopedic Nurse Work Settings
Orthopedic nurses may work in a range of settings, including hospitals, outpatient centers, and rehabilitation centers. Some work in orthopedic specialty hospitals. Orthopedic facilities can be very specialized, particularly in urban areas. Case in point: the UW Medical Center, a major research hospital located in Seattle (https://www.uwmedicine.org/specialties/sports-medicine-orthopedic-surgery/orthopedic-surgery). Among the centers and clinics are the Orthopedic Trauma Surgery Clinic at Harborview, the Orthopedic Oncology Center at UW Medical Center – Roosevelt, and the Hip & Knee Center at Eastside Specialty Center.
<!- mfunc search_btn -> <!- /mfunc search_btn ->
Becoming an Orthopedic Nurse
A prospective orthopedic nurse should enter the field at the level that is most realistic, given the timeframe, local employment market, and other individual circumstances. He or she may take the NCLEX licensing examination at the conclusion of an ADN or BSN program. Completing a BSN will mean more opportunities in orthopedic nursing (as well as other hospital-based nursing specialties).
A nursing student will have a well-rounded education with rotations in diverse practice areas such as pediatric, adult medical surgical, and psychiatric care.
Specialized training may be provided at the employment level. Some nurses have the opportunity to participate in formal residency or apprentice programs. Texas Orthopedic Specialty Hospital, for example, participates in the HCA Training Apprenticeship for Registered Nurses (StaRN) program. Residents receive several months of multi-faceted training. They are expected to make a two-year work commitment.
Nurse practitioners may apply for fellowships in orthopedic practice.
Orthopedic Nurse Certification
Professional certification validates professional skill and can increase pay. Orthopedic certification is granted by the Orthopaedic Nursing Certification Board, or ONCB (https://www.oncb.org).
ONC is the basic certification. To be eligible for examination, a person must be an RN with at least two years of licensed experience. He or she must have accrued at least 1,000 hours of orthopedic practice in the prior three year period.
The certification exam covers the following disorders:
• Degenerative conditions
• Orthopedic trauma
• Sports injury
• Metabolic bone disorders
• Inflammatory disorders
• Musculoskeletal tumors
• Pediatric/ congenital disorders
• Neuromuscular disorders
Degenerative disorders receive more coverage than any other type of condition.
The examinee will demonstrate understanding of the following broad tasks:
• Pain
• Complications
• Self Care
• Activity
• Nutrition
• Psychosocial
The ONP-C is for nurse practitioners in orthopedic nursing.
Top Orthopedic Hospitals
The following are the top-rated orthopedic hospitals in the nation, according to US News and World Report:
• Hospital for Specialty Surgery (New York, New York)
• Mayo Clinic (Rochester, Minnesota)
• Cedars-Sinai Medical Center (Los Angeles, California)
• NYU Langone Orthopedic Hospital (New York, New York)
• Rush University Medical Center (Chicago, Illinois)
Each of the above is ranked as high performing in both hip replacement and knee replacement. Each is a nurse magnet hospital and has received a score of excellent on nurse staffing. The Hospital of Specialty Surgery comes out far above any other facility.
The Hiring Market for Orthopedic Nurses
There are many organizations in the market. The following is a sampling from early 2021:
• Orthopedic Trauma Level 1 and Orthopedic Elective – Florida
• Clinical Nurse I – Orthopedic Special Care Unit – New York
• Registered Nurse – Joint Replacement Center – Massachusetts
• Orthopedic Nurse Navigator/Case Manager – Ohio
• Orthopedic Advanced Practice Clinician – Washington
Orthopedic Nurse/RN Salary
The Bureau of Labor Statistics, May 2020 reports an average RN wage of $38.20 at general hospitals and $40.73 at outpatient care centers.
The mean for a nurse practitioner is $53.77 across settings.
Resources
The National Association of Orthopedic Nurses is a national professional association (http://www.orthonurse.org).
The American Association of Nurse Practitioners has provide resources for orthopedic nurse practitioners (https://www.aanp.org/practice/clinical-resources-for-nps/clinical-resources-by-therapeutic-area/orthopedics).
<!- mfunc search_btn -> <!- /mfunc search_btn ->
Find Nursing Licensure Requirements in Your State: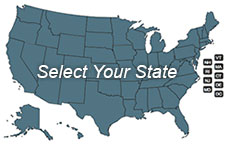 Learn about becoming a Registered Nurse, LPN or LVN in your state:
To View Full U.S. Map Click Here.