From RN to BSN: New Skill Sets and the RN to BSN Program
The Institute of Medicine set a goal in 2010 to increase the percentage of baccalaureate nurses to 80% over the next ten years. It's been seven. The goal is far from met, but there are many groups working on increasing their percentages — and many nurses working on earning their BSNs.
Why the BSN?
ADN nurses often have excellent track records, yet employers and stakeholders have access to research that demonstrates the value of the BSN. The American Association of Colleges of Nursing cites a growing body of research pointing to improved patient outcomes (http://www.aacn.nche.edu/media-relations/fact-sheets/impact-of-education). A number of studies have found associations between higher percentages of baccalaureate nurses on staff and lower hospital mortality rates. There is also evidence that higher educational levels are associated with fewer violations, fewer medication errors, and, on a more abstract level, with stronger communication and evaluation skills.
Shortly before the IOM set its goal, the Tri-Council for Nursing, representing four major nursing associations, issued a consensus statement that more nurses with bachelor's degrees were needed across settings (http://www.aacn.nche.edu/education-resources). Among the reasons cited: "future workforce demands".
BSN programs provide more opportunity to develop skills for evidence-based practice. Healthcare knowledge has been growing across decades, but practice lags years beyond research. Organizations suggest that there should be a shift in how health conditions are managed. As healthcare systems grow more complex, it can take more communication to ensure that even the accepted quality of care is delivered. Other healthcare professions have increased educational standards in recent years, and there is a push for nursing to keep pace.
What Settings and Roles Require a Bachelor's?
Nursing positions require different skill sets. Acute care settings often require higher educational levels than long term care settings do. Even within wards, positions require differing levels of responsibility. There may well be some entry-level nurses on a ward. A charge nurse, though, may need higher education as well as nursing experience. Many hospital systems have implemented career ladder systems; credentials such as baccalaureate education and certification can translate to more responsibility and higher pay. ("The RN to BSN and Career Advancement")
The BSN can also increase one's chances of being hired by a premier medical center with low staff turnover. Magnet hospitals set high educational standards. There are mandates dictating the educational levels of nurses in managerial positions. They do not apply to all positions. However, when hospitals have the opportunity to hire nurses with bachelor's degrees, it can become an expectation even at the entry-level. According to a 2014 Campaign for Nursing report, there is a trend toward preferential (and even exclusive) hiring of BSNs in urban hospitals and in hospitals pursuing magnet status (http://campaignforaction.org/sites/default/files/Campaign%20for%20Action%20BSN%20Report.pdf).
<!- mfunc search_btn -> <!- /mfunc search_btn ->
A BSN in Ten?
"BSN in Ten" is a movement to change licensing practices, requiring a bachelor's degree not for initial licensure, but within a prescribed time period afterward. The 2014 Campaign for Nursing report found that support was not at the level required to pass legislation. It was strongest, though, in Colorado, New York, North Dakota, and Rhode Island. It was in New York that the authors believed the movement was "positioned for success" in the relative short term.
Some believe there needs to be a greater push for the "BSN in Ten" at the national level. It can be at the micro level, though, that change comes fastest, with individual healthcare systems setting their own requirements such as requiring a "BSN in Five".
The focus of many stakeholders is on making it easier for those who want to achieve their BSNs to actually achieve them. Some employers pay for their nurses' education. College systems are also working on streamlining ADN to BSN progression. According to the Campaign for Nursing, some community colleges are now telling their students the ADN is a place to start, but not to finish.
And don't think of your age as a limiting factor. Read the article "Am I Too Old to go Back to School? In Pursuit of the RN to BSN" to clear the angst.
Further reading: ADN vs BSN in Nursing Pathways: What are the Differences?
Select a State on the Map for More Specific RN to BSN Information
Select a State for RN to BSN Information
Find Nursing Licensure Requirements in Your State: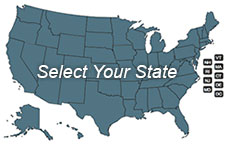 Learn about becoming a Registered Nurse, LPN or LVN in your state:
To View Full U.S. Map Click Here.