Trauma Nurse
Trauma nurse vs. Emergency nurse. They're related, but they're not the same. Trauma nurses are specialized in treating a particular type of emergency: injury. (In the case of trauma nursing, the term "trauma" refers to physical injury.)
Many believe that it's important to acknowledge trauma nursing as a distinct specialty, apart from emergency, and to make training and staffing decisions accordingly.
The work of trauma nurses is critical. The Society of Trauma Nurses notes that injury is the most common cause of death in people from age 1 on up to age 44. Trauma is an area of nursing where speed is paramount. The high-stakes trauma nursing positions are not entry-level!
While trauma nurses work under the same license as other RNs, they may hold specialized certifications.
Some trauma nurses provide services for pediatric populations.
Trauma Nurse Work Settings and Roles
Trauma nurses work with emergency patients and critical care patients. Settings include trauma centers, emergency rooms, and ICUs, among others. Air transport services also utilize nurses with trauma skill and background.
Trauma centers are designated by level. Level I and Level II trauma centers tend to be located in metropolitan areas. Level III and Level IV trauma centers are often found in rural areas. Frequently, patients with critical needs are flown to trauma centers in metropolitan areas.
A video produced for National Nurses Day introduces an RN working in a Level I trauma center in Georgia, who is often on the receiving end of air lifts (https://www.youtube.com/watch?v=PpGIELKsvdE).
Trauma nurses have some roles beyond direct provision of care. Roles can range from on-site leadership to statewide system development. The Society of Trauma Nurses has reported on their contributions at the systemic level (https://www.traumanurses.org/_resources/documents/news/legislature/position_on_importance_of_trauma_systems.pdf?phpMyAdmin=YUKhXpm3NuRfJ3YccE22H8dYHvf).
<!- mfunc search_btn -> <!- /mfunc search_btn ->
Becoming a Trauma Nurse: Early Steps
Trauma nurses are registered nurses, or RNs. The required training is, at the initial stages, the same as for other registered nurses. A person who plans to go into this discipline will do well to earn a bachelor's degree, or BSN. Hospitals often have a preference for hiring grads who are BSNs, even outside trauma and critical care. Senior practicums and post-graduate residencies can both be useful for tailoring experience and increasing opportunity.
There are additional trainings needed to support patients in this role. The mandatory trainings are relatively short. However, trauma nurses can benefit from a wide range of continuing education offerings.
Cedars-Sanai has provided a list of short trauma courses (https://www.cedars-sinai.org/programs/trauma/nursing-education.html).
Professional Certification in Trauma Care
RNs can pursue specialty certification in trauma care. This is a step generally taken after accruing a couple of years of experience in the field.
Trauma Certified Registered Nurse (TCRN), issued by the Board of Certification for Emergency Nursing, is the industry standard (https://bcen.org/tcrn).
Content falls under the following broad categories:
• Head and Neck (Clinical Practice)
• Extremities and Wound (Clinical Practice)
• Trunk (Clinical Practice)
• Special Considerations
• Professional Issues
• Continuum of Care
The following are among the special considerations: shock, Systemic Inflammatory Response Syndrome, neglect and abuse, geriatric populations, psychosocial issues (including PTSD), and issues related to violence (including evidence collection).
Continuum of care includes the full range of possible care stages: beginning even before the pre-hospital stage with prevention. The continuum includes both rehabilitation and end-of-life issues.
Professional issues are diverse, including disaster management, research, and outreach, among others.
BCEN recommends that RNs pursue the credential after accruing two years of experience in the specialty area.
BCEN states that more than 4,300 nurses hold the credential.
Urban and Rural Employment Settings
Level I and Level II trauma centers, often found in big cities, have the resources to support high acuity patients. They may draw patients from a wide region. They also draw nurses. However, trauma centers with lower designations also need nurses who are very adept at trauma – they're part of the team that keeps patients alive at the early stages. Not all will be transferred out.
There are significant differences in typical trauma patient populations (as well as resources) between rural and urban areas (https://www.ncbi.nlm.nih.gov/pmc/articles/PMC3912651/).
Rural centers may not have dedicated trauma staff. However, they may increase their efficiency by training small numbers of interested RNs to a high level, giving them experience with critical needs patients outside their own units. A trauma coordinator for a Level III facility in rural Kansas laid down a vision in an article for The Journal of Trauma Nursing (https://www.nursingcenter.com/journalarticle?Article_ID=2706371&Journal_ID=607948&Issue_ID=2705984). Ideally, these well-prepared trauma nurses would be 'force multipliers'.
It's a different world for those working at Level I centers, some of which are well-known for expertise in treating particular kinds of trauma.
Trauma Centers
The American Trauma Society has provided a summary of trauma center levels (https://www.amtrauma.org/page/traumalevels). The distinction between Level I and Level II is made in part by activities that don't necessarily impact patient care (e.g. research). However, differences have been found in outcomes for some populations. Level I trauma centers do a high volume of high needs injured patients.
The American College of Surgeons has provided a directory of trauma centers that they have verified, noting that their organization is not responsible for doing the designating (https://www.facs.org/search/trauma-centers?n=50).
<!- mfunc search_btn -> <!- /mfunc search_btn ->
Resources
The Society of Trauma Nurses can provide a wide range of educational resources (https://www.traumanurses.org).
The Pediatric Trauma Society provides resources for a range of trauma healthcare professionals, including nurses (https://pediatrictraumasociety.org). The organizaton has been instrumental in developing pediatric trauma leaders. (https://journals.lww.com/journaloftraumanursing/Abstract/2009/07000/The_Role_of_the_Trauma_Nurse_Leader_in_a_Pediatric.8.aspx).
The Society of Trauma Nurses Rural Special Interest Group is a resource for nurses who are interested in rural services (https://www.traumanurses.org/50-special-interest-groups/rural/99-rural-trauma-sig).
Find Nursing Licensure Requirements in Your State: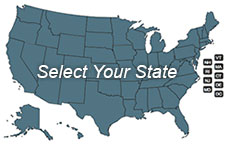 Learn about becoming a Registered Nurse, LPN or LVN in your state:
To View Full U.S. Map Click Here.