The Doctor of Nursing Practice Degree – DNP
The DNP, or Doctorate of Nursing Practice, is a practice doctorate. DNP programs are typically geared toward advanced clinical practice. There are also DNP programs geared toward executive nursing leadership. Nurses with DNPs are prepared to practice at the highest level clinically and also engage with the larger healthcare community.
One advanced practice discipline, nurse anesthetist, is nearing the point of universal DNP entry – this discipline is transitioning its accredited education programs. The DNP is also an option for RNs who want to pursue training in the following disciplines:
• Nurse Practitioner
• Clinical Nurse Specialist
• Certified Nurse Midwife
<!- mfunc feat_school ->
Featured Programs:
Sponsored School(s)
<!- /mfunc feat_school ->
Within NP and CNS disciplines, there are multiple specializations, based on population served. Advance practice nurses can have roles much like physicians, although more limited in scope. Some have roles more like the traditional family doctor while others serve in an expert nursing capacity. John Hopkins School of Nursing has provided information to delineate role of nurse practitioner and clinical nurse specialist (https://nursing.jhu.edu/academics/programs/doctoral/msn-dnp/np-vs-cns.html).
While the majority of advanced practice nurses still enter with master's degrees and indeed have the same scope of practice, the push toward doctoral education is well under way. Stakeholders have long argued for the DNP to become the standard for entry to practice. Some programs that were once offered at the master's level have transitioned. In other locales, there are two options.
Both post-BSN to DNP programs and post-MSN to DNP programs are common. Professionals already credentialed as advanced practitioners can enroll in MSN to DNP tracks. In recent years, BSN to DNP enrollment has been increasing relative to MSN to DNP enrollment (https://www.ncbi.nlm.nih.gov/pmc/articles/PMC7161484).
<!- mfunc search_btn -> <!- /mfunc search_btn ->
Reasons to Earn a DNP
Among the reasons many push hard for the DNP: preparation for the future.The accrediting agency for nurse anesthetics has taken action to make the practice doctorate the standard for entry-to-practice by 2025 (https://www.coacrna.org/about-coa/position-statements/). Stakeholders have long recommended the DNP as the entry-to-practice for nurse practitioners.The National Association of Clinical Nurse Specialists (NACNS) has issued a position statement endorsing the DNP as the entry to practice for clinical nurse specialists by 2030.
Some employers favor the DNP, at least for some roles. The AACN reported in 2013 that employers valued the DNP for roles in quality improvement. A 2019 qualitative study indicated that DNP advanced practitioners were more knowledgeable about evidence-based clinical guidelines and more focused on translating research into action (https://www.ncbi.nlm.nih.gov/pmc/articles/PMC7161484/). They also understood health policy better – even while their roles were generally not differentiated by degree level.
What to Expect from a DNP Program
Most DNP programs are accredited by the Commission on Collegiate Nursing Education (https://www.aacnnursing.org/CCNE-Accreditation/Resources/FAQs/DNP). The CCNE has published a lengthy document of educational standards. A CCNE-accredited DNP program will include at least 1,000 post-BSN clinical practice hours.
DNP completion programs often have two tracks: advanced practice and executive. Advanced practice nurses from different disciplines may enroll in the clinical track together and pursue coursework in areas such as evidence-based practice and population health. DNP candidates complete a scholarly project.
Nurses who enroll in DNP programs get a well-rounded education that includes research. (Nurses whose primary interest is scholarly research, however, enroll in a different type of doctoral program: They earn PhDs.)
Putting DNP Skills into Action
Virginia Commonwealth University, like many nursing schools has highlighted the accomplished and aspirations of some of its graduates (https://nursing.vcu.edu/our-stories/stories/first-dnp-cohort-graduates.html). One implemented a group visit model to prepare patients for joint replacement surgery. Having tasted success before graduation, he wants to implement a similar program at his current workplace. The new goal is to help patients with diabetes. His broader goal as a practitioner is to improve healthcare access.
Top DNP Programs
US News and World Report has two universities tied for the top spot with regard to the Doctor of Nursing Practice:
• Columbia University
• The University of Washington
Rounding out the top five, one finds the following:
• John Hopkins University
• Duke University
• Vanderbilt University
There's just one public university in the top five and it's at #1. The University of Washington (Seattle) offers both clinical and executive tracks. Clinical options include nurse-midwifery and multiple NP and CNS tracks. Those interested in working with children, for example, can pursue Pediatric Nurse Practitioner Acute Care, Pediatric Nurse Practitioner Primary Care, or Pediatric Clinical Nurse Specialist.The executive track is termed Population Health & Systems Leadership; it can be pursued as a dual degree option with a Master of Public Health. Those who choose this option have four years of work instead of three – but a year less than if they pursued the two degrees separately.
Columbia University offers a midwifery degree and multiple nurse practitioner programs. NPs here can pursue a sub-specialty in oncology.
John Hopkins University also offers clinical and executive options. Clinical options include a nurse anesthesia program and multiple NP and CNS tracks. There are fully four adult-gerontological options: Adult-Gerontological Acute Care Nurse Practitioner, Adult-Gerontological Primary Care Nurse Practitioner, Adult-Gerontological Health Clinical Nurse Specialist, and Adult-Gerontological Critical Care Clinical Nurse Specialist. John Hopkins is rated as having the top Adult Gerontological Primary Care NP program in the nation.
Employers of DNPs
Nurses with DNPs work for healthcare organizations, including major health systems like the following:
• Kaiser Permanente
• Mayo Clinic
• Beaumont Health
• Ascension
• Ochsner Health

There are now more than 300 DNP programs. All states are represented (https://www.aacnnursing.org/News-Information/Fact-Sheets/DNP-Fact-Sheet).
The Nurse Practitioner publishes an annual issue focused on the DNP. The April 2019 issue includes articles by nurse practitioners and nurse midwives (https://journals.lww.com/tnpj/fulltext/2019/04000/growth_of_the_dnp_degree__promoting_change_and.1.aspx).
<!- mfunc search_btn -> <!- /mfunc search_btn ->
Find Nursing Licensure Requirements in Your State: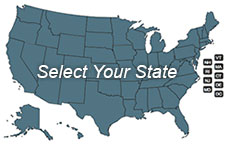 Learn about becoming a Registered Nurse, LPN or LVN in your state:
To View Full U.S. Map Click Here.