RN to NP Programs
Going from RN to nurse practitioner is a big step. Nurse practitioners often function more like doctors, making diagnoses and prescribing medication and other treatments. They now hold prescriptive authority in all states. Their level of autonomy varies from state to state.
While some nurse practitioners work relatively independently, others function as part of teams. This is the case with neonatal nurse practitioners. It is also the case with nurse practitioners who work with other individuals with critical needs. There are still significant differences in their level of practice beyond RN level. A neonatal nurse practitioner can typically write orders.
<!- mfunc feat_school ->
Featured Programs:
Sponsored School(s)
<!- /mfunc feat_school ->
The primary care nurse practitioner, on the other hand, functions more like a family doctor (or pediatrician as the case may be).
Nurse practitioner programs have population foci. They generally have a primary care or acute care focus. Some programs are dual track.
The following are the populations served:Family practice is considered primary care while pediatrics and adult-gerontology practice may be either acute or primary care.
Nearly 70% of nurse practitioners provide primary care (https://www.aanp.org/about/all-about-nps/np-fact-sheet).Family nurse practitioner is by far the most common nurse practitioner specialty.
Nurse practitioners may further specialize. Some nurse practitioners pursue sub-specialties such as oncology. These may be included as tracks in the initial certification-qualifying program. There are additional opportunities for specialization at the post-certification level.
<!- mfunc search_btn -> <!- /mfunc search_btn ->
Nurse Practitioner Program Education
RN to Nurse practitioner programs (RN to NP programs) are often designed for working professionals. The nurse may complete his or her coursework online. There will be clinical work, though this, too, may be arranged for convenience. Students who prefer traditional campus learning will find plenty of options as well.
Many NP programs are designed for those who hold BSNs. However, some will accept RNs who hold degrees at the associate's level. An RN without a BSN can expect some additional coursework.
RN to Nurse practitioner programs may be completed at the master's (MSN) or doctoral (DNP) level. Post-master certificates are also acceptable. There has been a push toward doctoral education in recent years. Nurse practitioners who enter at the master's level can complete DNP programs later if they wish. MSN programs are significantly longer than master's programs in some fields (or even nonclinical nursing). Many find it expedient to go straight for the doctorate or to enroll in a program that streamlines progression from one level to the next.
The Commission on Collegiate Nursing Education (CCNE) is the main accrediting body. CCNE-accredited programs follow the Standards for Accreditation of Baccalaureate and Graduate Nursing Programs (https://www.aacnnursing.org/CCNE-Accreditation/Accreditation-Resources/Standards-Procedures-Guidelines). They are evaluated against the Criteria for Evaluation of Nurse Practitioner Programs. The standards are broad enough to allow for flexibility and innovation. All programs include coursework in advanced pathophysiology, advanced pharmacology, and advanced health assessment. Students in master's level NP programs can expect at least 500 clinical hours. Students in BSN to DNP programs can expect 1,000.
RN to NP programs are selective. They take into account for more than just academics. Some programs (or tracks) require a couple years of experience.
Top RN to Nurse Practitioner Programs
The University of California-San Francisco offers a full range of MS options. Programs prepare students to work with all age groups, from neonatal to adult/ gerontology. Psychiatric/ mental health is among the options. Those who select women's health do a double major in women's health and clinical nursewifery. UCSF has a combined adult-gerontology/ occupational and environmental concentration. Students can select a concentration applicable to their major. Genomics, diabetes, rural health, palliative care, and HIV/ AIDS are among the options. Family nurse practitioners may select the 'Advocacy, Community Engagement, Quality Improvement and Leadership Academy'. Concentrations have varying entrance requirements.
Rush University (Chicago) offers its seven NP programs at the doctoral level. Most are online. Rush University has been honored by the National League for Nursing as a Center of Excellence in the 'Enhance Student Learning and Professional Development' category. It is rated #2 in the nation by US News and World Report for both adult-gerontology acute care DNP and adult-gerontology primary care DNP nurse practitioner programs.
Duke University offers master's level programs in all eight major specialty areas. It has the #1 ranked family nurse practitioner program in the nation. Family NP students can opt for sub-specialties in multiple areas, including endocrinology, oncology, and orthopedics. Duke University holds NLN recognition in multiple areas.
Nurse Practitioner Certification
Nurse practitioner programs qualify their graduates to sit for one or more certifications. These certifications are a part of the licensure process. The title of the track typically corresponds to a particular certification examination.
Nurse practitioners may later test for adjunct certification in their sub-specialty (if applicable).
The nurse practitioner candidate will be able to test through one or more of the following oranizations:
• American Academy of Nurse Practitioners (AANP)
• The American Nurses Credentialing Center (ANCC)
• National Certification Corporation (NCC)
• Pediatric Nurse Certification Board (PNCB)
• American Association of Critical Care Nurses (AACN)
Nurse Practitioner Salary Potential
With the change in scope of practice comes a change in salary.
The mean wage for an RN was $77,460, or $37.24 an hour, in 2019. Those at the 10th percentile made $52,080 while those at the 90th percentile made $111,220.
The mean wage for a nurse practitioner, by contrast, was $111,840, or $53.77, in 2019. Those at the 10th percentile made $81,410 while those at the 90th percentile made $152,160.
2020 Bureau of Labor Statistics salary figures for Registered Nurses is based on state data not school-specific information. Conditions in your area may vary. Data accessed August, 2021.
Resources
RN to Physician Assistant: Is this Possible?
MSN Degrees: A Transition to New Roles
<!- mfunc search_btn -> <!- /mfunc search_btn ->
Find Nursing Licensure Requirements in Your State: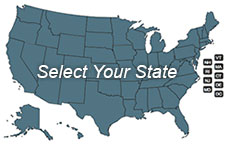 Learn about becoming a Registered Nurse, LPN or LVN in your state:
To View Full U.S. Map Click Here.