Choosing an RN Program in Georgia
Georgia boasts many professional nursing programs that can prepare you for a career as a professional nurse. The following is a guide for selection.
State Approval
States approve the nursing schools operating within their borders. The Georgia Board of Nursing has supplied a list of approved registered nursing programs. Prospective students should be aware that a program with conditional approval may be out of compliance with some state standard. (Initial approval is the status granted to new programs). The list is updated periodically, so prospective students should check that they have the most current list. The list may be viewed by clicking here.
<!- mfunc feat_school ->
Featured Programs:
Sponsored School(s)
<!- /mfunc feat_school ->
Most Georgia RN programs are accredited by the Accreditation Commission for Education in Nursing (ACEN) or the Commission on Collegiate Nursing Education (CCNE). Accreditation can be particularly important for students who may want to pursue higher nursing degrees later. It increases the chance that the student will be admitted and/ or granted advanced placement.
Georgia NCLEX Pass Rates
The NCLEX-RN is a licensing requirement in Georgia and throughout the United States, so pass rates are perceived as one measure of a program's success. The Board has provided four-year pass rate averages (by program) for first-time NCLEX-RN candidates (http://sos.ga.gov/PLB/acrobat/Forms/38%20Reference%20-%20Nursing%20Education%20Program%20Results%20(NCLEX).pdf).
The Georgia Board requires programs to maintain an 80% pass rate, though some programs post much higher rates.
<!- mfunc search_btn -> <!- /mfunc search_btn ->
The Application Process
Students must also consider the realities of the application process. Faculty and facilities place limits on the number of admissions programs can make. The American Association of Colleges of Nursing reports that in Georgia in 2012, 3,315 qualified students were turned away from baccalaureate and graduate level nursing programs — even more than the number who graduated.
Often demand translates to increased competitiveness of programs. An applicant may need to do more than meet the stated minimum standards. A college may note, for example, that a 2.5 is the minimum GPA, but that most accepted students are above 3.0.
BSN programs are often more competitive than those at lower levels. Tests are a typical requirement, though, even at the ADN level. Often the required exam is the Test of Essential Academic Skills (TEAS). Some schools use the Kaplan nursing admissions exam.
On a positive note, strong candidates can often bypass waitlists. Should waitlists become an issue, the Discover Nursing site has a search tool (http://www.discovernursing.com/schools#no-filters).
Prospective students may attend information sessions to get a sense of how prepared they are for admission.
Planning for Job Success as an RN in Georgia
The Bureau of Labor Statistics reports that Georgia RNs make, on average, $29.22 an hour or $60,770 a year (http://www.bls.gov/oes/current/oes291141.htm). This figure includes nurses with varying amounts of education and expertise, and it often takes some time to reach this figure. The American Association of Colleges of Nursing reports that graduates with BSNs are typically hired more quickly, with 93% of new BSNs in the South hired within six months (https://www.aacn.nche.edu/news/articles/2013/new-data).
It's not entirely a matter of the degree earned, however, and prospective students may want to ask about job placement rates and career services.
Financing Nursing School
Prospective students may also want to ask about options for financing nursing school. There is more available than just traditional Pell Grants and student loans. Some nursing students who are willing to work in underserved areas receive loan scholarships through the HRSA. These come with a service commitment. Merit-based scholarships, on the other hand, are often commitment-free. Schools are a good source of scholarship information and money.
Some Georgia RN programs are WIA-eligible (https://www.workreadyga.org/vosnet/Default.aspx). The WIA provides short-term training for displace employees and some other individuals who need assistance re-entering the workforce. Among the requirements are that the program is relatively short and that it offers preparation for a job with good wages.
Resources
RN License Requirements in Georgia
Medical Assistant programs in Georgia
<!- mfunc search_btn -> <!- /mfunc search_btn ->
Find Nursing Licensure Requirements in Your State: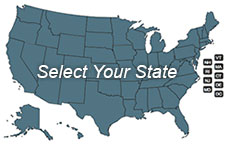 Learn about becoming a Registered Nurse, LPN or LVN in your state:
To View Full U.S. Map Click Here.