Nursing License Requirements in Texas
The Texas Board of Nursing website proudly proclaims 100 years of regulation (https://www.bon.texas.gov/). Actually it's a bit more than that now. Texas has been regulating professional nursing since 1909. The state has been regulating vocational nursing since 1951; in 2004, the two nursing boards were consolidated. Whether a nurse is an RN or an LVN, he or the candidate is licensed by the Texas Board of Nursing. The National Nursing Database reports 349,292 nurses with active licenses – 252,742 RNs and 96,550 LVNs.
Texas is a member of the nurse license compact, and has been since 2000. Nurses may be licensed by endorsement or examination. Texas uses the NCLEX-RN and NCLEX-PN, as do all states. Texas RN candidates had a pass rate of 90.70% in 2012, very close to the national average of 90.22%. For LVN, the most recent reporting period is 2011; the pass rate was 86.73%. Full program approval requires (among other things) maintenance of a pass rate of at least 80%.
<!- mfunc feat_school ->
Featured Programs:
Sponsored School(s)
Sponsored School(s)
All school search, finder, or match results, as well as colleges and universities displayed as "Featured School(s)" or "Sponsored Content" are advertisers that compensate us for placement on this site. The resources, editorial content, and school evaluations published on this site are developed independent of the schools that advertise here.
<!- /mfunc feat_school ->
Select the type of Nursing License you are seeking:
Those who like statistics will find plenty of them on the site of the Texas BON (https://www.bon.texas.gov/reports_and_data_nursing_statistics.asp.html). (How many LVNs are there in each county? Are they working in general practice, pediatrics, home health? The Texas Board not only knows, but releases the information.)
LVN Requirements in Texas
Education Requirements
A vocational nurse should complete an approved program. A candidate won't be excluded from licensure because the program was approved by a jurisdiction other than Texas if it included the required elements. However, the candidate can't be licensed on the basis of an unapproved or unauthorized program.
Read this article about choosing an LVN Program in Texas to gain a better understanding of the LPN program education requirements and process.
The Board has a list of approved in-state programs as well as unapproved programs that they are aware of (https://www.bon.texas.gov/faq_education.asp.html).
Approved programs include mental health nursing theory and care of adult, maternal and pediatric populations, among other topics.
Applying for Licensure
An acceptable legal/ disciplinary history is a requirement for licensing. This isn't to say that having something on one's record will automatically exclude a person. There is a review process. A prospective student who is unsure of eligibility can choose to have the matter resolved before the candidate enrolls in nursing school. There is a petition for declaratory order available on the BON site. There is a $39 fee for this service. A criminal background check will be required. Depending on how much review is required, the candidate may be asked to remit an additional $150 fee. The initial review may take 45 days, the second stage as long as four months.
Applications can be downloaded from the site of the Texas BON. A candidate may work under a temporary permit if the background is indicative of good character. In order to be eligible to work as a GVN (Graduate Vocational Nurse) while going through the licensing process, a candidate must register with Pearson and pay examination fees (www.vue.com/nclex). The candidate will need to take and pass the exam before the candidate can get permanent licensure. The candidate will receive an ATT from Pearson after all aspects of eligibility have been determined. At this point, the candidate will schedule an exam.
An in-state candidate may use the approved in-state Live Scan vendor for fingerprinting.
Candidates must take an online jurisprudence exam. A candidate who fails it may take it again after seven days. There is a time limit imposed on each attempt; failing to complete the exam within two hours is considered exam failure. There is a resource list to help candidates prepare.
LVNs may also wish to join the Licensed Vocational Nurses Association of Texas (http://lvnat.org/).
<!- mfunc search_btn -> <!- /mfunc search_btn ->
Out of State Applicants
Out-of-state candidates may be licensed by exam or endorsement, depending on whether they have already met licensing requirements in another state. If a nursing graduate is applying for first time licensure/ licensure by examination based on an out-of-state program, the program director must sign an affidavit that includes information about particular courses (i.e. how many hours of theory and how many hours of lab or clinical work).
LVNs can use the credentials they earned in another jurisdiction (certificate or degree, passing NCLEX-PN scores) to endorse into Texas, but they do need to meet Texas requirements – which include actually completing an approved nursing program. If an LVN was licensed in another state based on equivalency (partially completing an RN program or doing military training in any other than an approved practical/vocational nursing program) the candidate doesn't meet Texas requirements. If the candidate was licensed on the basis of a state exam (like the one used in California in prior decades) the candidate does not meet the examination requirement – yet. The candidate should contact the examination department.
There are only minor differences in policy for in-state and out-of-state candidates. Out-of-state candidates should request their fingerprint cards from the Board.
An endorsement candidate must provide license verification from each state where the candidate has been licensed.
A temporary permit can be issued before some steps are complete: results of background check, receipt of verifications, completion of the jurisprudence exam. However, it cannot be issued if there are questions about license eligibility (based on fitness questions). It takes a couple weeks for the Board to issue a temporary permit. It is valid for only 120 days.
Candidates who have not practiced in the recent past may be required to get a special temporary permit to do refresher work.
RN License Requirements in Texas
Education
A prospective RN must attend an approved program that includes at least two academic years of coursework. "Choosing an RN Program in Texas" offers several additional resources to learn about selecting an appropriate professional nursing program.
Click Here to find a list of approved RN education Programs in Texas.
Applying for Licensure
The candidate must meet additional eligibility requirements. If the candidate is unsure of the license eligibility due to issues in the past, the candidate can file a petition to have the background considered, and eligibility determined, even before the candidate begins the nursing coursework.
The Texas BON requests that candidates turn in applications 120 days before graduation. Applications can be found on the Board site. It is also possible to complete the application online.
A candidate applying for RN by examination must pay $139 to the Texas BON. There is a separate examination fee of $200 that will later be paid to the testing company, Pearson.
The candidate should also initiate a criminal background check. If the candidate is in-state, the candidate can have the prints captured electronically through the approved vendor. An appointment will be required.
After the student has completed all graduation requirements, the candidate will get the dean or director of the program to sign a form.
The candidate must also register with the testing company (www.vue.com/nclex). Once the eligibility has been determined, the candidate will be sent an ATT which will be valid for up to 75 days. The candidate will need to take the exam during this time frame.
A graduate can work as a GN (Graduate Nurse). The candidate can verify that the candidate has this status by going online. Before the status expires, the candidate will need to have passed the licensing exam plus the online jurisprudence exam. After the candidate applies to the Board, the candidate will be able to access the exam at the following web address: https://www.bon.texas.gov/. There is no additional fee for the jurisprudence exam.
Candidates are allowed to retake the NCLEX exam – many times, in fact, if they need and want to. However, they must continue to turn in an application to the Texas BON and pay applicable fees. A US educated candidate must pass within four years of graduation. The last application must be made at least 120 days before eligibility ends.
An RN must apply separately to do radiologic procedures in certain settings.
Texas RNs may wish to join the Texas Nurses Association (http:texasnurses.org).
Endorsement and International RNs
An RN may be endorsed into Texas if the candidate has already met the licensing requirements in another jurisdiction. This includes taking the appropriate licensing exam. The candidate will need to take the online jurisprudence exam before the candidate receives permanent licensing. A nurse who does not have recent experience will need to do additional work before the candidate can be licensed. This may take the form of a refresher course or extensive orientation. The candidate will need a special kind of temporary permit to complete requirements – this is not the same as licensure.
International nurses need credential evaluation as well as verification of licensure.
If the professional nursing program was in a language other than English, the nurse will need to provide English proficiency scores (TOEFL, IELTS, TSE, or PTE). If the candidate has not worked as a first level general nurse for at least two of the four preceding years, the candidate will need to take a Foreign Educated Nurse refresher course. The candidate will first take the NCLEX.
Additional Resources
Find Nursing Licensure Requirements in Your State: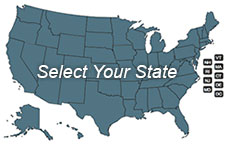 Learn about becoming a Registered Nurse, LPN or LVN in your state:
To View Full U.S. Map Click Here.