Advanced Practice Registered Nurse License Requirements in Texas
Texas' nurse practitioners and other advanced practice nurses are licensed by the Texas Board of Nursing. A prerequisite to advanced practice licensure is licensure as a registered nurse, either in Texas or in another state that is a member the nurse licensure compact. Additional requirements include graduate education and national certification.
APRN licensure may or may not include prescriptive authority. Nurse anesthetists have limited prescriptive authority based on their licensing. In other cases, the APRN must apply.
<!- mfunc feat_school ->
Featured Programs:
Sponsored School(s)
<!- /mfunc feat_school ->
Select a Texas Advanced Practice Registered Nurse Topic:
APRN Roles and Population Foci
A Texas Advanced Practice Registered Nurse (APRN) will be licensed in one of four roles: nurse practitioner, clinical nurse specialist, nurse midwife, or nurse anesthetist. Clinical nurse specialists and nurse practitioners also have a population focus. The following are currently recognized:
Acute Care Adult NP
Acute Care Adult/Gerontology NP
Acute Care Pediatric NP
Adult NP
Adult/Gerontology NP
Family NP
Gerontological NP
Pediatric NP
Psychiatric/Mental Health NP
Women's Health NP
Neonatal NP
Adult Health/Medical Surgical Nursing CNS
Adult/Gerontology Nursing CNS
Critical Care Nursing CNS
Gerontological Nursing
Pediatric Nursing CNS
Psychiatric/Mental Health Nursing CNS
However, those who have pursued specialties not included on this list may be eligible for licensure. Rule Rule 221.7(e) provides for multiple types of waiver. The nurse may be allowed to take a certification exam in a related specialty, or in some instances, be licensed without certification. Rule 221.7(e) is printed in the application packet.
APRN Educational Requirements in Texas
Advanced practice nursing programs are conducted at the master's level or higher (http://www.bne.state.tx.us/rr_current/221-3.asp). Approved programs include preceptorship. The program must offer preparation for the specific role and population focus. Some programs may have a dual focus. The student will, however, need 500 clinical hours in each practice area. (Nurse Practitioner programs in Texas)
Programs located within Texas must be nationally accredited by recognized accrediting agencies or explicitly approved by the Board of Nursing. Programs that are located out-of-state may be nationally accredited or accredited by the appropriate licensing agency within their own jurisdiction. The application packet includes a partial list of acceptable accreditors. In cases where the state is the accreditor, the state is expected to have standards at least on a par with national ones.
The Board has set additional curricular standards for nurse practitioner and clinical nurse specialist programs. CNS and NP programs must include role preparation as well as discrete courses in 1) pharmacotherapeutics 2)advanced assessment and 3) pathophysiology (or in the case of programs with a mental health concentration, psychopathology).
There must be a clinical major; the Board defines clinical major to mean courses in a specific specialty or practice area. Clinical nurse specialists are to have at least nine semester hours (or the equivalent) in their clinical major. Board rule explicitly states that CNSs must hold degrees at at least the master's level.
<!- mfunc search_btn -> <!- /mfunc search_btn ->
APRN Certification Requirements in Texas
The graduate will seek national certification in his or her role and population focus. Certification must be consistent with education. There might be some instances where an individual would meet prerequisites for a certification exam (as defined by the certification agency) but would not meet Texas standards.
The application packet includes a list of certifications that qualify a nurse for recognition in recognized roles and population foci. Nurse-midwives seek certification by the American Midwifery Certification Board; the licensing agency notes that the AMCB examination is to be the one that qualifies the candidate for the Certified Nurse Midwife (CNM) credential.
APRNs in some common practice areas may have a choice of certification organizations. Family nurse practitioners, for example, can be certified by either the American Nurses Credentialing Center or the American Academy of Nurse Practitioners. Pediatric nurse practitioners may be certified by the American Nurses Credentialing Center or the Pediatric Nursing Certification Board. Other organizations that offer approved examinations include the National Certification Corporation, the American Association of Critical-Care Nurses, and the National Board of Certification & Recertification for Nurse Anesthetists.
The licensing agency notes that the list of certifications included in the application package is not comprehensive; others may be accepted for licensure. Individuals who do not see their certification listed are asked to contact the APRN Office.
Applicants should be aware that information is subject to change. Texas approves certification examinations and periodically re-assesses them.
APRNs who Completed Programs in the Past
Texas does not grant reciprocity at the APRN level. However, some requirements are based on date of program completion. Some will not apply to individuals who completed programs before January of 2003, others to those who completed programs before January of 1998.
Additionally, nurse midwives and women's health practitioners who completed programs between January 1, 2003 and December 31, 2006 may be granted master's degree waivers.
Individuals who graduated before 2010 may be issued licenses reflecting specialties no longer routinely recognized in Texas.
The licensing agency expects applicants to have 400 hours of recent active practice.
The Application Process
Application materials can be downloaded from the Board website (http://www.bne.state.tx.us/forms.asp). The application may be submitted online or printed and mailed to the APRN Application Office in Austin.
The application packet includes an education verification form. A school official will provide basic information such as accreditation. The following national accreditors are noted:
Commission on Collegiate Nursing Education
National League for Nursing Accrediting Commission
National Association of Nurse Practitioners in Women's Health
Accreditation Commission for Midwifery Education
Council on Accreditation of Nurse Anesthesia Educational Programs
The official may write in an accreditation/ approval not listed.
The applicant will also submit evidence of current certification.
An RN who is licensed in another compact state will provide a copy of the license.
The Board will require official transcripts from all schools where qualifying coursework was taken.
The fee is $100 if prescriptive authority is not required, $150 if it is.
Renewal Requirements
An APRN will need to maintain national certification. The Board also requires continuing education and active practice; 400 practice hours is the current minimum.
Additional Information
Information is available from the Board of Nursing (http://www.bon.texas.gov/practice_nursing_practice_aprninfo.asp).The Advanced Practice Office can be reached by telephone at (512) 305-6843 or by email at 'apn at bon.texas.gov'.
Texas boasts multiple advanced practice professional organizations:
Coalition for Nurses in Advanced Practice http://www.cnaptexas.org/
Texas Nurse Practitioners http://www.texasnp.org/
Texas Clinical Nurse Specialists https://txcns.enpnetwork.com/
Texas Association of Nurse Anesthetists https://www.txana.org/
Texas Affiliate of the American College of Nurse-Midwives
<!- mfunc search_btn -> <!- /mfunc search_btn ->
Find Nursing Licensure Requirements in Your State: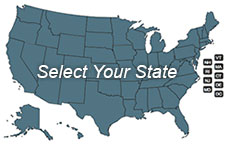 Learn about becoming a Registered Nurse, LPN or LVN in your state:
To View Full U.S. Map Click Here.