Nurse Practitioner Programs in Texas
Nurses practitioners are professional nurses who have high levels of education and are able to carry out advanced roles in health management. Among the duties they may perform: carrying out comprehensive assessments and ordering diagnostic tests. In Texas, nurse practitioners are licensed as Advanced Practice Registered Nurses, or APRNs. Nurse practitioner is not the only APRN role, but it is the most common one. In 2016, more than 73% of Texas APRNs had a nurse practitioner role. The total number of ARNs was well over 20,000. 78% of these professionals had prescriptive authority — they could write prescriptions.
Nurse practitioners tend to work in ambulatory settings like family practices, specialty practices, clinics, and hospital outpatient centers. Sometimes they help manage care in hospital in-patient units.
<!- mfunc feat_school ->
Featured Programs:
Sponsored School(s)
<!- /mfunc feat_school ->
Scope of practice is set at the state level, but there is a good deal of consensus about educational standards. Texas recognizes nurse practitioner scope as being dependent on the population focus of national certification. The most common population focus is also the broadest: family practice. Sometimes policies change to conform with what national standards setters are doing (https://www.texasnp.org/page/Issues85e). In 2013, Texas recognized two new categories, Adult/Gerontology Nurse Practitioner Acute Care and Adult/Gerontology Nurse Practitioner. This change came because accredited schools had begun educating nurse practitioners in these roles. (At this point, certification agencies recognize and test NPs for a combined adult-gerontology role as opposed to separate adult and gerontology roles. Nurse practitioners with adult/ gerontology recognition may treat patients as young as adolescence.)
Higher level credentials can mean higher earnings. Texas nurse practitioners averaged $53.53 an hour ($111,330 a year) in 2017, according to the BLS.
<!- mfunc search_btn -> <!- /mfunc search_btn ->
Nurse Practitioner Programs in Texas
#1: The University of Texas-Tyler offers a family nurse practitioner track among its master's options. The school's online master's program is very highly ranked: US News and World Report places it #5 out of all online nursing master's programs in the country.
#2: The University of Texas-Arlington offers multiple online tracks. Students who opt for the family nurse practitioner track have the option of a campus-based program if they prefer. The University of Texas-Arlington is recognized as an NLN Center for Excellence in the 'Enhance Student Learning and Professional Development' category. The DNP program is ranked #52 in the nation.
#3: The University of Texas Health Science Center—Houston can prepare nurses for varied careers. Family nurse practitioner students have the option of earning a certificate in emergency trauma care. The school's DNP program is ranked #39 out of all DNP programs.
#4: Baylor University offers its family nurse practitioner and neonatal nurse practitioner programs at the doctoral level. Students get the same accredited education and the same certification preparation that they would in a secular program, but may also be well prepared for global ministry. The Baylor DNP program is ranked #54.
#5: Texas Tech University Health Sciences Center has, among its goals, preparing nurse practitioners who can serve in rural clinics. Experienced nurses may achieve this goal in a relatively quick and efficient manner, with an online master's. The Texas Tech University online master's is ranked #49 among online nursing master's programs by US News and World Report.
#6: Texas Christian University, Texas Women's University, and the University of Texas Health Science Center—San Antonio are among the accredited Texas schools that enjoy a level of national recognition preparing advanced nurses. Texas Christian University offers a post-graduate oncology certificate program with preceptorship. The program is 10 to 14 credit hours, depending on whether the nurse seeks a course in palliative and end of life care.
APRN Educational Foundations
State code mandates the following coursework: pathophysiology, advanced physical assessment, pharmacotherapeutics, and APRN role preparation. The physical assessment course must include a clinical component. The students will have coursework specific to his or her population focus. There will be a minimum of 500 clinical hours.
Programs must be accredited by organizations that are recognized in Texas. Accrediting agencies offer their programs at the master's and doctoral levels. The Commission on Collegiate Nursing Education, the organization that accredits most nurse practitioner programs nationwide, has published standards documents which delineate core doctoral nursing standards as well as master's ones.
NP students can expect their programs to let them know what certification exam(s) they will be eligible for. Some NP categories have only one certification option. In others, two agencies/ examinations are recognized by the Texas Board. Family nurse practitioners and adult-gerontology nurse practitioners can test through the American Academy of Nurse Practitioners or the American Nurses Credentialing Center (ANCC). Pediatric nurse practitioners can test through the Pediatric Nursing Certification Board or the ANCC. Adult-gerontology nurse practitioners with an acute care focus can test through the American Association of Critical Care Nurses or the AACN. Women's health nurse practitioners and neonatal nurse practitioners test through the National Certification Corporation. Psychiatric mental/ health nurse practitioners test through the ANCC. Pediatric acute care nurse practitioners test through the Pediatric Nursing Certification Board.
Nurse practitioners can branch out into areas outside their original training. Post-master certificates are common. The APRN can expect clinical hours in the new population focus. Texas mandates 500 hours in each role and population focus for which recognition is sought. Much of the program will likely be online: designed to accommodate a working professional's schedule.
(See: Nurse Practitioner requirements in Texas)
Texas APRN Scope of Practice Issues
Texas sets scope of practice more restrictive than some states in that it requires physician oversight. The state also places more restrictions on some functions like prescribing controlled substances and signing off on various medical forms.
In some settings, healthcare professionals use a team approach to managing care, and it is easy to get an authorized person to sign off on what needs signing. In other locations, it can be a hurdle. Of concern are the rural areas where healthcare access can prove elusive. One nurse practitioner made the news recently when she opened a clinic in Bedias; it was the first one to serve that particular community in more than 85 years (https://www.texasnp.org/news/367904/Brazos-Valley-Nurse-Practitioner-Opens-First-Rural-Clinic-in-85-Years-in-Bedias-.htm). The clinic would provide services like vaccines, wellness exams, and management of diabetes and other chronic conditions; it would provide home visits for homebound Medicare beneficiaries. As the article notes, it wasn't easy to bring the dream to fruition. The community, though, was very vested in that APRN's dream!
Texas Nurse Practitioners, a state professional association, has provided a list of current issues, among them reimbursement of nurse practitioners in situations where the delegating physician is not in the insurer's network.
Ultimately, the same certification can qualify a person to work in a variety of specialized settings. Some NPs, though, seek specialized training through additional formal programs. Oncology and hospice care are two areas where healthcare organizations need well-prepared professionals at multiple levels of practice. A Texas Hospital Association article spotlights the importance of healthcare teams working together to serve patient wishes at end of life (https://www.tha.org/Publications/Texas-Hospitals-magazine/Texas-Hospitals-May-June-2018/How-Texas-Hospitals-Help-Patients-Craft-An-End-Of-Life-Plan).
<!- mfunc search_btn -> <!- /mfunc search_btn ->
Find Nursing Licensure Requirements in Your State: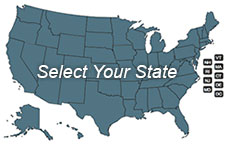 Learn about becoming a Registered Nurse, LPN or LVN in your state:
To View Full U.S. Map Click Here.