RN Careers in Texas: Becoming an RN
Texas needs nurses. In fact, there's concern about the state's ability to maintain an adequate workforce over the long haul. This has been fueled in part by predictions by the Health Resources and Services Administration. The state has been projected to experience shortage for years to come.
Professional nursing isn't for everyone. RNs need more than compassion. They need some level of scientific aptitude. They need the ability to handle at least a little blood and body fluid and at least a little human sadness. But there are many career paths: some heavier on technical procedures, some heavier on navigation of social systems. The choices encompass far more than staff nursing and management. In an era of healthcare change with focus on preventative care and rigorous quality improvement processes, there are new roles opening up.
<!- mfunc feat_school ->
Featured Programs:
Sponsored School(s)
<!- /mfunc feat_school ->
Direct care nurses often get to choose what type of population they want to work with and in what context. The elderly? At-risk infants? Do they want ongoing relationships with patients or do they prefer the fast pace of ED or critical care transfer where (hopefully) they won't see the same patients repeatedly?
As an RN, there's good chance that one will work in a hospital, but it's far from a given. The Texas Center for Nursing Workforce Studies has provided information about four sectors: hospital, long-term care, home health and hospice, and public health (https://www.dshs.texas.gov/chs/cnws/). Each of these is broad.
Career Preparation
Whatever one's professional nursing goals, he or she will begin the same way: by enrolling in an approved program (RN programs in Texas). Most Texas programs culminate in an associate's or bachelor's degree. The state boasts one hospital-based diploma program. A majority of Texas hospitals surveyed (58.1%) consider the bachelor's important.
Hospital Employment
Hospitals may have different functions: acute care, rehabilitation, psychiatric, or special care. The workforce center pays particular interest to how rural and critical access hospitals are doing meeting their staffing needs. CAHs are very small – no more than 25 acute care beds — but have service agreement with larger hospitals.
Nearly 75% of nursing positions in hospitals are staffed by RNs. The remaining positions are staffed by individuals with both higher and lower credentialing. Texas hospitals use quite a few nurse aides.
The hospitals surveyed reported that more than 10% of hospital RN positions were filled by first-year RNs. There are a wide variety of positions and some are designated as new grad.
If one visits the website of Medical City-Plano, for example, they will see a number of specialized positions advertised for RNs with, at minimum, a year of experience (https://medicalcityplano.com/careers/search.dot). The following are among the areas where vacancies may occur:
Neuro Progressive Care Stepdown Unit
Medical Telemetry
Medical Surgical (Med Surg)
Geriatric Med Surg
One may also see post-grad internship listed. Medical City-Plano listed the following internships with a start date of July 2018:
Critical care services
Emergency services
Medical surgical services
Labor and delivery
Neonatal intensive care unit
Voluntary overtime is the #1 strategy for dealing with absenteeism, but there are others: traveling nurses, per diem nurses, management filling in. From a hospital standpoint, travel nurses are an expensive way to meet staffing needs. However, many nurses enjoy the travel – or at the least, the wages they can command.
The Center for Nursing Workforce Studies reports some data by region. The 2016 report noted specially high first-year RN vacancy rates in the Panhandle.
Hospitals have different strategies for meeting workforce needs including some aimed at decreasing vacancies and increasing retention.
More than 65% of Texas hospitals reported using some type of transition to practice program. More than 80% used employee recognition programs.
The Center for Nursing Workforce Studies has included use of Magnet Recognition and Pathway to Excellence recruitment and retention strategies under its recommended strategies. Facilities with these designations, both granted by the American Nurses Credentialing Center, are known for the ability to hang on to high-caliber nurses!
The Pathway to Excellence program had its origins in Texas as the nurse-friendly program. The recognition has spread around the nation but still seeks to recognize organizations with work environments that are friendly to nurses. And Texas is still heavily represented: 52 out of 155 designated organizations.
Texas has 42 magnet hospitals.
<!- mfunc search_btn -> <!- /mfunc search_btn ->
RNs in Long-Term Care, Home Health, and Hospice
Nursing homes and home care both serve populations who need care below the acute level However, there are differences in staffing patterns as well as setting.
There are laws mandating minimum RN staffing in nursing homes. They are essential for patient care. However, RNs account for a relatively small part of staffing. Long-term care facilities utilize a lot of nurse aides. RNs account for only a little over 5% of direct care workers. More than 40% of nursing home administrative positions, though, are filled by RNs. Still, there are somewhat fewer RNs employed in nursing home administrative positions than direct care ones.
Fewer long-term facilities have transition to practice programs than hospitals. It's a sizeable minority, though: 29.8%.
Some RNs employed by nursing homes hold specialty certification in nursing administration or dementia – two very different disciplines but both potentially very useful.
Texas groups home care and hospice agencies together for reporting purposes. Hospice serves a special population — those in the final months of life. RNs make up the largest proportion of nursing staff in home health and hospice agencies, though LVN and HHA combined outnumber them.
Home health agencies can be hard hit during times of shortage.
Nurse informacist is a less common role, but one that received a mention in the 2016 report. Texas home health and hospice agencies employed a total of 257 nurse informacists at the time of the survey, primarily in metropolitan areas.
Public Health Nursing
Public health nursing is a broad field. Roles may include clinic-based care, outreach, or population-based prevention, among others. The employer is often a state or local governmental entity.
The following are among the types of public health program where RNs are commonly utilized:
Tuberculosis control
Immunization services
Chronic disease prevention and services
Case management and care coordination
Maternal child health
Family planning clinical services
Ambulatory care services
Refugee health
The Texas Center for Nursing Workforce Studies reported in 2015 that not many new grads were hired into this sector. The largest proportion had education at the BSN level.
Average Salary
Texas registered nurses earned a mean hourly salary of $33.84 in 2016.
70390
Find Nursing Licensure Requirements in Your State: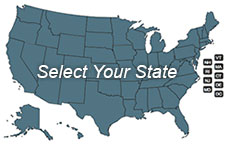 Learn about becoming a Registered Nurse, LPN or LVN in your state:
To View Full U.S. Map Click Here.