What are RN to BSN students doing after graduation?
What are BSN completion students doing after graduation? It varies a lot. One commonality is that if they want to be working in the field, they usually are! The AACN reports that job prospects are better for baccalaureate level graduates than for associate level ones. A study by the AACN found that 89% of nurses who had entered the field recently with a BSN or MSN degree had had job offers within six months. Some schools report placing as many as 100% of their BSN graduates. Actually placement rates vary by geographical location and school. No school can guarantee a nurse a position, but some will tell them that their odds are very good.
<!- mfunc feat_school ->
Featured Programs:
Sponsored School(s)
<!- /mfunc feat_school ->
BSN Completion and Job Promotions
One key difference between traditional BSN students and RN to BSN students is that most in the latter group are already working within the field. Many BSN completion grads do stay on at the same job they were working at while they got their degree. This isn't a sign of failure. Nurses often get their BSN at their employer's request — and sometimes even at their employer's expense. Some job offers are dependent on enrollment in a BSN completion program, or at the least, on willingness to complete the degree within a specified time frame. Some employers will only consider new hires who already have baccalaureate degrees, but will promote candidates from within who have yet to complete the program.
Many nurses do move into higher positions after graduation, often at the same healthcare center. Many healthcare facilities have a career ladder that rewards education as well as experience. Moving from one level to the next may require submitting many documents (for example, evidence of professional membership, education, and nursing competence). At Presbyterian Healthcare in Albuquerque, acute care nurses are classified as RN I, RN II, or RN III. Progression is determined by points. Degree completion is worth points, as is national certification, mentoring, council participation, and development of articles or presentations. In order to be classified as an RN III, a nurse must have a BSN and national certification (or an MSN). Nurses who have achieved RN III status make $6.00 an hour more than RN I nurses (and $3.00 more than their RN II counterparts).
Institutions have varying career ladder policies, but many nurses know that their degree will contribute to promotion in a straightforward and predictable manner. Read more about opportunities for those nurses who have completed an RN to BSN program in "Career Advancement in Nursing".
<!- mfunc search_btn -> <!- /mfunc search_btn ->
Nurse Manager Positions
What of the nurse who wants to become a healthcare leader? BSN nurses are often favored for such promotions. Magnet hospitals now have quotas in place that effect hiring. Since January 1, 2011, they have been required to have at least 75% of their nurse managers hold a baccalaureate or graduate level degree. This can lead to requiring the BSN for any new positions that open up.
Nurses do have an easier time landing their dream job — or indeed landing a job — when the economy is stronger. At first, this may seem counterintuitive. Healthcare is (primarily at least) a need and not a luxury! However, nurses are often called upon to make up the difference when spouses face unemployment or underemployment. Experienced nurses re-enter the field or pick up more shifts.
During difficult economic times, healthcare facilities tend to raise their standards and staff their wards with more highly educated nurses — because they can. You're more likely to move up in the ranks with a baccalaureate degree, but the process can still take some time.
It's Not All About the Job
When the economy was in recession there were not the number of jobs one would have liked to see. It was not the first time this has happened and most likely will not be the last. During these down times may BSN graduates decided to continue with their education, going on to pursue a Master's degree to specialize their skills even more.
Even in good economic times RN to BSN graduates take to continuing their education versus finding a new job. As was mentioned earlier, employers often pay for all or at least a portion of tuition. What a great opportunity to take advantage of!
The AACN suggests that this is a good time to add to your education. If you get the higher degree, you are poised to vie for a better position when the opportunity presents itself.
Additional Information:
Working—and Networking—Your Way to a Job in Nursing
<!- mfunc search_btn -> <!- /mfunc search_btn ->
Find Nursing Licensure Requirements in Your State: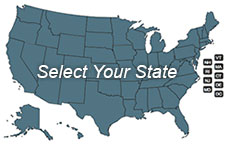 Learn about becoming a Registered Nurse, LPN or LVN in your state:
To View Full U.S. Map Click Here.