The Successful RN to BSN Student: Skills for Success Going Back to School
Fear of failure doesn't end with that first degree or first license. Some nurses impose their own glass ceiling of sorts. They're not sure if they have what it takes to go after a promotion — or to pursue the higher degrees that will make promotion more likely. There are indeed different expectations at different educational levels. However, each level is designed to build on the one below it. If you're a nurse already, if you're skilled at what you do and have commitment and ambition, chances are good that you can continue climbing the career ladder. What are the traits of a successful BSN student?
<!- mfunc feat_school ->
Featured Programs:
Sponsored School(s)
<!- /mfunc feat_school ->
Compassion is an important trait for any nurse, from nursing assistant on up to graduate school. A big part of nursing is the human factor. Stress tolerance is also important. There are often long days. You see a lot of pain and you need to be able to empathize without becoming overwhelmed. It is also important to be able to put aside some time for your own needs. Sometimes this means having a measure of assertiveness. Annette Vallano, M.S. notes in Your Career in Nursing that a long-term success in the nursing field is one who takes his/her lunch break. The person who has a hard time saying no, or taking time for herself, is at more of a risk for burnout.
If you have the foundational skills, there are a lot of people out there who want to see you succeed. In 2010, the Institute of Medicine set a goal of having 80% of nurses baccalaureate-educated within a decade's time.
Academic Skills for BSN Nurses
Academic skills do become more important as you move up the educational ladder. Independent decision making and critical thinking skills are especially important for positions at the baccalaureate level and beyond. The BSN level is often the level where a nurse begins vying for positions in public health or health education. These positions require a certain degree of autonomy. Nurses who work in these capacities are expected to critically evaluate research and to use it in program design. By the end of a baccalaureate program, an RN needs a foundation in scholarly research and statistics. She or he may or may not choose to go on to graduate school, but they are expected to have the skills required for graduate school entry.
In order to be successful in a RN to bachelor of science program, an RN will need solid math and science proficiency — the expectations are a little higher than in an ADN program. A nurse shouldn't necessarily worry that their skills are a bit rusty, though, or that they have never taken higher level math classes. There are generally prerequisite courses that are designed to provide a foundation and ease the student into the process. Academic reading skills are also important. A nursing student who scores above the 50th percentile on entrance exams has little chance of academic failure. One who scores below is sometimes considered at-risk. This doesn't mean they will fail, but that some extra academic support may be needed. Registered nurses have already proven their ability to be successful out in the field; GPA requirements may be a bit lower than they are for generic (or traditional BSN) students, and entrance exams may be waived. Gaps, however, will need to be made up — it's best to begin the process early.
<!- mfunc search_btn -> <!- /mfunc search_btn ->
Succeeding in a BSN Degree Completion Program
Being a nursing student, of course, is not quite the same as being a nurse. You probably faced experiences as a novice that your education didn't quite prepare you for. Is the reverse also true? Are there skills you'll need in academia that you don't use in the hospital? Maybe. Many degree completion courses are offered online. A nurse who chooses this path will need to be able to pace herself and set her own deadlines. Basic computer proficiency is also a must.
Yes, schooling can temporarily add to your responsibilities and subtract hours of family time or down time. If you do choose to keep climbing the career ladder, though, there are some skills that may become less important as the years go by — skills like heavy lifting or tolerance for twelve hour shifts!
You may also want to read "Am I Too Old to go Back to School? In Pursuit of the RN to BSN" to fi you have any angst about returning to school and how your age may compare to other students doing the samething.
Find Nursing Licensure Requirements in Your State: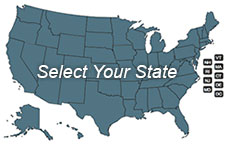 Learn about becoming a Registered Nurse, LPN or LVN in your state:
To View Full U.S. Map Click Here.