Certified Nurse Assistant Requirements in California
California's Certified Nurse Assistants must complete training programs, pass examinations, and receive criminal background clearance. Individuals can be certified as young as age 16.
Select a California Certified Nurse Assistant Topic:
Educational Requirements
A prospective CNA will complete an approved program unless he or she can demonstrate equivalent training in another healthcare field. Approved California programs include at least 60 hours of classroom instruction and 100 hours of supervised training. Training can be completed in a regular employment context if it meets the requirements of state code. A list of approved CNA programs can be found on the Department of Public Health website (https://www.cdph.ca.gov/Programs/CHCQ/LCP/Pages/CNA.aspx).
Equivalency: A prospective CNA may meet equivalency requirements on the basis of partial completion of an LPN or RN nursing program or Licensed Psychiatric Technician (LPT) program. A healthcare worker may also qualify based on military training.
In most cases, equivalency candidates must demonstrate recent paid employment in the field. This requirement does not apply to nursing graduates who received their degrees within the previous two years.
Candidates applying on the basis of equivalent training are directed to contact the Department of Health at 916-327-2445.
Find a SchoolClick Here to see Nurse Assistant and other entry to nursing/health care programs in California.
Examination Requirements
California is among the 25 states that use the National Nurse Aide Assessment Program (NNAAP) for certification purposes. Candidates must pass knowledge and skills tests; the knowledge test is available in written and oral formats. The oral test includes ten word recognition/ reading comprehension questions in addition to 60 oral questions.
The examination is administered by Pearson VUE. Applicants will find resources on the 'California Nurse Aide' page of the Pearson VUE site (http://www.pearsonvue.com/ca/nurseaides/). Applicants who are unsure which format to choose may do the self-assessment in the candidate bulletin.
Applicants seeking certification based on equivalency must obtain Department of Public Health approval before registering for an examination.
Scheduling is done through regional testing centers. There are multiple examination sites in both the Northern (http://missioncollege.org/depts/HWI/regional_testing.html) and Southern (http://www.regionaltestingcenter.org/) regions. The Northern and Southern California testing centers have each provided a list of test sites and upcoming examination dates, as well as links to other certification resources.
The Northern Region Testing Center can be reached at (408) 855-5203. The Southern Region Testing Center can be reached at (714) 895-8708. A third regional site, for Central California, can be reached at (805) 965-0581
Test takers can reschedule one time free of charge provided that they call at least two business days before the scheduled test..
The fee is $90 for test takers who opt to do the knowledge exam in a written format, $105 for those who opt for the oral version.
Fees for re-examination are as follows:
Written $35
Oral $50
Skills $55
Candidates are expected to pass the knowledge and skills examinations within two years of program completion/ approval by the Department of Health. Otherwise, they will need retraining. Pearson VUE notes that three attempts are allowed during the two-year period.
<!- mfunc search_btn -> <!- /mfunc search_btn ->
Criminal Background Checks
California requires criminal background checks; the agency uses a Livescan (digital) fingerprinting process. The applicant will need to fill out form BCIA 8016, a request for Livescan services (http://ag.ca.gov/fingerprints/forms/BCIA_8016.pdf) Applicants may contact Live Scan operators for fingerprinting appointments. The Southern Regional Center has provided contact information for operators in the region (http://www.regionaltestingcenter.org/livescan.html).
The credentialing agency will review all criminal offenses except minor traffic violations. The application packet includes a list of convictions that are automatically disqualifying. An applicant may be granted reconsideration in some cases despite a disqualifying conviction; an applicant with a disqualifying felony conviction would need a Certificate of Rehabilitation.
The Application Process
An in-state trainee will submit an application and Livescan fingerprint request before beginning the patient-care portion of the program; in some cases, the program will submit it on behalf of the student.
Application forms are available on the Department of Health website (https://www.cdph.ca.gov/Programs/CHCQ/LCP/Pages/CNA.aspx). Applicants for initial nurse assistant certification will select form CDPH 283 B.
An applicant who is applying on the basis of recent in-state CNA training will need a signature from the registered nurse who supervised the training program. There is no required application fee.
An equivalency candidate will use the same application as an examination candidate, but will not enter information in all sections. The Board has provided a sample, with pertinent information highlighted (https://www.cdph.ca.gov/Programs/CHCQ/LCP/Pages/CNA.aspx). The Board has also recently put together an application packet that includes supporting documentation necessary for equivalency applicants.
An equivalency applicant will document training through an official transcript or a letter on official school letterhead. Documentation must include completion date. An individual applying on the basis of nursing education must have, at the minimum, a course in Fundamentals of Nursing.
An individual with military training may instead include a copy of his or her DD-214.
Reciprocity/ Transfer
CNAs who are registered and in good standing in other states may be placed on the California Nursing Assistant Registry by reciprocity. The applicant will need to submit a copy of the out-of-state certificate to the California Aide and Technician Certification Section (ATCS) and submit a 'Verification of Current Nurse Assistant Certification' form (CDPH 931) to the current state of certification.
A reciprocity candidate will use the same initial application form that an examination candidate uses. The applicant may download a reciprocity packet and a "How to Complete Your Reciprocity Application" PDF file from the ACTS webpage; the PDF highlights the information that must be included on the form.
An out-of-state CNA who received an initial certificate more than two years in the past will submit a pay stub or other evidence of employment providing nursing-related services.
Additional Information
Information about nurse assistant certification is found on the 'Aide and Technician Certification' page of the California Department of Public Health website (https://www.cdph.ca.gov/Programs/CHCQ/LCP/Pages/CNA.aspx).
Those with questions can call (916) 327-2445 or email 'cna at cdph.ca.gov'. They can leave voice mail at (916) 552-8811.
Advancement:
Find Nursing Licensure Requirements in Your State: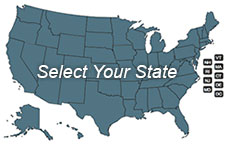 Learn about becoming a Registered Nurse, LPN or LVN in your state:
To View Full U.S. Map Click Here.