Nurse Practitioner Programs in Alabama
Alabama's nurse practitioners serve vital needs. They have preparation well beyond that of the typical RN; this allows them to manage and diagnose common illnesses.
Nurse practitioners attain one or more third party certifications. Certifications typically designate an age group; they may also designate a primary or acute care role. The scope of practice is determined by certification. Scope can be as broad as family practice or as narrow as neonatal. Women's health is among the options; so is psychiatric/ mental health.
Family practitioners nurse help ensure healthcare access, particularly in rural areas.
<!- mfunc feat_school ->
Featured Programs:
Sponsored School(s)
<!- /mfunc feat_school ->
Top Nurse Practitioner Schools in Alabama
#1: The University of Alabama-Birmingham: This school has a commitment to preparing nurse practitioners to serve rural areas. Students enrolled in the Graduate Nursing Education Primary Care Scholars (GNEPCS) program have the opportunity to receive mentorship and preceptorship from rural providers. The UAB Doctor of Nursing Practice program is ranked #8 out of all DNP programs in the nation by US News and World Report. Students can select from various population foci and sub-specialties.
The UAB online master's program serves Florida, Georgia and Mississippi as well as Alabama. RNs can choose to pursue advanced study in primary care or mental health… or both.
#2: The University of South Alabama and Samford University: Master's or DNP, these two have plenty of options.
#3: Auburn University: This well-respected Alabama institution is one of several options for earning a CCNE-accredited nurse practitioner degree.
#4: University Of Alabama Huntsville
#5: University Of Alabama in Tuscaloosa
<!- mfunc search_btn -> <!- /mfunc search_btn ->
Becoming a Nurse Practitioner and Expanding One's Practice
A prospective nurse practitioner will need to pursue education at the master's level or higher. Programs of advanced practice registered nursing are to be accredited by a recognized accrediting agency. The Board of Nursing has provided links to the CCNE and ACEN accrediting agency program directories (https://www.abn.alabama.gov/advanced-practice-nursing/#faq/how-do-i-know-if-my-advanced-practice-nursing-program-is-accredited-by-ccne-or-acen).
CCNE and ACEN accrediting agencies hold programs accountable with regard to resources and staff, curriculum, and student outcomes.
Alabama students have master's and doctoral degree options. Coursework includes advanced concepts in pathology, pharmacology, and assessment and prepares the practitioner to meet the health needs of the population. Much of the program can often be completed online. The student will spend considerable time out in the field. The more specialized programs require preparation beyond the master's level. There are post-master certificate options for nurses who already hold master' degrees in advanced practice nursing.
The graduate will need to achieve third party certification through an approved certifying agency. The following agencies each offer approved certifications:
American Nurses Credentialing Center
American Academy of Nurse Practitioners Certification Program
Pediatric Nursing Certification Board
American Association of Critical Care Nurses
National Certification Corporation for Obstetric, Gynecologic and Neonatal Nursing Specialties
There needs to be an appropriate match between education and certification. Students can expect their program to let them know which certification examination(s) they will be eligible to sit for.
Organizations change their offerings from time to time. The list includes some that are no longer available for initial certification by examination but are available for re-certification. The Board list was updated in 2018. (More: Nurse Practitioner requirements in Alabama)
Authority and Scope of Practice
An Alabama nurse practitioner will be licensed as a registered nurse and hold approval as a Certified Registered Nurse Practitioner (CRNP). CRNP is an Advanced Practice Nurse (ANP) classification.
The American Academy of Nurse Practitioners describes Alabama as a reduced practice state. The state's CRNPs carry out duties that one may associate with medical providers (for example, prescribing medication). They may even go into private practice. However, they are not fully independent; they must have collaborative agreements with physicians. Nurse practitioners are under joint regulation by the Alabama Board of Medical Examiners and the Alabama Board of Nursing.
While nurse practitioners are required to have some level of oversight, they are not necessarily required to have on-site supervision. During the nurse practitioner's first two years (4,000 hours) of collaborative practice, 10% of the time will be on-site with a qualifying medical professional. A nurse practitioner who begins work in a new medical specialty will again need some on-site time. An experienced nurse practitioner will continue to meet with his or her supervisor on at least a quarterly basis.
The nurse practitioner will operate under a written protocol for his or her practice area; this will include, among other things, a formulary that includes drugs and treatments that the nurse practitioner is allowed to prescribe or perform at that location. Non-medicinal procedures could include things like a shave biopsies, pulmonary spirometry interpretation, or particular types of ultrasound. The Board of Nursing website includes standard and specialty protocol forms and requests for additional skills (https://www.abn.alabama.gov/advanced-practice-nursing/).
Sometimes the practitioner's job duties entail determining a patient's eligibility or fitness. Alabama nurse practitioners added an additional allowable duty in 2017: the authority to complete disability-related paperwork.
In order to prescribe certain types of drugs, considered controlled substances, a nurse practitioner will need a separate authorization, a Qualified Alabama Controlled Substances Certificate (QACSC).
Nurse practitioners whose sole employment is in federal facilities may request exemption from the requirement to be in collaborative practice with an Alabama-licensed physician.
Rural Practice and State Loan Repayment
Alabama needs rural nurse practitioners – so much so that it's investing moneys in educating them. Nurses who are willing to make the commitment can apply to the Alabama Loan Repayment Program while pursuing qualifying graduate studies (https://www.abn.alabama.gov/alabama-nursing-resource-center/grad-students/#tab-loans). Recipients will need to work in an area of critical need; currently this means one can't be too near an urbanized area. The Board has provided a map and informed potential recipients that their place of employment can't be within five miles of an area that's shaded purple. The Board has provided a link to an application that can answer the eligibility question: Am I rural?
Despite the focus on ensuring a rural workforce, the nurse practitioner job concentration is somewhat above the state average in some metropolitan areas, including Decatur, Gadsen, and Birmingham. The Florence-Muscle Shoals area has one of the highest nurse practitioner job concentrations in the nation.
<!- mfunc search_btn -> <!- /mfunc search_btn ->
Find Nursing Licensure Requirements in Your State: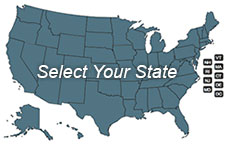 Learn about becoming a Registered Nurse, LPN or LVN in your state:
To View Full U.S. Map Click Here.