Nurse Practitioner Programs in Colorado
Nurse practitioners have long been a part of the Colorado landscape. In fact, the University of Colorado graduated the nation's very first class of nurse practitioners. That was back in 1965. The goal was to turn out practitioners who could provide health services to children and to other people who were disadvantaged and would otherwise lack access to necessary services. Healthcare access remains a goal; the profession has grown immensely, but the state is still struggling to put nurse practitioners in every community that needs one.
A Colorado nurse practitioner must be licensed as a registered nurse and included on a registry for advanced practice nurses. Nurse practitioner is one of several types of advanced practice registered nurse, or APN; it is the most common one. A nurse practitioner will have a population foci such as family, women's health, pediatric, neonatal, or mental health.
<!- mfunc feat_school ->
Featured Programs:
Sponsored School(s)
<!- /mfunc feat_school ->
Nurse Practitioner Programs in Colorado
#1: The University of Colorado- Aurora (Anschutz Medical Campus): Students can earn certification following completion of a master's program and, if they choose, continue on for a DNP. The following specializations are available: Adult-Gerontology Acute Care Nurse Practitioner, Adult-Gerontology Primary Care Nurse Practitioner, Pediatric Nurse Practitioner Acute Care, Pediatric Nurse Practitioner Primary Care, Family Nurse Practitioner, Psychiatric Mental Health Nurse Practitioner. The school is ranked #36 out of all DNP programs in the nation by US News and World Report and #4 in the online master's category.
The University of Colorado-Colorado Springs: Accredited separately by the CCNE, the University of Colorado-Colorado Springs makes a very respectable showing in the DNP and online master's categories. Students can select from three population foci: Family, Adult-Gerontology, or Psychiatric.
#3: The University of Northern Colorado: Here is yet another option to earn a CCNE-accredited Family Nurse Practitioner or Adult-Gerontology Nurse Practitioner degree at the master's or doctoral level.
#4: Regis University: Nurses with NICU experience can prepare for careers as Neonatal Nurse Practitioners with degrees from this CCNE-accredited school.
<!- mfunc search_btn -> <!- /mfunc search_btn ->
APN Scope of Practice
Colorado's nurse practitioners act as healthcare providers. They manage and treat health conditions; this can include writing prescriptions. Colorado is, according to the American Association of Nurse Practitioners, a full practice state. This is the level recommended by the Institute of Medicine. Full practice signifies duties at the level of training without ongoing physician supervision or other regulatory barriers.
Writing prescriptions is an integral part of providing primary care. In 2015, Colorado passed legislation that lessened requirements for prescriptive authority and allowed nurse practitioners to obtain it sooner (https://www.colorado.gov/pacific/dora/hickenlooper-signs-SB15-197).
The Colorado Health Institute noted why it was important: access to care for Coloradans. By easing this mandate, the state made it easier for nurse practitioners to serve as primary care providers for the underserved. Other states had been recruiting Colorado's nurse practitioners; obstacles to practice were thought to be a reason (https://www.coloradohealthinstitute.org/blog/primary-care-workforce-advanced-practice-nurse-solution).
The Colorado Center for Nursing has provided geographic data about the state's primary healthcare providers. In some ways, it is a study in inequity (https://campaignforaction.org/wp-content/uploads/2016/04/APRN-Report-CO.pdf). Some counties have far more residents per primary care provider than others, and some rural counties have only one or two physicians. This translates to thousands of residents per physician; this is compared to less than 200 in Denver County. Rural counties tend to have a higher proportion of primary care providers who are nurse practitioners, in part because these areas are so very underserved with regard to physicians. In four rural counties, more than 75% of primary care providers were nurse practitioners. There has been a trend in recent years of community health centers depending on nurse practitioners and physician assistants for staffing. Of concern, though, is the aging of the advanced practice nursing workforce and impending retirements.
While the majority of Colorado nurse practitioners are primary care providers, some do take on specialized nursing roles in other settings. Many nurse practitioner jobs are found more in urban settings.
The Bureau of Labor Statistics current job concentration data suggests a geographic divide. The nonmetropolitan area in the Eastern and Southern parts of the state show relatively high job concentration; the Northwestern nonmetropolitan area, a very low one.
Becoming a Nurse Practitioner in Colorado
A prospective nurse practitioner will need to earn a graduate degree and then seek certification by a recognized national organization. These steps are related. Colorado code mandates that the program meet standards of a national certifying agency. In some ways, standards of the varying certification agencies are similar. Certification is dependent on completing a qualifying graduate program. Different certifications, though, are available for different population foci. Students who select some common foci (for example, family nurse practitioner) will have more than one option. Programs often note qualifying certifications on their website. Completing education and training requirement alone will not result in certification, though. The process entails examination.
Colorado boasts a number of master's and doctoral level programs that are accredited by the Commission on Collegiate Nursing Education (CCNE). Colorado State University-Pueblo holds accreditation through the Accreditation Commission for Education in Nursing (ACEN). The CCNE and ACEN are both noted as acceptable accrediting agencies in state code.
While programs often make use of distance technologies – some are classified as online – the student can expect to put in at least 500 clinical hours at the advanced level. Students who live outside the immediate vicinity may need to exercise more independence in finding clinical placements. Prospective students may want to inquire about the process at the different schools they are considering.
Some programs are quite selective. The University of Colorado, for example, notes that at the master's level, there are about six applicants for every seat.
Nurse practitioners are subject to additional standards which are set at the state level. A Colorado nurse practitioner who is engaged in independent nursing practice must have liability insurance. Ultimately, one's careers can head in many directions. Some nurse practitioners have done very innovative things – even set up their own house call businesses.
In order to attain prescriptive authority, one will need three years of qualifying experience. However, the experience can be as an RN or nurse practitioner. Many nurses have that level of experience — or more — when they enter nurse practitioner programs.
After meeting basic requirements, the graduate can seek provisional prescriptive authority. Full prescriptive authority is dependent on attainment of 1,000 hours of mentorship. Mentorship may be under a physician or under an advanced practice nurse who has full prescriptive authority. Full prescriptive authority is also dependent on development of an articulated plan for safe prescribing. (More Details: Nurse Practitioner requirements in Colorado)
<!- mfunc search_btn -> <!- /mfunc search_btn ->
Find Nursing Licensure Requirements in Your State: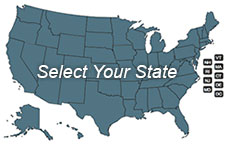 Learn about becoming a Registered Nurse, LPN or LVN in your state:
To View Full U.S. Map Click Here.