Nurse Practitioner Programs in Georgia
Georgia relies on its nurse practitioners. In a 2015 report funded by the Georgia Health Foundation, the Georgia Watch organization stated that nurse practitioners are found in settings across the state; they provide pediatric care, adult primary care, chronic disease management, maternity care, acute care, and mental health services.
Georgia's nurse practitioners can do many of the things that doctors can, though they don't have the same level of independence. They are under the regulatory control of both the Georgia Board of Nursing and the Georgia Composite Medical Board.
Nurse practitioner education builds on professional nursing education; the additional coursework takes place at the graduate level. The students complete advanced clinical hours providing direct patient care; much of the coursework may, however, be completed online. The Commission on Collegiate Nursing Education has accredited plenty of online and hybrid programs!
<!- mfunc feat_school ->
Featured Programs:
Sponsored School(s)
<!- /mfunc feat_school ->
The nurse practitioner is prepared to serve a particular population which can be as broad as family service. Psychiatric/ mental health is another common population focus. Some nurse practitioners have education that is geared toward a particular age group; the training may be further defined as primary or acute care. Some have training focused on women's health and gender-related concerns.
Georgia has some well-ranked programs. A prospective student will need, at minimum, to make sure that the program meets the standards of one of the accepted national certification agencies. The certification will correspond with the population for which the nurse has been prepared.
Nurses can earn their NP credential after completing a master's degree (often comprised of about 50 graduate/ advanced hours). However, there are also plenty of options for earning a Doctor of Nursing Practice, or DNP. DNP students complete additional practice hours; their education culminates in a capstone project that can be quite substantive. The DNP can be a worthy investment. The demand for DNPs has been on the rise around the nation –and Georgia needs leaders as well as very well-prepared practitioners. (More: Nurse Practitioner requirements in Georgia)
<!- mfunc search_btn -> <!- /mfunc search_btn ->
Nurse Practitioner Programs in Georgia
#1: Emory University offers a wide variety of options, from family nurse practitioner to emergency nurse practitioner and even neonatal nurse practitioner. Highly qualified students can pursue joint degree options, such as a combined Master of Science in Nursing and Master of Public Health. Students are eligible for certification as nurse practitioners after completing their master's but may continue on for a doctoral degree. US News & World Report ranks the Emory DNP program #5 out of all DNP programs in the nation. The family nurse practitioner program, meanwhile, is ranked #5 out of all nurse practitioner programs in the nation.
#2: Georgia College and State University offers online preparation for family nurse practitioner and psychiatric mental health specialties. The Georgia College online master's program is ranked #39 out of all online nursing master's degree programs in the nation. A DNP option is also available; Georgia College notes that the DNP program prepares students to be healthcare innovators and influencers of policy – and that graduates have a 100% placement rate.
#3: Augusta University, the first school in the state to offer the DNP, provides preparation for four nurse practitioner roles: family, pediatric, psychiatric, and adult/ gerontology acute care. The program makes a respectable showing among the nation's DNP programs, coming in at #97.
#4: Georgia Southern University and Georgia State University represent two more very respectable paths to NP practice; each offers four of the more common specialties.
Scope of Practice and Career Outlook
The number of nurse practitioners is increasing, but there is still concern that there won't be enough. In part, this is because nurse practitioners can help offset shortages of physicians. Georgia Watch noted in its report widespread shortages of general primary care doctors, plus lack of access to pediatricians, OB/GYN professionals, and psychiatrists. At that time, Georgia was 49th in the nation with regard to physicians per capita.
Nurse practitioners are particular vital for rural communities. The distribution of healthcare providers is inequitable, and this can contribute to health inequities. The Henderson Repository has assembled data, including a rural/ non-rural map (http://www.nursinglibrary.org/vhl/bitstream/10755/616226/1/81_Eichelberger_L_p79498_1.pdf).
Georgia nurse practitioners who work in counties with 35,000 or fewer residents (according to the most recent national census) may be eligible for loan repayment. The Georgia Board for Physician Workforce has provided a map of these counties (https://gbpw.georgia.gov/).
Nurse practitioners who choose to work in rural communities can take satisfaction in knowing they are needed. They should be prepared for some challenges, though, and not just the challenges of working with populations that have greater unmet health needs. Georgia is among the states with the most regulatory controls on nurse practitioner practice. Georgia nurse practitioners enter into protocol agreements with physicians. In order to prescribe medications, a nurse practitioner needs a protocol agreement with a delegating physician. This doesn't mean that a physician must 'rubber stamp' every medical act. In fact, the Georgia Composite Medical Board notes, in its FAQ, that a nurse practitioner with prescriptive authority does not need to have a physician co-sign.
Still, the American Association of Nurse Practitioners classifies Georgia as a restricted practice state. Circumstances – and aspirations – will determine the impact. A Georgia nurse practitioner may set up a clinic in a rural county but find practice more difficult because of the need to obtain physician consent for various radiology tests. One of the nurse practitioners quoted in a Tifton Gazette news story was running her own clinic, which specialized in diabetic management, amidst what she saw as unnecessarily burdensome regulatory hurdles (http://www.tiftongazette.com/news/senate-bill-would-expand-role-of-rural-nurses/article_36323c54-101c-11e8-bd8b-c3c26d2307c3.html). There have been attempts in recent years to ease some hurdles. In the 2017-2018 session, a bill that would have eased some regulatory burdens in rural/ underserved areas made it through the Senate but not the House.
Rural health clinics – official ones – have their own set of standards.
Georgia's Coalition of Advanced Practice Registered Nurses, a state professional association, can provide information about what's going on in the world of advanced practice nursing – and APRN regulation (http://caprn.org).
Average Nurse Practitioner Salary in Georgia
The BLS reported an average full-time salary of $105,670* for Georgia nurse practitioners in 2019 – higher than most neighboring states. *Salary conditions in your area may vary.
<!- mfunc search_btn -> <!- /mfunc search_btn ->
Find Nursing Licensure Requirements in Your State: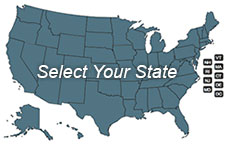 Learn about becoming a Registered Nurse, LPN or LVN in your state:
To View Full U.S. Map Click Here.