Nurse Practitioner Programs in Maryland
In 2015, Maryland made changes in its nurse practitioner law, joining what was 20 other states classified as "full practice" by the American Academy of Nurse Practitioners. The AANP called the move right-sizing: allowing nurse practitioners to practice to the extent of their education and training. According to the AANP, this was imperative in ensuring that Maryland residents get access to the care they need. (See: Nurse Practitioner Requirements in Maryland)
Maryland was already a place where one could get a world class nurse practitioner education, and chances are it will be for years to come. In 2018, US News and World Report ranked not one but two Maryland doctoral level nurse practitioner programs in the nation's top 10.
<!- mfunc feat_school ->
Featured Programs:
Sponsored School(s)
<!- /mfunc feat_school ->
Nurse Practitioner Programs in Maryland
#1: John Hopkins University is among the top programs not just in Maryland but around the nation. In fact, U.S. News and World report places the DNP program at #2 in the country. John Hopkins DNP students can pursue primary care for pediatric, adult-gerontology, or general (family) populations. Adult-gerontology acute care is also available. Some tracks include an optional HIV primary care certificate.
#2: The University of Maryland—Baltimore also has a major presence at the national level. U.S. News and World Report places their DNP program at #8. At the University of Maryland, one can earn a doctoral degree while preparing for a career as an acute care pediatric or neonatal nurse practitioner. Adult-gerontology, psychiatric/ mental health, pediatric primary care, adult-gerontology, and family nurse practitioner options also available. A nurse can even pursue a blended acute care adult-gerontology nurse practitioner/ clinical nurse specialist program; the graduate can sit for two certification examinations.
#3: Frostburg State University, though a newcomer, is making its presence known. Frostburg offers the opportunity to earn a family nurse practitioner program with a degree at the master's level. The program seeks to prepare CRNPs to serve the rural and underserved; their needs will be "woven through" the program. The psychiatric/ mental health family practitioner program also focuses on the underserved.
<!- mfunc search_btn -> <!- /mfunc search_btn ->
Nurse Practitioner Roles
Maryland nurse practitioners are recognized as primary care providers. An op-ed in the Baltimore Sun called attention to the many places nurse practitioners could work: primary care clinics, walk-in clinics, private practices, school-based health centers, and academic settings, among others (http://www.baltimoresun.com/news/opinion/oped/bs-ed-nurse-practitioners-20151125-story.html).
Nurse practitioners promote wellness, treat illness and injury, and manage health conditions. They can write prescriptions. In Maryland, they do so independently, without a formal requirement for physician supervision or collaboration. (They have a mentor for the first 18-months, but that person may be either a nurse practitioner or a physician.)
Nurse practitioners often do collaborate on an ongoing basis with healthcare professionals from across disciplines, even when there is no formal mandate. They also make referrals when a patient requires care outside their area of expertise.
Maryland grants a credential that reflects the practice area. The most common nurse practitioner population focus nationwide is family; family nurse practitioners are generalists whose scope of practice includes individuals across the lifespan. 2018 data showed 2,595 Maryland licensees with a CRNP-Family designation.
Other common primary care population foci include pediatric care, adult-gerontology, and women's health. Nurse practitioners who were certified in earlier eras may have other population designations such as gerontology. So, too, some hold credentials in multiple areas.
Some nurse practitioners pursue acute care roles; Maryland has a high number authorized to do so.
The geography as well as the culture impact how nurse practitioners are used. Maryland is of course more densely populated than many states. It has premier medical institutions as well as schools. The University of Maryland Medical Center is among the organizations that utilizes a lot of nurse practitioners and creates a culture to support them (https://www.umms.org/ummc/healthcare-professionals/nurse-practitioners).
Preparing for a Career as Nurse Practitioner
Nurse practitioners are RNs before they're nurse practitioners, and they continue to be. In order to become a nurse practitioner, a Maryland nurse will need to complete a Board-approved program at the master's level or higher. Typically people enter nurse practitioner programs already holding a BSN, but some programs will accept RNs with education below this level; they catch them up by providing additional nursing coursework. Maryland code mandates that a program only admit RNs who have formal education. Some programs are designed for students who already hold a master's degree in nursing.
The nurse will later pass a certification exam in his or her specialty area. There are multiple approved agencies: the AANP, the American Nurses Credentialing Center, the Pediatric Nursing Certification Board, the American Association of Critical Care Nurses, and the National Certification Corporation. There is a close connection between program curriculum and certification options.
The Maryland Board has provided a list of approved programs (http://mbon.maryland.gov/Pages/adv-prac-nurse-practitioner-index.aspx). It's extensive — they are not all located in Maryland. Some carry the notation NC-SARA approved. This refers to the National Council for State Authorization Reciprocity Agreements. A program that is not on the Maryland approval list can be approved if it meets Maryland's published standards. The student will find a form on the website to be used for this purpose.
One integral component of approval is national accreditation by a recognized nursing accrediting agency. Another is that graduates are eligible or national certification. These are typical expectations nationwide.
Maryland mandates that programs include advanced practice core coursework, nurse practitioner core coursework, and coursework specific to the population. Physiology/pathophysiology, physical/ health assessment, and pharmacology courses must be included; there must be clinical experiences of adequate breadth and depth.
The application notes two accrediting agencies: the Commission on Collegiate Nursing Education (CCNE) and the Accreditation Commission for Education in Nursing (ACEN). Prospective students around the nation use the CCNE and ACEN directories to confirm status of programs they are considering. Programs often list eligible certifications on their websites as well. Both the CCNE and ACEN include examination pass rates among the many considerations for continuation of accreditation.
Many premier institutions have transitioned their programs entirely to the doctoral level. Students enrolled in CCNE-accredited Doctor of Nursing Practice (DNP) programs meet formalized doctoral level nursing standards in addition to master's level standards and nurse practitioner standards. The experience includes a substantive culminating project. The minimum number of clinical hours is higher at the doctoral level.
Maryland Nurse Practitioner Salary
The Bureau of Labor Statistics reports average a full-time income of $109,840 for Maryland nurse practitioners in 2017.
<!- mfunc search_btn -> <!- /mfunc search_btn ->
Find Nursing Licensure Requirements in Your State: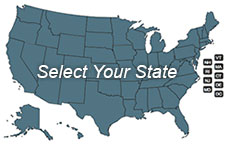 Learn about becoming a Registered Nurse, LPN or LVN in your state:
To View Full U.S. Map Click Here.