Nurse Practitioner Programs in New Jersey
Nurse practitioners are not the same as medical doctors, but they can do many of the things that medical doctors can do. In New Jersey, a nurse practitioner is a type of Advanced Practice Nurse (APN). The Advanced Practice Nurses of New Jersey professional organization has provided a list of things New Jersey APNs can do — and it's a lot! Nurse practitioners can order laboratory tests, diagnose, provide treatment, order blood transfusions, and perform athletic physicals and admissions physicals. Their professional judgment can be accepted in many situations from signing statements that a child has a condition that carries a likelihood of causing developmental delay to providing diagnoses supporting the need for prosthetics. A nurse practitioner may have hospital privileges/ serve as clinician.
The scope of practice will vary depending on the national certification that the APN pursues; this in turn depends on educational preparation. Actual duties will also depend on the policies of the healthcare organization. Common work settings include hospitals, ambulatory care settings, nursing home and assisted living facilities, and community health.
<!- mfunc feat_school ->
Featured Programs:
Sponsored School(s)
<!- /mfunc feat_school ->
APN-NJ notes there is language in New Jersey code that authorizes reimbursement of APNs as providers in some instances (https://apn-nj.org/Resources/Documents/New%20Jersey%20APNs.pdf). They are specifically listed among the providers that can be chosen by residents in assisted living.
Nurse Practitioner Programs in New Jersey
#1: Rutgers University offers seven nurse practitioner DNP options. Among them is the less common 'family nurse practitioner – emergency settings' designation. Nurses who pursue women's health can, if they choose, opt for a dual major in nurse-midwifery. Students can pursue an optional HIV care certificate in conjunction with some roles. Rutgers is ranked #16 out of all DNP programs in the country by US News and World Report.
#2: The College of New Jersey offers three programs: family, adult-gerontology primary care, and neonatal in a traditional classroom setting. The College of New Jersey is recognized as a Center for Excellence by the National League for Nursing in the 'Enhance Student Learning and Professional Development' category.
#3: Seton Hall offers several accredited online options at the MSN level. There is a DNP option also available.
#4: Monmouth University and Felician University each offer CCNE-accredited online family nurse practitioner and adult-gerontology nurse practitioner programs.
<!- mfunc search_btn -> <!- /mfunc search_btn ->
Preparation for a Nurse Practitioner Career
Advanced practice nursing requires additional formal education beyond the RN level. The professional will need to earn a master's degree in nursing. A post-master certificate program can be accepted if the nurse has a qualifying master's degree. APN-NJ confirms that Doctor of Nursing (DNP) programs fit the degree requirement.
The advanced practice program will be geared toward a particular population. The program will include preparation for the specific clinical area (for example, general family practice or psychiatric mental health). The program will also include topics such as health promotion, physiology, research, professional ethics, and healthcare delivery. New Jersey has set specific requirements for pharmacology coursework. The nurse will need some content in prescribing controlled substances.
Most New Jersey nurse practitioner programs are CCNE-accredited. Ramapo College of New Jersey is ACEN-accredited. National accreditation is an assurance that a program meets nationally recognized standards for the discipline. Accrediting agencies monitor examination pass rate, among other things. Accreditation is also important for examination eligibility.
Online study is common – organizations in New Jersey and around the nation understand the need to let practicing nurses continue practicing! There will be at least 500 preceptored clinical hours; some New Jersey programs go far beyond the minimum. Some out-of-state online nurse practitioner programs can enroll students who are physically residing in New Jersey.
Often a program classified as online includes an on-site orientation and a very occasional on-campus experience; the latter could provide opportunities to participate in sophisticated simulation experiences as well as interact more closely with other nursing professionals.
The prospective APN will eventually take a third party examination to demonstrate competence in nursing practice related to the role and specialty sought. Qualifying nurse practitioner certifications tend to be broad. Some nurse practitioners pursue adjunct certifications in specialty areas — there are a lot of options for building one's career.
DNP programs include substantive scholarly projects; these may be considered the clinical equivalent of a dissertation. Seton Hall scholarly projects have included the following, among many others: implementation of a health program for young mothers who are experiencing homelessness, antibiotic resistance/ delayed prescriptions in urgent care, and reduction of heart failure readmissions among the long-term care population.
(More Details: Nurse Practitioner requirements in New Jersey)
Nurse Practitioner Practice: Current Status and Future Possibility
In New Jersey, prescriptive authority requires a collaborative agreement with a physician. Protocols address prescription of medications and devices. There have been legislative attempts to remove the collaborative practice requirement.
Nationwide, there is a tendency for hospital-employed nurse practitioners to function in a 'physician extender' capacity. Different facilities allow different levels of practice. The New Jersey Collaborating Center for Nursing released a 2016 fact sheet that summarized hospital SOP (http://www.njccn.org/quick-facts/). They found that a majority did not have admitting privileges.
There is interest around the nation in utilizing APNs to alleviate primary care shortages. A recent study assessed NP readiness for entrepreneurship in New Jersey (https://www.ncbi.nlm.nih.gov/pubmed/27918404).
Wages are among the highest in the country. New Jersey nurse practitioners earned an average $56.55 an hour in 2017; this equates to $117,630 a year.
<!- mfunc search_btn -> <!- /mfunc search_btn ->
Find Nursing Licensure Requirements in Your State: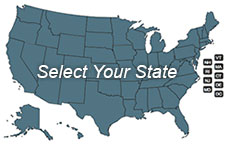 Learn about becoming a Registered Nurse, LPN or LVN in your state:
To View Full U.S. Map Click Here.