Nurse Practitioner Programs in New York
Nurse practitioners are playing an increasingly important role in New York's health delivery systems. So states the Center for Health Workforce Studies in its 2017profile of New York State's nurse practitioners.
Nurse practitioners order medical tests, perform procedures, promote health, prescribe treatments, and coordinate some care that is provided by other health professionals. They refer patients to specialists as needed. The New York Department of Labor notes they can serve as primary care providers. They aren't always employed in primary care settings, however. They may instead be employed in acute care or long-term care.
<!- mfunc feat_school ->
Featured Programs:
Sponsored School(s)
<!- /mfunc feat_school ->
Nurse Practitioner Programs in New York
#1: Columbia offers fully five nurse practitioner tracks at the DNP level. Students can opt for optional sub-specialties in palliative care or pediatric or adult oncology. Students may seek dual certification upon program completion. US News and World Report places the Columbia DNP program at #19 in the nation.
#2: New York University offers multiple tracks with both masters and doctoral options. At New York University-Meyers, students typically work in teams to complete the DNP project. Faculty members are experts in areas like chronic disease prevention, translational research, global health, and gerontology. The DNP program, and the nursing school itself, enjoy strong reputations. US News and World Report has it at #13. New York University is recognized by the National League for Nursing in the 'Enhance Student Learning and Professional Development' category.
#3: The University of Rochester, another school with multiple NP concentrations, boasts an historic part in the creation of the NP role. The DNP program is ranked #39 in the country.
#4: Stony Brook University has a well-ranked online master's program with multiple options. RNs whose bachelor's degree is in a field other than nursing may be considered for admission following portfolio review.
<!- mfunc search_btn -> <!- /mfunc search_btn ->
Foundations for APN Practice
The foundation is professional nursing education. A nurse must be currently registered as an RN in New York at the time he or she seeks nurse practitioner credentialing.
The nurse will complete a registered nurse practitioner program at the graduate level, then test through a recognized third party organization. Course content includes topics such as advanced pharmacology and assessment and clinical healthcare management.
New York has plenty of program options. The State Education Department has provided lists of master's and doctoral programs by region of the state (http://www.op.nysed.gov/prof/nurse/nurseprogs.htm). Any program that places students in New York for clinical assignment needs approval from the State Education Department. This includes online and out-of-state programs. Prospective students are referred to the NYSED website to search for programs.
Program length is variable. The Doctor of Nursing Practice is making inroads, but the vast majority of current licensees have education at the master's or post-master level. The DNP can prepare a nurse practitioner to be a healthcare leader as well as an expert clinician. Different schools have slightly different areas of emphasis. At one New York school, the DNP completion program includes course content such as genomics, biostatistics, and global health; this is in additional to multiple semesters of doctoral synthesis.
A nurse practitioner program will qualify completers to seek certification from one or more of the following organizations:
American Academy of Nurse Practitioners
American Association of Critical Care Nurses
American Nurses Credentialing Center
National Board for Certification of Hospice and Palliative Nurses
National Certification Corporation
Oncology Nursing Certification Corporation
Pediatric Nursing Certification Board
New York recognizes many specialties. However, not all those listed by the Board of Nursing have examinations that are currently available to new nurse practitioners. A nurse practitioner can have multiple specialty areas if he or she meets requirements for each. Most of the organizations noted above offer certifications that are widely accepted around the nation for NP qualification. Oncology and palliative care certifications, though, are often viewed as adjunct and are not license qualifying in many parts of the country. (Graduates programs that prepare NPs in these subspecialty areas typically also offer preparation for a broader role.)
Family health accounts for approximately 37% of New York NP certifications, according to the recertification data published in the 2017 workforce report. The next most common, adult nurse practitioner, is one for which examination is no longer available; the new certification is adult-gerontology. Pediatric certification accounts for approximately 8% of New York NP credentials, psychiatric practice, 6.5%.
The AANP classifies New York as a reduced practice state. Individual circumstances dictate whether a nurse practitioner needs a written collaborative agreement with a New York physician or can practice legally on the basis of other collaborative relationships. An NP who is experienced enough can get by on the basis of other collaborative relationships (regardless of whether the experience was accrued in New York or another state). Even in this case, some paperwork is required. The nurse practitioner will document that he or she is in communication with one or more qualified physicians; hospital-employed NPs would document collaborative relationships with physicians who have privileges at the hospital.
(More Details: Nurse Practitioner requirements in New York)
Nurse Practitioner Work Settings
Nurse practitioners are most often employed in walk-in/ walk-out settings. Clinics, health centers, and hospital outpatient units are the most common work settings. Together these account for a little over half of the state's nurse practitioners. Physician's offices account for another 18%.
There are differences between typical job duties between urban and rural areas of the state. Nurse practitioners in rural areas are more likely to provide primary care or psychiatric care. Primary care is defined broadly. Nurse practitioners may have any of multiple specialties, including pediatrics and women's health, if they are employed in any of the following ambulatory settings: physician practice, hospital outpatient service, freestanding clinic or federally qualified health center, or independent nurse practitioner practice.
Urban New York nurse practitioners are more likely to be employed in hospital inpatient or emergency settings than their rural counterparts. The rate is still only 14%, however.
Overall, there are somewhat more nurse practitioners on a per-population basis in urban areas. There is significant regional variation. The Finger Lakes area has the most nurse practitioners per 100,000 residents: just over 100.
With regard to sheer numbers of nurse practitioners, of course, it's the New York City area that has every other area bested; no metropolitan area in the nation comes close.
The nurse practitioner role has been envisioned in part as a way to reach people in underserved areas; 43% of the state's nurse practitioners practice in HSPAs. HSPAs exist in both urban and rural areas of New York. There is a pronounced rural/ urban difference in work duty in HSPAs; nearly 70% of those in rural areas are considered primary care while just 39% of those in urban areas are.
Nurse practitioner is primarily a clinical role. A substantial percentage of the state's nurse practitioners spend some time in duties outside clinical care, though. About a third have some teaching hours.
In 2017, New York nurse practitioners earned an average of $56.35 an hour ($117,210 for a full-time year).
<!- mfunc search_btn -> <!- /mfunc search_btn ->
Find Nursing Licensure Requirements in Your State: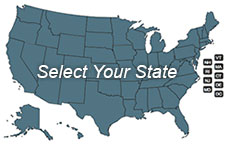 Learn about becoming a Registered Nurse, LPN or LVN in your state:
To View Full U.S. Map Click Here.