Nurse Practitioner Programs in North Carolina
North Carolina nurse practitioners can act as primary care providers. Among the many things they do: provide diagnostic evaluation, manage ongoing conditions, prescribe pharmaceutical and non-pharmaceutical interventions, and help people take control of their health. The Board of Nursing notes that they can be reimbursed by insurance carriers. Medical acts, by state law, require a level of physician oversight, but the physician does not have to practice at the same site.
<!- mfunc feat_school ->
Featured Programs:
Sponsored School(s)
<!- /mfunc feat_school ->
Nurse practitioner is a type of advanced practice nurse: the most common one. There are different population foci; the target population may be as broad as family practice or as specialized as neonatal. Neonatal nurse practitioners typically work as advanced nurses in hospital settings. This is also the case with some NPs who work with other age groups. The North Carolina Board of Nursing notes that the nurse practitioner role was originally envisioned as a way of meeting rural primary care needs, but that now nurse practitioners work in a variety of settings, including specialty ones.
For role definitions, the Board of Nursing refers interested individuals to the National Organization of Nurse Practitioner Faculties (https://www.nonpf.org/page/14).
<!- mfunc search_btn -> <!- /mfunc search_btn ->
Nurse Practitioner Programs in NC
#1: Duke University is not only the top DNP program in the state; it's the top one in the nation, according to US News and World Report. The family practitioner program ties for #1 in the nation among all family nurse practitioner programs. Students can opt for any of eight majors; included are both primary and acute care adult-gerontology and pediatric options. Students can choose an optional area of medical specialization such as oncology, endocrinology, if appropriate for their selected population. Duke University Nursing is recognized by the National League for Nursing as a Center for Excellence in two categories: promoting pedagogical expertise of faculty and enhancing student learning and professional development.
#2: The University of North Carolina-Chapel Hill DNP program is ranked #13 in the nation. There are four NP options: family, adult-gerontology, pediatric primary care, and psychiatric mental health. Adult-gerontology students can select an oncology specialization; graduates may be able to sit for the Advanced Oncology Certified Nurse Practitioner credential as well as the Adult Gerontology Primary Care Nurse Practitioner credential. The same options are available at the master's level.
#3: East Carolina University is recognized as a Center for Excellence in the category of enhancing student learning and professional development. Nurses can pursue neonatal or psychiatric mental health at the master's level. The family nurse practitioner and adult-gerontology programs are now doctoral level.
#4: The University of North Carolina—Greensboro also offers a well-regarded adult-gerontology option; US News and World Report has the program ranked #54 among all DNP programs.
Educational Foundations
Nurse practitioners must complete degrees at at least the master's level. Afterward, they need to obtain national certification through a third party organization. The graduate program is to be accredited by a national accrediting agency. North Carolina boasts a number of graduate programs that are accredited by the Commission on Collegiate Nursing Education (CCNE). Gardner-Webb programs, meanwhile, are accredited by the Accreditation Commission for Education in Nursing (ACEN).
Education determines certification examination eligibility. An accredited program will prepare the nurse for certification as a nurse practitioner through at least one of the following organizations: the American Nurses Credentialing Center (ANCC), the American Academy of Nurse Practitioners (AANP), the Pediatric Nursing Certification Board (PNCB), the American Association of Critical-Care Nurses (AACN), or the National Certification Corporation (NCC).
Expected curricular components include assessment and diagnostic reasoning, pharmacology, pathophysiology, preventative services and client education, and professional role development. Programs include clinical management of common conditions and diseases that affect the target population. A family nurse practitioner program can be expected to include a broad range of these. Accredited programs include at least 500 hours of advanced clinical education. Some include considerably more – particularly if they are taught at the doctoral level.
Some nurse practitioner programs offer the same roles/specializations with both a Master of Science in Nursing (MSN) and Doctor of Nursing Practice (DNP) option.
North Carolina has some premier schools. There are also online programs from other states that are authorized to conduct programs in North Carolina. North Carolina participates in the State Authorization Reciprocity Agreement (SARA) for Distance Education. The North Carolina Board does not have an approval process for pot-licensure graduate programs. The student will, however, need to hold an RN license that authorizes practice in North Carolina.
The certification plays a part in determining scope of practice. North Carolina distinguishes between acquisition of new skills within one's population focus and acquisition of a new population focus. The latter would necessitate a new certification; the nurse practitioner would need to meet the certification agency's requirements for the new credential. One would expect to earn it more quickly than the original advanced practice credential, however. Fortunately, post-master certificate programs are common.
A nurse practitioner is expected to have some competency in psychiatric and mental health, but not enough to take specialty or in-patient positions.
(More Details: North Carolina Nurse Practitioner requirements)
APN Practice Issues
North Carolina is considered a restricted practice state by the AANP. This is also the case with bordering states. There are quite a few regulations in place. North Carolina nurse practitioners are under the joint regulation of the North Carolina Board of Nursing and the North Carolina Medical Board. They are required to have a collaborative agreement with a physician. The state does have provisions, though, to ensure that patients are not suddenly deprived of their provider – or the nurse practitioner deprived of his or her livelihood — because of an emergency that renders a physician unable to supervise. Another positive: The North Carolina Nurse Practitioners Association notes that there are laws in place mandating nurse practitioner reimbursement under varying circumstances (https://ncnurses.org/networking/councils-and-commissions/nurse-practitioner-council/np-practice-information/#Reimbursement).
Recognizing that SOP can impact NP career goals – and healthcare access – there are individuals and organizations in the state working toward increasing scope of practice.
North Carolina nurse practitioners earned average incomes of $51.11 an hour ($106,320 a year) in 2017; this is a little higher than neighboring states.
<!- mfunc search_btn -> <!- /mfunc search_btn ->
Find Nursing Licensure Requirements in Your State: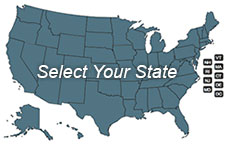 Learn about becoming a Registered Nurse, LPN or LVN in your state:
To View Full U.S. Map Click Here.