Nurse Practitioner Programs in Pennsylvania
Pennsylvania's Certified Registered Nurse Practitioners (CRNPs) have roles that go well beyond that of the typical registered nurse. The following are among the things they can do:
Order and interpret diagnostic tests
Develop comprehensive care plans
Order various products and services that patients may need (e.g. blood or blood components, medical equipment, home health or hospice services)
Create admission and discharge summaries
Make referrals for therapies (e.g. occupational therapy, physical therapy) and dietitian services
Pennsylvania code mandates that nurses maintain formal collaboration agreements with physicians in order to carry out duties at the nurse practitioner level. Medication prescription requires a prescriptive collaborative agreement. Nurse practitioners can prescribe a variety of medications, including antihistamines, antineoplastic drugs, anticoagulants, hormones – in short, many of the medications used to treat acute and chronic conditions. Nurse practitioners may provide short-term prescriptions for controlled substance; some types of prescription, though, are prohibited.
<!- mfunc feat_school ->
Featured Programs:
Sponsored School(s)
<!- /mfunc feat_school ->
The specific duties that a nurse practitioner carries out will vary depending on the demographics of the population served and on the work setting. Nurse practitioners are trained in different population foci or specialties. Pennsylvania formally recognizes these on the license. The family nurse practitioner designation is simultaneously very broad and very common.
Nurse Practitioner Programs in PA
#1: The University of Pittsburg offers six nurse practitioner tracks, including the less common neonatal population foci. The neonatal credential is available at the master's or doctoral level to BSNs with two years of closely related experience. Most programs are doctoral-only. The DNP program is ranked #5 in the nation by US News and World Report.
#2: Villanova University allows nurses to earn their family, pediatric, or adult-gerontology nurse practitioner credentials with a degree at the MSN level, then continue on for a DNP if they choose. Villanova is recognized by the National League for Nursing in the 'Advance the Science of Nursing Education category'. The DNP program is ranked #32 in the nation by US News and World Report.
#3: Duquesne University offers online family nurse practitioner program at the MSN level. Duquesne University is recognized as a Center for Excellence by the National League for Nursing in the 'Enhance Student Learning and Professional Development' category. DNP students option of spending a semester abroad.
#4: Drexel University offers an online master's programs that is nationally ranked by US News and World Report.
<!- mfunc search_btn -> <!- /mfunc search_btn ->
CRNP Educational Foundations
Nurse practitioner education takes place at the graduate level. Pennsylvania has an approval process for in-state nurse practitioner programs. Out-of-state education can be accepted if is determined to be the equivalent. Pennsylvania can be a good place to receive one's education. It boasts a number of programs with strong reputations. RNs who seek training in the more common population foci will find many options. They can choose based on delivery format, special programs, and degree level. Doctoral programs can be quite varied as they can include more content that enhances practice but is not necessary for safe practice at the entry-level. Faculty will have different research interests.
Programs are designed for nurses with BSNs – this is the foundational level. There are three components to nursing practitioner curriculum: a general graduate nursing core, an advanced practice nursing core, and coursework that is specific to the specialization. The general core includes the following concepts, among others: research, health promotion and disease prevention, health policy and organization, role development and ethics. The advanced practice core includes advanced physiology, pharmacology, and health assessment. State code sets specific requirements for pharmacology and professional role development coursework. Pharmacology coursework is to comprise at least 45 hours. Among the expected topics are drug categories, pharmacokinetics and pharmacodynamics, and client motivation (including motivation for adherence to the regime). CRNPs will be prepared to analyze relationships between the pharmacological agent and physical response and to analyze effects of multi-drug regimes. Professional role content includes concepts such as nurse-client relationships and navigating the healthcare system.
Programmatic accreditation is fundamental. The American Nurses Credentialing Center offers certification programs for a majority of the recognized specialties within the nurse practitioner role; examination eligibility rests on CCNE or ACEN accreditation.
CRNPs can choose to add a specialization later. They will need to complete additional formal education and pass another certification exam, but education will take less time the second time around; there are core courses that are common to all. Programs are designed to accommodate working professionals. They are often online, though the nurse can expect to complete additional clinical hours each time.
(Additional Details: Nurse Practitioner requirements in PA)
Where Nurse Practitioners Practice in PA
Current BLS data indicates a somewhat higher concentration in metropolitan areas like Pittsburg and Philadelphia than in rural parts of the state. Increasing rural access is one reason often given for relaxing regulatory standards (notwithstanding that many nurse practitioners do like to live and work in the city). The American Academy of Nurse Practitioners has Pennsylvania classified as a reduced practice state; this is the middle category with regard to regulation. There are different models for classifying states by level or type of regulation. Pennsylvania may be placed in the most restrictive category because it mandates a physician relationship even when no prescription is involved. (Some work at the national level, though, indicates prescriptive authority is fundamental to enjoying population-level benefits associated with full practice.)
The Leonard Davis Medical Institute has reported that more than a third of Pennsylvanians unmet primary care needs (https://ldi.upenn.edu/healthpolicysense/evaluating-pennsylvania-s-nurse-practitioner-licensure-requirements). Reducing unnecessary regulation or 'tethering' of physicians and nurse practitioners is seen as a way of increasing primary care access.
In some environments, of course, it is common for teams of professionals to work together, each performing duties appropriate to their discipline.
The Bureau of Labor Statistics reports average earnings of $47.24 an hour ($98,260 a year) for Pennsylvania nurse practitioners; this is based on 2017 data.
<!- mfunc search_btn -> <!- /mfunc search_btn ->
Find Nursing Licensure Requirements in Your State: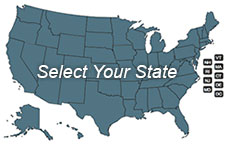 Learn about becoming a Registered Nurse, LPN or LVN in your state:
To View Full U.S. Map Click Here.