Nurse Practitioner Programs Utah
Nurse practitioners are advanced nurses whose educational preparation allows them to manage health conditions and prescribe treatments. They are not doctors but are able to fill some of the needs traditionally met by doctors.
Nurse practitioner is the most common advanced practice registered nurse, or APRN, category. In Utah, more than three in four APRNs are nurse practitioners. Nurse practitioners can provide primary care much like doctors do. Most have a population focus that is broader than that of nurse midwives. Family practice is the most common nurse practitioner designation. Nurse practitioners with this designation may see patients across the lifespan. Some patients, though, will have needs that are too complex for the family nurse practitioner to meet. Referral is a very common practice in the modern healthcare world.
<!- mfunc feat_school ->
Featured Programs:
Sponsored School(s)
<!- /mfunc feat_school ->
Nurse practitioners may have any of the following population foci: family, pediatric, neonatal, adult-gerontology, women's health, or psychiatric mental health. Some have an acute care focus. Utah has a slightly larger percentage of nurse practitioners who are certified in family practice than does the average state (56% vs. 48%). There is a significantly smaller percentage of Utah nurse practitioners certified in adult nurse practitioner categories. (While national certification agencies have combined adult and gerontology into one category for examination purposes, data sets tend to include many nurse practitioners who were certified in one category or the other.)
A nursing background can produce a healthcare provider who is tuned in to the whole person and promotes health as opposed to looking narrowly at illness. The DNP can deepen and broaden one's skills. The possibilities for creating a niche — and shaping healthcare — are nearly boundless. The AARP Campaign for Action website includes a brief profile of a Utah women's health nurse practitioner who uses a livability index in her work with individual patients as well as in her advocacy for policy change; she takes into account the area's low walking/ biking access scores when counseling women about incorporating exercise (https://campaignforaction.org/aarps-livability-index-helping-nurses-better-understand-communities-and-consumers/).
Utah's nurse practitioners have, on average, eight years of experience at the RN level before they step up to the higher level. This is not a requirement, however. Graduate level education and nurse practitioner certification are the required elements.
Utah is classified as a full practice state by the American Academy of Nurse Practitioners. This means that regulatory controls are less than those of many states. Utah does not have formal physician collaboration requirements. Utah APRNs who specialize in psychiatric/ mental health have a post-graduate supervised practice period under a qualified APRN; in this instance, clinical practice hours include mental health therapy.
<!- mfunc search_btn -> <!- /mfunc search_btn ->
Nurse Practitioner Programs in Utah
#1: The University of Utah offers the Doctor of Nursing Practice (DNP) in five population foci. Their DNP program is ranked #19 in the nation by US News and World Report.
#2: Bringham Young University, well-known for its research contributions as well as its history, offers its CCNE-accredited family nurse practitioner program at the master's level. Research assistantships are among the funding options.
#3: The Rocky Mountain University of Health Professions FNP program has multiple entry points. The post-baccalaureate family nurse practitioner track boasts a 100% pass rate. Nurses who already have their APRN credentials can add a mental health psychiatric nurse practitioner credential. Programs are limited residency (largely online).
#4: Westminster College offers yet another option to earn a CCNE-accredited family nurse practitioner degree.
Utah APRN Work Settings
The most commonly reported work setting in Utah is the hospital. This is different than what has been reported in many states. It's important to realize that states classify data in different ways, and the data includes multiple categories, including inpatient (reported by 19%) and outpatient (reported by 12%). Overall, Utah nurse practitioners are seeing more outpatients than inpatients (as is the trend around the nation).
Physician practices (solo, single specialty, and multi-specialty) together comprise about 24% of Utah nurse practitioner employment settings. Group APRN practices, school health services, and federally qualified health centers each employ about 2%. Non-hospital based clinics comprise about 7%, non-hospital based urgent care centers another 1%. About 5% of the state's nurse practitioners are self-employed. Relatively small numbers work in other healthcare settings, including hospices, long-term care facilities, occupational health settings, and spas or weight loss clinics. The actual percentage employed in some settings is apt to be higher; about 6% of those surveyed did not provide a work setting.
The most recent workforce report shows that the state's nurse practitioners work predominately in urban settings, but that rural ones are compensated at higher rates; this is based on median income. Among the recommendations that concluded the report: continuing to invest in the rural workforce. Loan reimbursement and insurance reimbursement are both part of the picture.
Health Provider Shortage Areas are characterized by low rates of physicians. There is evidence to suggest that nurse practitoners can play a part in offsetting shortage.
The most recent workforce report projected that the NP workforce would grow over the coming decade but not at quite the rate needed to offset growth in demand.
Becoming a Nurse Practitioner
A prospective nurse practitioner must earn a graduate degree. The program will prepare the person for certification in his or her practice area through an accredited third party certification agency. Coursework will include advanced assessment, pathophysiology, and pharmacotherapeutics as well as coursework in managing health conditions common to the target population; some coursework will offer preparation at the systemic level. Programs may be master's or doctoral level. The Doctor of Nursing Practice (DNP) is becoming increasingly common in Utah and around the nation. 16.4% of Utah APRNs held a doctoral degree at the time of the most recent workforce report.
Utah RNs can enroll in distance programs located in other states and do their clinical practice in Utah. Utah has some regulatory control. The program must be nationally accredited and must be authorized in its own state. Accreditation, notably, is also tied to certification examination eligibility. The licensing agency refers prospective nursing students to the websites of the Commission on Collegiate Nursing Education and the Accreditation Commission for Education in Nursing.
The Bureau of Labor Statistics reports that Utah nurse practitioners average $48.06 an hour ($99,960 for a full-time year); this is based on 2017 data. (See: Nurse Practitioner requirements Utah)
<!- mfunc search_btn -> <!- /mfunc search_btn ->
Find Nursing Licensure Requirements in Your State: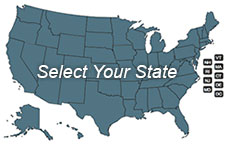 Learn about becoming a Registered Nurse, LPN or LVN in your state:
To View Full U.S. Map Click Here.