Nurse Practitioner Requirements in Arizona
Arizona's advanced practice nurses are under the jurisdiction of the Arizona Board of Nursing (AZBN). Arizona recognizes four roles: Registered Nurse Practitioner (RNP), Certified Nurse Midwife, Clinical Nurse Specialist (CNS), and Certified Registered Nurse Anesthetist (CRNA).
<!- mfunc feat_school ->
Featured Programs:
Sponsored School(s)
<!- /mfunc feat_school ->
Nurse practitioners and clinical nurse specialists have a population focus. The Board recognizes the following:
Family/ individual across the lifespan
Pediatric primary
Pediatric acute care
Adult-gerontology primary
Adult-gerontology acute care
Psychiatric mental health
Neonatal
Nurse-midwives may have as a focus women's health/gender related issues including childbirth and neonatal.
Other population foci may be accepted if there are appropriate accrediting agencies and certification agencies.
In order to be credentialed as an APRN, an individual must hold licensure as an RN, either in Arizona or in another nurse compact state.
In most cases, advanced practice nurses must have both a graduate degree in nursing and must hold a national certification applicable to the role and population focus. There are some exceptions; some apply only to those who were credentialed before a given date and have been practicing in other states.
Select the Advanced Practice Nursing Information you are seeking:
APRN Educational Requirements
Prospective nurse practitioners and clinical nurse specialists must complete nursing majors at the graduate level (Nurse Practitioner programs in Arizona). Prospective nurse anesthetists must complete CRNA programs. Board rule references programs accredited by the Council on Accreditation of Nurse Anesthesia Educational Programs as acceptable, but notes that other accreditations may be found acceptable as well.
An APRN program can be accepted if it was 1) offered by an appropriately accredited institution or 2) approved or recognized as qualifying in the jurisdiction in which it was located.
In-state programs are reviewed according to criteria listed in R4-19-502. The Board has provided a list of approved APRN programs (http://www.azbn.gov/education/nursing-programs-lists/).
Arizona RNP Certification Requirements
The following certifications have been approved for nurse practitioners:
American Academy of Nurse Practitioners
American Nurses Credentialing Center
National Certification Corporation for Obstetric, Gynecological, and Neonatal Nursing Specialties
Pediatric Nursing Certification Board
AACN Certification Board
The American Nurses Credentialing Center offers a number of certifications, including family, adult-gerontological acute care, and adult or family psychiatric/ mental health. The American Academy of Nurse Practitioners offers adult, family, and adult-gerontological certifications. The Board has provided a list of all certifications offered by each organization (https://www.azbn.gov/licenses-and-certifications/apply-for-a-license).
A clinical nurse specialist can pursue certification through the AACN Certification Corporation or the American Nurses Credentialing Center.
A nurse midwife can pursue certification through the American Midwifery Certification Board.
A nurse anesthetist can pursue certification by the National Board of Certification and Recertification for Nurse Anesthetists.
The Board review certifying agencies in accordance with criteria found in R4-19-501. Approvals are subject to change.
Clinical nurse specialists who completed women's health programs may be credentialed without national certification if they furnish other documentation of qualification to the Board. Documentation is to include a statement of scope of practice, verification of 500 hours of recent practice, and a letter attesting to competence. The Board will seek a letter from a faculty member, a current supervisor, or a clinical nurse specialist, nurse practitioner, or physician who has worked with the applicant during the prior two years.
An RNP or CNS graduate who is required to be nationally certified may be issued a temporary permit pending certification.
<!- mfunc search_btn -> <!- /mfunc search_btn ->
Out-of-State Advanced Practice Nurses
Nurse practitioners, nurse anesthetists, and clinical nurse specialists who were credentialed in the more distant past may be certified without meeting Arizona's current educational requirements. For nurse practitioners, the requirement for a degree at the master's level or higher does not apply to some practitioners who were licensed before November 1, 2001; those who were licensed before this date are eligible for credentialing if the qualifying out-of-state credential is current or if it lapsed during the most recent six-month period (https://www.azbn.gov/faqs/licensure-certification/advanced-practice-faqs). Nurse practitioners who hold master's degrees in health fields other than nursing may be eligible if the out-of-state license was issued by November 13, 2004.
A CNS who did not complete a CNS program may be eligible if the out-of-state license was issued by November 13, 2004 and is current at the time of application.
Advanced practice nurses and clinical nurse specialists may be credentialed without national certification if the out-of-state license was earned by July 1, 2004.
International Applicants
Internationally educated applicants will need to submit credential evaluation from the Commission on Graduates of Foreign Nursing Schools or another Board-approved credentialing agency. They will, in many cases, also need to demonstrate English language proficiency.
Prescriptive Privilege
A nurse practitioner or nurse midwife who seeks prescriptive privilege will need three semester hours or 45 contact hours of pharmacology. Coursework can take a variety of forms, including accredited conferences or self-study. However, it must be completed within the three-year period preceding application. The Board can accept an official sealed transcript or a copy of a continuing education certificate; if the certificate does not show the number of hours, the candidate should also include a program.
The Application Process for NP's in Arizona
Applications can be downloaded from the AZBN website (https://www.azbn.gov/licenses-and-certifications/apply-for-a-license).
All applicants must submit fingerprints unless they have submitted them to AZBN during the prior two years. An applicant will receive a fingerprint card from the Board after application. Permanent licensure is dependent on receipt of background check results.
The applicant will request that the school send official transcripts along with a letter stating the intended role and population focus. Documentation of certification is to come directly from the certifying agency.
The applicant will need to document citizenship or other legal status.
The application fee is $150; the fingerprinting fee, $50. Applicants requesting temporary certification must pay an additional $35.
Renewal
APRN certifications and CRNA privileges expire at the same time that the RN license does. The advanced practice nurse will need to provide verification of current certification.
Additional Information
Credentialing information is available from the Arizona State Board of Nursing. AZBN can be reached by email contact form or by telephone at 602-771-7800.
Arizona Nurse Practitioner Programs
Arizona advanced nursing professional organizations include the following:
Arizona State Board of Nursing
Arizona Nurse Practitioner Council
Arizona Affiliate of the American College of Nurse Midwives
Arizona Association of Nurse Anesthetists
<!- mfunc search_btn -> <!- /mfunc search_btn ->
Find Nursing Licensure Requirements in Your State: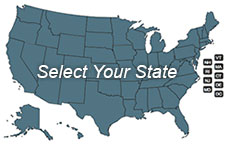 Learn about becoming a Registered Nurse, LPN or LVN in your state:
To View Full U.S. Map Click Here.