Advanced Practice Nurse Requirements in Arkansas
Arkansas Nurse Practitioners are credentialed by the Arkansas State Board of Nursing. In order to be licensed as an Advanced Practice Registered Nurse (APRN), an individual must first hold licensing as a registered nurse, either in Arkansas or in another state that is a member of the Nurse Licensure Compact.
An Arkansas APRN has a recognized advanced practice role and one or more areas of population focus. The Board recognizes four advanced practice roles: Certified Nurse Practitioner, Certified Registered Nurse Anesthetist, Certified Nurse Midwife; and Clinical Nurse Specialist.
<!- mfunc feat_school ->
Featured Programs:
Sponsored School(s)
<!- /mfunc feat_school ->
The APRN will focus on one or more of the following populations:
Families/ individuals across the lifespan
Pediatrics
Adult/ gerontology
Women's health/ gender-related
Neonatal
Psychiatric/ Mental Health
An APRN who seeks prescriptive privilege will have minor additional requirements.
Select an Arkansas Advanced Practice Registered Nurse Topic:
APRN Education and Certification Requirements
A prospective advanced practice nurse must complete graduate education appropriate to his or her intended practice (Nurse Practitioner programs in Arkansas). The Board stipulates that a license qualifying program for a clinical nurse specialist must include both classroom instruction and practice in a clinical area.
There are multiple certifying agencies; selection will depend in part on role and population focus. An approved certification agency is one that meets standards outlined in Board rule. It must be national in scope and must hold accepted accreditation. It must set appropriate educational standards, carry out credential reviews, and offer examination-based certification; the examination itself must meet Board criteria. The certification agency must have a quality assurance process and a means of providing timely communication. It must have a recertification process for certificate holders; recertification is to involve review of continuing education/ continued competence. The certifying agency cannot use organizational membership as a criterion for credentialing.
The nurse may be granted a temporary APRN permit while waiting to pass the certification exam. National certification, once earned, must be maintained.
Prescriptive Authority/ Collaborative Agreements
APRNs can be granted prescribing privileges only if differential diagnosis and prescription fall within the scope of practice of their national certification. They must have training that includes pharmokinetic principles and practical application. The Board can accept courses of three semester hours or 45 contact hours. A course that is figured in contact hours is acceptable only if it is taken through an accredited school; the course must include a competency component.
The Board can accept pharmacology coursework taken up to five years prior if it was taken as part of an advanced practice nursing program. There is a two-year time limit on coursework taken outside an advanced practice program.
The practitioner must have a 300 hour preceptorship. It is to be completed within a year of beginning the qualifying course.
Nurse anesthetists are not required to apply for prescriptive authority. They will need DEA registration, however, in order to carry out certain tasks.
In order to be granted prescriptive authority, an APRN must have a collaborative agreement with a physician.
A nurse midwife who will perform intrapartum care must also have an agreement with a consulting physician.
<!- mfunc search_btn -> <!- /mfunc search_btn ->
The Application Process
Applications are submitted online. The online application can be accessed from the Board website (http://www.arsbn.org/).
APRN applicants must have state and federal background checks unless they have had background checks carried out for the Arkansas State Board of Nursing during the prior twelve month period. The online application process includes fingerprint instructions. The applicant will mail the completed fingerprint card to the Arkansas State Police.
The applicant will also need to provide official transcripts and evidence of certification.
Out-of-State and International APRNs
An advanced practice nurse who is currently licensed or authorized in another state may be licensed by endorsement in Arkansas. The nurse will provide license verification as well as verification of having passed the certification examination.
The APRN may be granted a temporary permit pending results of the FBI background check; he or she will need to have cleared an Arkansas State Police criminal background check.
A professional who has been out of practice for two years will need to take a refresher course or complete an extensive orientation; the orientation must be at least 200 hours and include clinical experience supervised by a qualified preceptor.
An out-of-state advanced practice nurse may receive prescriptive authority by endorsement if he or she has completed a qualifying three semester hour or 45 contact hour course, holds current licensure and prescriptive authority in another jurisdiction, and can provide evidence of 500 hours of qualifying experience during the previous year. The Board will require DEA registration information (if applicable).
An internationally educated APRN can be licensed in Arkansas if education is found to be equivalent. The international APRN must have a professional credential evaluation. The Arkansas Board requires proficiency in the English language.
APRN Renewal Requirements
The advanced practice nurse will renew the APRN license at the same time as the RN license. The APRN will need to demonstrate current certification; generally speaking, APRN continuing education requirements are those set by the certification agency. An APRN with prescribing privilege will need to complete five contact hours of continuing education in pharmacotherapeutics relevant to his or her practice area.
An APRN who holds RN licensure in another compact state must document continued licensure.
Pursuing Additional Specialties
An advanced practice nurse who wishes to expand practice to include a new specialty will complete the post-master education required to take the new certifying examination. The APRN can submit a request to practice after completing educational requirements. An APRN who has prescriptive authority will not be able to apply prescriptive authority to the second specialty area until such time as he or she has passed the certification exam.
Additional Information
Licensing information is available from the Arkansas State Board of Nursing. ASBN can be reached by email contact form (http://humanservices.arkansas.gov/about-dhs/dms/office-of-long-term-care) or by telephone at 501-686-2700.
<!- mfunc search_btn -> <!- /mfunc search_btn ->
Find Nursing Licensure Requirements in Your State: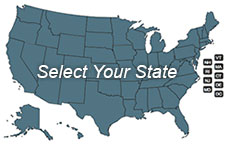 Learn about becoming a Registered Nurse, LPN or LVN in your state:
To View Full U.S. Map Click Here.