Advanced Practice Nurses in Delaware
Delaware's advanced practice nurses (APNs) are under the jurisdiction of the Delaware Board of Nursing. They have varying roles and population foci. Advanced practice roles include nurse practitioner, clinical nurse specialist, certified nurse midwife and certified registered nurse anesthetist.
Clinical nurse specialists and nurse practitioners may have any of multiple population foci. The Board cites maternal-child, pediatric, gerontology, and psychiatric-mental health as examples of clinical nurse specialist foci. Adult, family, acute care, pediatric, geriatric, and women's health are cited as examples of nurse practitioner foci.
APNs must hold licensing as registered nurses, whether in Delaware or in another nurse compact license state. Even in cases where primary RN licensure is in another state, the nurse will need to apply to the Delaware Board for APN licensure.
An advanced practice nurse must meet Delaware's education and certification requirements. The exception is if the nurse has pursued a specialty for which there is currently no certification exam. In this case, education alone may suffice.
<!- mfunc feat_school ->
Featured Programs:
Sponsored School(s)
<!- /mfunc feat_school ->
Select a Delaware Advanced Practice Nurse Topic:
Educational Requirements
The prospective APN must complete an accredited master's degree or post basic program in some specialty of nursing (Nurse Practitioner programs in Delaware). The Board defines a post basic program as one that is completed after licensure is achieved and that comprises at least one academic year. The program must include, at minimum, 400 clinical hours. It may be offered by a higher education institution or by an approved health agency. The program is to be accredited by an agency recognized by the Council for Higher Education Accreditation (CHEA) and/ or the Secretary of Education.
Certification Requirements
The APN will pursue a certification appropriate to his or her role and population focus. The Delaware Board has approved the following certification agencies:
The American Association of Critical Care Nurses
The American Association of Nurse Practitioners
The American Midwifery Certification Board
The American Nurses Credentialing Center
The National Board of Certification and Recertification for Nurse Anesthetists
The National Certification Corporation for the Obstetric, Gynecologic and Neonatal Nursing Specialties
The Pediatric Nursing Certification Board
This list is not exhaustive. According to Board regulation, other certifying bodies may be accepted. Criteria for approval of certifying agencies is included in Title 24 of administrative code (http://regulations.delaware.gov/AdminCode/title24/1900.shtml). The certification process will include credential review and examination.
<!- mfunc search_btn -> <!- /mfunc search_btn ->
Collaborative Practice Requirement
Advanced practice nurses must have collaborative agreements in place. An advanced practice nurse who works for more than one practice or business will need a collaborative agreement for each. If a single practice has more than one location, however, it will not be necessary to have a collaborative agreement for each setting.
The collaborative agreement will not necessarily be with a single medical professional. It may be with a physician, podiatrist, or dentist, or may be with a healthcare delivery system.
The APN can be licensed without having a collaborative agreement, but will need to have it before beginning work.
Prescriptive Authority
Prescriptive authority requires, in addition to collaborative agreement, documentation of related coursework. The APN will need coursework in the following:
Advanced health assessment
Advanced pathophysiology
Diagnosis and management of conditions within the particular APN specialty
Advanced pharmacology/ pharmacotherapeutics
An out-of-state APN will need to demonstrate continuing education in pharmacotherapeutics/ advanced pharmacology unless he or she completed an APN program within the prior two years. If the out-of-state license denotes prescriptive authority, the APN will need to demonstrate ten qualifying CE hours. If the out-of-state license does not denote prescriptive authority, the requirement is 30 CE hours. Continuing education credit must be from the prior two years.
Some APNs will need controlled substance registration. They will apply for Delaware CSR after obtaining prescriptive authority (https://dpr.delaware.gov/boards/controlledsubstances/APN_CSR/). The fee is $145.
Recency Requirement
Delaware has a recency requirement. An APN will need to have relatively recent experience in the role and unless he or she graduated from a program within the most recent two-year period. The Board will accept 1,500 hours accrued over the prior five years or 600 hours accrued over the prior two years.
The Application Process
Application forms can be downloaded from the website of the Board of Nursing (https://dpr.delaware.gov/boards/nursing/forms/).
The prospective advanced practice nurse will need to have fingerprint-based state and federal background checks. This is the case even in instances where the applicant has previously had a background check completed for the Delaware Board of Nursing. (An applicant who is simultaneously applying for RN licensing and APN licensing, however, will need just one set of fingerprints made.)
The fingerprinted individual will sign a release form. The licensing agency will require a copy of driver's license or ID. The applicant should send a copy of the verification form to the licensing agency. A copy of certification should be included in the application package.
Official transcripts are to be sent directly from the APN program. A professional applying for prescriptive privilege will need to document the four required courses. If it is not clear from the transcript that requirements were met, the Board will require additional documentation. There is a $132 processing fee.
An applicant should submit an application at least ten business days before a scheduled Board meeting so that it can be placed on the agenda.
Temporary Permits
An individual may receive a temporary APN permit pending national certification. The permit, as issued, is valid for 90 days. It is invalidated in the event of examination failure. However, the individual may petition the Board for extension of the permit.
The Board notes that failing a certification examination affects only APN licensure, not RN licensure.
A temporary permit can generally be issued within seven days of the time that all necessary items — including criminal background check results — are received.
APN Renewal
RN and APN licenses are renewed every two years. In order to be eligible for continued APN licensure, the nurse must meet recertification requirements of the applicable national certifying agency.
Additional Information
The Delaware Board of Nursing (https://dpr.delaware.gov/boards/nursing/) is under the banner of the Division of Professional Regulation (DPR). The licensing agency can be reached by email at 'customerservice.dpr at state.de.us' or by telephone at (302) 744-4500.
Additional professional resources include the following:
Delaware Coalition of Nurse Practitioners http://dcnpweb.org/?page_id=31
Delaware Affiliate of the American College of Nurse Midwives http://delaware.midwife.org/
Delaware Association of Nurse Anesthetists https://www.delawareana.org/
<!- mfunc search_btn -> <!- /mfunc search_btn ->
Find Nursing Licensure Requirements in Your State: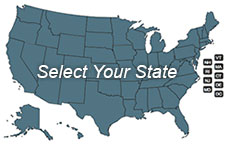 Learn about becoming a Registered Nurse, LPN or LVN in your state:
To View Full U.S. Map Click Here.