Advanced Practice Registered Nurse License Requirements in Hawaii
Hawaii's advanced practice nurses are regulated by the Board of Nursing. They are dually licensed as Registered Nurses (RNs) and as Advanced Practice Registered Nurses (APRNs). RN licensure must be granted by Hawaii Professional and Vocational Licensing (PVL); Hawaii is not a part of the nurse license compact.
Hawaii recognizes four advanced practice specialties:
Nurse Practitioner (NP)
Clinical Nurse Specialist (CNS)
Certified Nurse Midwife (CNM)
Certified Registered Nurse Anesthetist (CRNA)
Nurse practitioners and clinical nurse specialists also have sub-specialties. There are many subspecialties recognized by the Hawaii Board.
Hawaii APRNs apply separately for their prescriptive authority.
<!- mfunc feat_school ->
Featured Programs:
Sponsored School(s)
<!- /mfunc feat_school ->
Select a Hawaii Advanced Practice Registered Nurse Topic:
Education and Certification Requirements
Current APRN students must complete accredited graduate degree programs (Nurse Practitioner programs in Hawaii) and also pursue examination-based national certification.
The master's program must prepare the nurse to provide direct care in one of the four recognized roles (NP, CNS, CNM, CRNA). The Board does not accept master's programs that are not focused on direct practice with individuals (for example, nursing administration, public health, or nursing education).
The certification is to be approved by the Board or recognized by the American Board of Nursing Specialties (http://nursingcertification.org/absnc/programs).
The Hawaii Board has explicitly approved the following certifying bodies:
American Academy of Nurse Practitioners
American Nurses Credentialing Center
Council on Certification of the American College of Nurse Midwives
National Board of Certification and Recertification for Nurse Anesthetists
National Certification Corporation for Obstetric, Gynecologic and Neonatal Nursing Specialties
Pediatric Nurses Certification Board
The American Association of Critical-Care Nurses
NP and CNS Sub-Specialties
The current application list 12 possible sub-specialties for nurse practitioners and 16 possible sub-specialties for clinical nurse specialists.
The following are among the options for nurse practitioners:
Adult
Family
Pediatric
Neonatal
School
Acute care
Psychiatric mental health
The following are among the options for clinical nurse specialists:
Adult psychiatric/ mental health
Child and adolescent psychiatric/ mental health
Oncology
Advanced diabetes management
Pain management
Community health
Medical-surgical
Gerontological
Out-of-State APRNs
Advanced practice nurses who were credentialed by other state boards before October 1, 2009 are held to different standards. They may be recognized on the basis of 1) a master's degree in nursing or 2) advanced practice specialty certification through a certifying agency recognized by the Hawaii Board.
Out-of-state RN licenses and APRN recognitions must be unencumbered.
<!- mfunc search_btn -> <!- /mfunc search_btn ->
The Application Process
Applicants are responsible for reading applicable statutes and laws.
Application forms can be downloaded from the website of Professional and Vocational Licensing (http://cca.hawaii.gov/pvl/boards/nursing/application_publications/).
The licensing agency requires primary source verification of qualifications. Transcripts are to be sent directly from the school; certification verification, directly from the certification agency.
A professional who is applying simultaneously for two APRN designations must document qualifications for each.
The applicant will also request verification of all current RN licenses and APRN designations (if applicable).
Fees will depend on the stage in the renewal cycle.
Applications may be mailed or hand-delivered to the PVL office in Honolulu. There are two addresses listed in the application packet.
A Hawaii APRN who seeks recognition in an additional advanced practice specialty will submit an application along with documentation of qualification; either a degree or a national certification can be accepted as evidence of qualification. The licensing agency does not currently assess a fee for additional APRN designations.
Prescriptive Authority
An advanced practice nurse who seeks prescriptive authority (APRN-RX status) will need to hold both an accredited master's degree and specialty certification. Additionally, he or she will need 30 contact hours of recent coursework in advanced pharmacology; coursework is to include advanced pharmacotherapeutics.
Hawaii does not grant prescriptive authority based on reciprocity. If the individual is not a recent graduate of an accredited master's program, he or she may retake advanced pharmacology coursework 1) through an accredited institution recognized by the Board or 2) as continuing education. To be credited, continuing education must be taken through providers that have been approved by Board-recognized certifying agencies; continuing education is to include advanced pharmacotherapeutics in the APRN's specialty area.
The licensing agency can accept coursework taken during the prior three years. The advanced practice nurse will need documentation from the school or continuing education provider. The licensing agency advises inclusion of course descriptions.
Because Hawaii maintains a separate file for prescriptive authority, the applicant may need to submit some materials that he or she has already submitted (official transcripts, documentation of certification).
There is a $50 nonrefundable application fee. There are additional fees for compliance and for the prescription authority itself; fees will vary according to the stage in the renewal cycle. The applicant may submit all required fees with the application; this will expedite the process.
Prescriptive authority is renewed every two years. The prescribing APRN will need to maintain current certification and complete a continuing education requirement.
Professionals with prescriptive authority are responsible for knowing laws and regulations cited in the application packet.
A nurse anesthetist does not need to apply for prescriptive authority to administer anesthesia.
APRN Renewal
Licenses are renewed biennially on odd-numbered years.
Additional Information
The Hawaii Board of Nursing is under the banner of Professional and Vocational Licensing (PVL). The licensing agency can be reached by telephone at (808) 586-3000 or by email at 'nursing at dcca.hawaii.gov'.PVL has provided additional phone numbers for nurses residing on neighbor islands; these can be found on the main page of the Nursing Licensing area of the PVL website (http://cca.hawaii.gov/pvl/boards/nursing).
State professional associations include the following:
Hawaii Association of Professional Nurses https://www.facebook.com/HAPNnurses/
Hawaii Affiliate of the American College of Nurse-Midwives http://hawaii.midwife.org/index.asp?sid=10
Hawaii Association of Nurse Anesthetists http://hawaiicrna.net/
<!- mfunc search_btn -> <!- /mfunc search_btn ->
Find Nursing Licensure Requirements in Your State: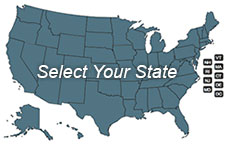 Learn about becoming a Registered Nurse, LPN or LVN in your state:
To View Full U.S. Map Click Here.