Advanced Practice Nurse Requirements in Idaho
Idaho's advanced practice nurses are licensed by the Idaho Board of Nursing. They must hold licensing as RNs, either in Idaho or in another state that is party to the nurse license compact. Advanced practice nursing is not covered under the compact; an advanced practitioner will need to apply to the Idaho Board.
<!- mfunc feat_school ->
Featured Programs:
Sponsored School(s)
<!- /mfunc feat_school ->
The Idaho Board of Nursing recognizes four advanced practice roles:
Nurse Practitioner
Clinical Nurse Specialist
Certified Nurse Midwife
Registered Nurse Anesthetist
Advanced practice nurses may have any of the following population foci:
Adult-gerontology
Individuals and families across the lifespan
Neonatal
Pediatrics
Psychiatric-mental health
Women's health/ gender
Select an Idaho Advanced Practice Nurse Topic:
APN Education and Certification Requirements
Licensure is based on education and certification. State statute also mandates that the advanced practice nurse have sufficiently sound mental and physical health to practice. According to Board rule, applicants must clear background checks.
Educational standards will increase in 2016. The Board wrote, in a document of frequently asked questions, that upcoming changes were for the sake of aligning Idaho to the Consensus Model for APRN Regulation and bringing the state in line with a future national norm (http://ibn.idaho.gov/IBNPortal/IBON/FAQS/APPN%20FAQ%202011-2013.pdf). Idaho advanced practice nurses are sometimes referred to as Advanced Practice Professional Nurses, or APPNs, and sometimes as Advanced Practice Registered Nurses, or APRNs; the latter is the more common title nationwide and the one selected by the Consensus Model.
Advanced practice nurses must complete approved educational programs (Nurse Practitioner programs in Idaho). APRN programs are to be nationally accredited by recognized accrediting agencies. Nurse Practitioners of Idaho, a state professional association, notes that the program itself is to be accredited, not just the institution.
Future students will be required to complete graduate or post-graduate education. Students are not required to meet this requirement, however, if they complete their advanced practice programs before 2016.
Certification programs must also be recognized by the Board. The certification process must entail examination. According to administrative rule, a certification organization will be recognized if it meets criteria set by the National Council of State Boards of Nursing.
Temporary Practice Pending Certification
There are various situations under which temporary licenses may be issued. New graduates of advanced practice programs may apply. Approval may be granted upon receipt of registration confirmation from the certification agency (as well as receipt of other required application materials).
A temporary license is invalidated after an examination failure. A candidate working under temporary licensure will provide notarized examination results to the Board.
A temporary license can also allow for re-entry by lapsed certificate holders who have been out of the field and do not currently meet practice requirements set by the certification agency.
Background Check Requirements
All applicants will need to have fingerprint-based background checks processed by the Idaho Central Criminal Database and the FBI. Fingerprints are to be made of Board-supplied fingerprint cards. The background check fee is currently $34. Applicants with questions about fingerprinting are directed to call (208) 334-3110, Ext 2476.
<!- mfunc search_btn -> <!- /mfunc search_btn ->
The Application Process for Idaho APRN's
Application forms can be downloaded from the Board website (http://ibn.idaho.gov/IBNPortal/BoardAdditional.aspx?Board=IBON&BureauLinkID=930). Currently, the 'APPN & RN Initial Licensure' application is used by professionals already licensed as RNs in Idaho as well as by those seeking dual RN/ licensure. Professionals who are licensed as RNs in other compact states use the 'APPN Initial License – Compact RN' form.
The applicant will provide a copy of the qualifying certification. He or she will attest to the veracity of the certification in a notarized statement; the required form is included in the application packet. APRN transcripts are to be requested from the issuing institution and sent directly to the licensing agency.
Applicants who are not currently licensed as RNs in Idaho will need to supply various additional materials. Those who are licensed as RNs in other compact states will submit copies of their current RN licenses. The applicant will attach a small photograph to the application form. Applicants who answer "yes" to screening questions will need to provide supporting documents. The APPN application fee is $90. Individuals requesting temporary license will pay an additional $25.
Out-of-State Advanced Practice Nurses
A temporary license can allow an otherwise qualified out-of-state licensee to begin work sooner. (The licensing agency notes that an applicant can expect a temporary license to be issued within 30 days while the timeframe may be as long as ten weeks for issuance of a permanent license.)
The Idaho Board can license advanced practice nurses who hold licenses in other jurisdictions but do not meet the requirement for graduate or post-graduate education provided that they complete their advanced practice programs before January 1, 2016 and are otherwise license-eligible.
Prescriptive Authority
Advanced practice nurses who complete their educational programs January 1, 2016 or later will receive prescriptive authority with their licenses.
Those who completed programs before this date will need to apply for prescriptive authority. They will need to document 30 semester hours of pharmacotherapeutic coursework upon initial application. The coursework can be taken as formal academic education or as continuing education. An applicant pays an additional $50 when requesting prescriptive authority.
Renewal of Advanced Practice Licenses
Advanced practice licenses are renewed biennially. The APPN must maintain certification. He or she must complete at least 30 hours of continuing education and practice a minimum of 200 hours. If the APPN has prescriptive authority, continuing education must include at least 10 hours of pharmacology.
Additional Information for Idaho APRN's
Licensing information is available from the Idaho Board of Nursing. The Board can be reached by telephone at (208) 577-2476.
Idaho advanced practice professional organizations include:
Idaho Association of Nurse Anesthetist
<!- mfunc search_btn -> <!- /mfunc search_btn ->
Find Nursing Licensure Requirements in Your State: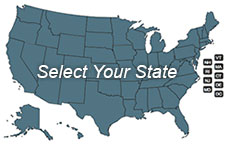 Learn about becoming a Registered Nurse, LPN or LVN in your state:
To View Full U.S. Map Click Here.