Advanced Practice Registered Nurse License Requirements in Maine
Maine's advanced practice nurses are licensed by the Maine State Board of Nursing. The Board recognizes APRNs who practice in any of four roles:
Nurse Practitioner
Certified Nurse Midwife
Clinical Nurse Specialist
Nurse Anesthetist
Nurse practitioner and clinical nurse specialist are broad roles; specialty areas will be noted on the license.
An advanced practice nurse will also hold licensure as an RN. RN licensure may be held in Maine or in another nurse compact member state (if the nurse qualifies by residency in the other state).
<!- mfunc feat_school ->
Featured Programs:
Sponsored School(s)
<!- /mfunc feat_school ->
There are some differences in requirements from specialty to specialty. Maine nurse practitioners and certified midwives have prescriptive authority and must have preparation for such.
All prospective APRNs will need to graduate from accredited programs and pass certification examinations; they may practice for a limited time period before achieving certification. Nurse practitioners have an additional requirement: supervised practice.
Select a Maine Advanced Practice Registered Nurse Topic:
Nurse Practitioner Requirements
A nurse practitioner will complete an accredited nursing program in his or her intended area of practice (Nurse Practitioner programs in Maine).
The nurse practitioner will need 45 contact hours or three credit hours of pharmacology coursework.
The graduate will pursue national credentialing. The following certifying agencies are specifically referenced in state administrative code: the American Nurses Credentialing Center, the American Academy of Nurse Practitioners, the National Board of Pediatric Nurse Associates and Practitioners, and the National Certification Corporation for the Obstetric, Gynecologic and Neonatal Nursing Specialties. However, the Board may accept others.
Maine allows two examination attempts; they must be made during the initial 24 months that the nurse practitioner is under Board jurisdiction.
The nurse practitioner will need 24 months of supervised practice. Employment at a hospital or clinic can be considered to meet the requirement if the director is a licensed physician. Otherwise, the NP will need another professional to serve as supervising nurse practitioner or supervising physician.
Application materials and further information: http://www.maine.gov/boardofnursing/licensing/advanced-practice-rn/index.html
Nurse Midwife Requirements
A prospective nurse midwife will complete a graduate or post-graduate program in the midwifery specialty area. The individual will complete three credit hours or 45 contact hours of pharmacology coursework.
Administrative code references certification by the American College of Nurse-Midwives Certification Council; the organization is now known as the American Midwifery Certification Board (http://www.midwife.org/Certification). The certificate holder must be enrolled in the appropriate continuing competence or certification maintenance program.
<!- mfunc search_btn -> <!- /mfunc search_btn ->
Clinical Nurse Specialist Requirements
A prospective CNS is to pursue a program specifically intended to prepare clinical nurse specialists. Administrative rules state that the program is to be accredited by the American Association of Colleges of Nursing or the National League for Nursing. The National League for Nursing is now the Accreditation Commission for Education in Nursing (http://www.acenursing.org).
The nurse specialist will need to pass a certification examination. The American Nurses Credentialing Center (ANCC) is cited in administrative regulation; the American Association of Critical-Care Nurses (AACN) is also referenced in application materials. Other certification agencies may be accepted.
A graduate may be authorized to work up to 12 months pending completion of licensing requirements. A nurse specialist loses the privilege of working in an advanced practice role if he or she fails an examination attempt. The RN license, however, is not affected. An otherwise qualified nurse will be eligible for CNS licensing after passing the required certification examination.
The APRN Application Process
Application forms can be submitted before or after certification. They must, however, be submitted before the nurse begins delivering services as an advanced practitioner.
Required forms can be downloaded from the Board website (http://www.maine.gov/boardofnursing/licensing/advanced-practice-rn/index.html).
Transcripts are to be requested and sent directly from the nursing program.
In some cases, the applicant will need to provide license verification. Currently, the Maine Board is able to verify certification from the following certifying bodies: AACN, ANCC, NCC, PNCB, and NBCRNA).
Individuals seeking temporary approval will verify that they have been found eligible for testing and an examination has been scheduled.
Nurse practitioners and clinical nurse specialists will list their specialties on the application form.
Applicants who hold their RN licensing in another compact state will provide license verification as well as information about their basic nursing education. In some cases, the license verification process can be carried out online through the NURSYS system (www.nursys.com). If the other state is not a NURSYS participant, the applicant will use a paper form.
The applicant will attach a recent passport-style photograph; the licensing can accept a photograph up to two years old.
The application requires notarization.
There is a nonrefundable $100 application fee. (A clinical nurse specialist or nurse practitioner who seeks a second recognition will pay an additional $50.)
Certified Registered Nurse Anesthetists Requirements
A prospective nurse anesthetist will 1) complete a master's degree program accredited by the Council on Accreditation of Nurse Anesthesia and 2) seek national certification.
Maine Administrative Rules state that nurse anesthetists will be certified by the Council on Certification of Nurse Anesthetists and, if applicable, recertified by the Council on Recertification of Nurse Anesthetists (http://www.maine.gov/boardofnursing/licensing/advanced-practice-rn/index.html). There is now one organization: the National Board of Certification & Recertification for Nurse Anesthetists.
A nurse anesthetist may practice under supervision before achieving full licensure. During this time, he or she will hold graduate status. The graduate nurse anesthetist may be supervised by an anesthesiologist or nurse anesthetist.
Renewal Requirements
Maine's advanced practice nurses are expected to complete 75 CEUs every two years.
Additional Information
Licensing information is available from the Maine State Board of Nursing (http://maine.gov/boardofnursing). The Board can be reached by telephone at (207) 287-1133.
Advanced practice professional organizations include the following:
<!- mfunc search_btn -> <!- /mfunc search_btn ->
Find Nursing Licensure Requirements in Your State: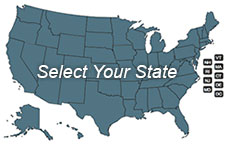 Learn about becoming a Registered Nurse, LPN or LVN in your state:
To View Full U.S. Map Click Here.