Advanced Practice Registered Nurse License Requirements in Minnesota
In 2014, Minnesota passed a law expanding the scope of practice of advanced practice nurses and requiring that they hold APRN licensing, separate from their RN licensing.
<!- mfunc feat_school ->
Featured Programs:
Sponsored School(s)
<!- /mfunc feat_school ->
Minnesota recognizes four advanced practice roles:
Clinical Nurse Specialist
Nurse Practitioner
Nurse Midwife
Registered Nurse Anesthetist
An advanced practice nurse must also have one or more population foci. Minnesota recognizes six:
Family and individual
Adult-gerontology
Women's health/ gender-related
Neonatal
Pediatrics
Psychiatric/ mental health
In some cases, advanced practice training and certification may focus on either acute or primary care.
A nurse anesthetist is considered to have "family" as a population focus.
Prospective APRNs must meet education and certification requirements and, in many cases, supervised practice requirements; practice requirements depend on role.
The grandfathering period was in effect through January 1, 2015 (https://www.revisor.mn.gov/statutes/?id=148.211).
Select a Minnesota Advanced Practice Registered Nurse Topic:
APRN Educational Requirements
The prospective advanced practice nurse will need to complete a graduate nursing program (Nurse Practitioner programs in Minnesota). The program must be accredited by some agency recognized by the Council on Higher Education Accreditation or the United States Secretary of Education. It must provide preparation for the intended role and population.
Programs operating within Minnesota must be approved by the Board of Nursing. The Board maintains a list of approved in-state programs (https://mn.gov/boards/nursing/education/advanced-practice-nursing-programs/).
APRN Certification Requirements
The prospective APRN must pursue certification through an accepted national certifying agency. The Minnesota Board has approved the following certification bodies:
American Academy of Nurse Practitioners
American Association of Critical-Care Nurses Certification Corporation
American Midwifery Certification Board
American Nurses Credentialing Center
National Certification Corporation for the Obstetric, Gynecological, and Neonatal Nursing Specialties
National Board of Certification and Recertification for Nurse Anesthetists
Pediatric Nursing Certification Board
The nurse will apply directly to the certifying agency. Initial certification is by examination. The certifying agency will review credentials before admitting a candidate to the examination.
<!- mfunc search_btn -> <!- /mfunc search_btn ->
Supervised Practice Requirements
Nurse practitioners and clinical nurse specialists must complete a period of supervised or collaborative practice. The requirement is 2,080 hours.
A nurse may work in a hospital or integrated setting. He or she will enter into a collaborative agreement with one or more physicians or advanced practice nurses. At least one collaborator must have experience treating patients with similar medical conditions.
The APRN Application Process
Advanced practice nurses come under Board jurisdiction when they begin practice.
Application forms can be downloaded from the website of the Minnesota Board of Nursing (https://mn.gov/boards/nursing/advanced-practice/advanced-practice-registered-nurse-(aprn)-licensure-general-information/).
The applicant will note his or her role and population focus. A professional whose certification is adult or gerontology will mark "adult-gerontology". An APRN will mark "acute care" or "primary care" if the qualifying certification is denoted as such.
The application includes questions about legal, professional, and health history (for example, addictions). "Yes" answers are grounds for review.
A school official will complete the "Confirmation of Graduation" form; the applicant is directed to complete only the upper portion before forwarding the form.
The applicant will request that the certifying agency send confirmation directly to the Minnesota Board.
Clinical nurse specialists and nurse practitioners complete "Initiation of Practice" paperwork at the onset of practice. The collaborating professional will later verify practice hours.
The license application fee is $105; it is nonrefundable.
A nurse who is qualified to practice in more than one advanced practice role must submit multiple applications. A nurse who has one role but multiple population foci may submit a single application.
A nurse anesthetist will need a prescribing agreement if he or she will prescribe nonsurgical pain management.
In some cases, a nurse practitioner will need a DEA number; this is required for some, but not all, types of prescriptions (https://mn.gov/boards/nursing/advanced-practice/how-to-obtain-your-dea-number-and-register-for-minnesota-prescription-monitoring-program-pmp/). APRNs with questions are directed to the DEA office.
Licensure by Endorsement
An out-of-state APRN may be endorsed into Minnesota if he or she has met equivalent standards elsewhere. The Nurse Practice Act states that out-of-state licensees must hold national certification and must meet the requirements that were in effect in Minnesota at the time that their program was completed (https://www.revisor.mn.gov/statutes/?id=148.211).
Renewal Requirements
RN and APRN status is renewed every other year; the year of renewal depends on the applicant's year of birth (http://mn.gov/health-licensing-boards/images/APRN_Renewal_Info.pdf).
The APRN will need to provide evidence of continued national certification; this is to come directly from the certifying agency. In order to maintain credentialing, he or she will need to meet continuing competency requirements set by the certification agency.
Currently, a nurse pays only one fee for RN renewal. This will change in the future when the APRN online system is implemented.
Nurses who have questions about renewal are invited to call the Board.
Additional Information
Licensing information is available from the Minnesota Board of Nursing (mn.gov/health-licensing-boards/nursing). The Board can be reached by email at 'nursing.board at state.mn.us' or by telephone at 612-317-3000. Individuals who live in Minnesota, Iowa, North Dakota, South Dakota, or Wisconsin can call toll-free 888-234-2690.
The state's advanced practice nursing associations serve as additional professional resources:
<!- mfunc search_btn -> <!- /mfunc search_btn ->
Find Nursing Licensure Requirements in Your State: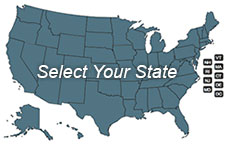 Learn about becoming a Registered Nurse, LPN or LVN in your state:
To View Full U.S. Map Click Here.