Advanced Practice Registered Nurse Certification in Mississippi
Mississippi's advanced practice nurses are certified by the Mississippi State Board of Nursing:
The Board now recognizes four advanced practice roles:
Certified Nurse Practitioner (CNP)
Certified Registered Nurse Anesthetist (CRNA)
Certified Nurse Midwife (CNM)
Clinical Nurse Specialist (CNS)
Nurse practitioners and clinical nurse specialists also have a population focus. The focus may be broad (families and individuals across the lifespan) or may target a particular demographic group (neonatal, pediatrics, women's health/ gender, or adult/ gerontology). Some advanced practice nurses focus on psychiatric and mental health issues.
<!- mfunc feat_school ->
Featured Programs:
Sponsored School(s)
<!- /mfunc feat_school ->
In order to be certified as an APRN in Mississippi, one must hold a license as a registered nurse (or a temporary permit if the license is pending). Mississippi is a member of the nurse compact and will accept an RN license held in another compact state, provided the other state is the nurse's primary place of residency. If the home state is not a compact state, the nurse will need to apply for RN endorsement.
Select a Mississippi Advanced Practice Registered Nurse Topic:
APRN Education and Certification Requirements
A prospective advanced practice nurse must earn a degree at the master's level or higher (Nurse Practitioner programs in Mississippi). The program is to include clinical experience. It is to be nationally accredited through an agency approved by the Board. The program should be one designed to prepare the nurse for his or her intended advanced practice role.
APRNs who graduated by the end of 1998 will not necessarily have degrees at the graduate level. Those who graduated post-1993, however, will need to demonstrate that they completed programs that included concentrations in the particular advanced practice specialties for which they seek credentialing.
APRNs who graduated and achieved certification by the end of 1993 will not necessarily have completed programs specific to their advanced practice role. They will, at minimum, need to show that they completed accredited programs that were designed for advanced practice registered nurses.
A prospective APRN must pass a national certification examination. There are multiple certification agencies for advanced practice nurses. Selection will depend on role and population focus.
The APRN will need to maintain certification. This will entail meeting continuing competency requirements set by the certification agency.
Background Check Requirements
Prospective Mississippi APRNs will have fingerprint-based criminal background checks. Students enrolled in in-state advanced practice programs may have their fingerprints made at their schools. In other cases, nurses should schedule their fingerprinting appointments with the Mississippi State Board of Nursing. They will register online after submitting their applications (http://www.msbn.ms.gov/Documents/APRNinitial12%20(2).pdf). There is a $75 fee. The applicant will need to bring two forms of ID to the appointment, as well as documentation of name changes, if applicable.
<!- mfunc search_btn -> <!- /mfunc search_btn ->
New APRN Graduates
A new graduate may apply for a temporary permit which is valid, at most, 120 days past the date of program completion.
The permit holder is expected to take an examination within 90 days of program completion.
A new graduate is expected to complete a residency of 720 hours. During this time, practice will be monitored. The supervisor may be a physician or an APRN. A letter of completion will be submitted to the Board once requirements have been met.
Controlled Substances Prescriptive Authority
An APRN who foresees the need to prescribe controlled substances will need to apply for this privilege. The APRN cannot apply for Controlled Substances Prescriptive Authority (CSPA) until he or she has completed 720 hours of supervised practice or residency.
The Application Process
Mississippi is transitioning to an online application system.
(http://www.msbn.ms.gov/Pages/Advanced-Practice-Registered-Nurse.aspx)
Applicants are directed to read state administrative code and then agree to practice guidelines.
A collaborating physician will sign the 'Verification of Protocol/ Practice Collaboration' document. (This document is not required at the time of application if the individual is not yet ready to begin practice.
Applicants must submit copies of their national certification. New graduates should request that their certification agency send results directly to the Mississippi Board. An advanced practice nurse who holds multiple specialty certifications should submit a copy of each.
The Board requires official transcripts; these should be sent directly from the issuing university.
Applicants who answer "yes" to potentially disqualifying questions are asked to provide documentation such as court documents or documents from the applicable regulatory agency.
Currently, the application fee is $100. An applicant who is simultaneously applying for CSPA will remit an additional $100.
APRN Certification Renewal Requirements
APRNs renew their state credentials biennially. They must document continued national certification. They must also demonstrate 40 contact hours (or four CEUs) of continuing education relevant to their practice areas.
Additional Information
Information about APRN requirements is available from the Mississippi State Board of Nursing (http://www.msbn.ms.gov/Pages/Advanced-Practice-Registered-Nurse.aspx). The APRN Licensing Officer can be reached by telephone at 601- 957-6290. The Director of Advanced Practice can be reached at 601- 957-6259. Additional contact information is available online (http://www.msbn.ms.gov/Pages/Contact.aspx).
Advanced practice professional associations include the Mississippi Association of Nurse Practitioners (http://www.msanp.org) and the Mississippi Association of Nurse Anesthetists (http://www.mana.us). The Mississippi State Nurses Association (http://msnurses.org/about-us) also provides APRN resources.
<!- mfunc search_btn -> <!- /mfunc search_btn ->
Find Nursing Licensure Requirements in Your State: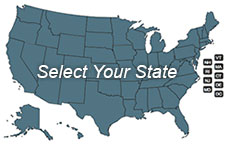 Learn about becoming a Registered Nurse, LPN or LVN in your state:
To View Full U.S. Map Click Here.