Advanced Practice Registered Nurse License Requirements in Nevada
There have been recent changes in Nevada's advanced practice nursing law. The new title is Advanced Practice Registered Nurse, or APRN. The new law imposes some additional requirements and allows APRNs to practice at the full extent of the nationally recognized scope of practice.
Nevada recognizes four advanced nursing roles (nurse practitioner, nurse midwife, clinical nurse specialist, and nurse anesthetist). However, requirements are not the same for nurse anesthetists as they are for practitioners in other roles. Nurse anesthetist requirements are discussed separately in state administrative code (http://www.leg.state.nv.us/NAC/NAC-632.html). The term APRN is sometimes used to denote only nurse practitioners, clinical nurse specialists, and nurse midwives.
<!- mfunc feat_school ->
Featured Programs:
Sponsored School(s)
<!- /mfunc feat_school ->
In addition to having a broad role, APRNs have a population focus. An advanced practice nurse may focus on families and individuals across the lifespan or may have a more narrow focus: neonatal, pediatrics, adult-gerontology, women's health, or psychiatric/ mental health. In order to practice with a particular population focus, an advanced practice nurse must be able to document competency.
An APRN may also have a specialty such as oncology (http://nevadanursingboard.org/licensure-and-certification/advanced-practice-certificates/advanced-practitioner-of-nursing/#Qualifications). Specialty recognition is not tied to the licensing process.
Nevada's advanced must also hold RN licenses. Both the RN license and APRN license are state-specific. Although there have been attempts to pass legislature, Nevada is not currently a member of the nurse license compact.
Select a Nevada Advanced Practice Registered Nurse Topic:
Requirements for Nurse Practitioners, Clinical Nurse Specialists, and Nurse Midwifes
A prospective advanced practice nurse must earn a degree at the master's or doctoral level (Nurse Practitioner programs in Nevada). An advanced practice program must be at least a year long and must include clinical experience. The program may be accredited by a nationally recognized accrediting agency such as the Commission on Collegiate Nursing Education or the Accreditation Commission for Education in Nursing; it can also be accepted based on approval by the nursing board in its own jurisdiction.
The program must include multiple courses related to role and population focus. The student will need advanced coursework in health assessment, pathophysiology, and role preparation, and (if prescriptive authority is sought) in pharmacology.
Advanced practice nurses are now required to hold certification through nationally recognized certification agencies. The Board cites the American Board of Nursing Specialties and the National Commission for Certifying Agencies of the Institute for Credentialing Excellence. Both accredit nursing certification agencies. An APRN will not be certified directly by the National Commission for Certifying Agencies but may be certified by an accredited certifying agency.
A graduate who wishes to begin work as an advanced practitioner immediately may apply for temporary licensure; the individual will be expected to take the first available examination.
Liability insurance is a new requirement.
<!- mfunc search_btn -> <!- /mfunc search_btn ->
Out-of-State Advanced Practice Applicants
CNS, NP, and CNM applicants who are not recent graduates are expected to hold licensure or certification in other states and to have accrued some experience during the prior five-year period,
Education and certification requirements are based on the date of program completion. National certification is not mandatory in all cases for advanced practice nurses who completed programs before July 1, 2014, though they are "strongly encouraged" to pursue certification.
All applicants are required to have completed advanced practice programs. However, the master's requirement does not apply to individuals who completed programs by June 1, 2005.
Those who completed advanced practice programs July 1, 1992 or later must provide evidence of degrees at at least the baccalaureate level unless they hold national certification; to be qualifying, the degree must have been earned through an accredited school.
Out-of-state APRNs who seek prescriptive authority are, in most cases, expected to demonstrate 1,000 hours of active prescriptive practice over the prior two-year period.
Requirements for Nurse Anesthetists
Prospective nurse anesthetists also pursue graduate education and then national certification. They are eligible for temporary credentialing pending certification.
All nurse anesthetists are expected to show evidence of national certification, even those who graduated in the past and have been practicing out-of-state.
Any nurse anesthetist who graduated after June 1, 1988 must hold a degree at at least the baccalaureate level. A nurse anesthetist who graduated after June 1, 2005 is expected to document a master's degree.
The Application Process
Advanced practice applicants must have fingerprint-based background checks unless they submitted prints within the previous six months. A candidate can call 888-590-6726 to set up an appointment or request fingerprint cards.
Nurse practitioners, nurse, midwives, and clinical nurse specialists use the same application (http://nevadanursingboard.org/licensure-and-certification/advanced-practice-certificates/advanced-practitioner-of-nursing/). These applicants should request that official transcripts be sent directly from the school. If it is not clear that all required coursework was included, the applicant will need to submit either a letter from a school official or copies of course catalog descriptions.
The CNS, NM, or NP will also need to document that the program held appropriate accreditation or approval.
An APRN who seeks prescriptive authority for Level II controlled substances will need prescribing protocols or documentation of two years (or 2,000 hours) of practice.
Out-of-state applicants are directed to include a copy of their current credential.
There is a nonrefundable $200 fee for all advanced practice categories.
CRNAs have a separate application (http://nevadanursingboard.org/licensure-and-certification/advanced-practice-certificates/crna).
A prospective CRNA should provide a notarized copy of a certificate or diploma or have an official transcript sent to the Board. Individuals who graduated after June 1, 1988 will document degree conferral through official transcripts.
Maintenance and Renewal
Nurse practitioners, nurse midwives, and clinical nurse specialists are expected to maintain professional portfolios.
APRN and RN licenses have same expiration dates. APRNs are expected to complete 45 hours of continuing education every two years and practice at least 800 hours every five years (http://nevadanursingboard.org/howtorenewrnlic-apncert).
Nurses can renew online (http://nevadanursingboard.org/licensure-and-certification/online-renewal).
Additional Information
Information is available from the Nevada Board of Nursing (www.bop.nv.gov). The Board can be reached by telephone at (702) 486-5800 or (888) 590-6726 or by email at 'nursingboard at nsbn.state.nv.us'.
The Board of Nursing includes an Advanced Practice Advisory Committee (http://nevadanursingboard.org/board-information/committees/advanced-practice-advisory-committee/).
State professional associations do not issue licenses, but serve as additional professional resources:
Nevada Advanced Practice Nurses Association http://www.napna.net/
Nevada Association of Nurse Anesthetists http://www.nvana.org/
<!- mfunc search_btn -> <!- /mfunc search_btn ->
Find Nursing Licensure Requirements in Your State: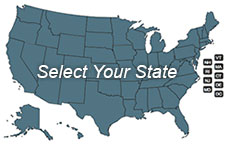 Learn about becoming a Registered Nurse, LPN or LVN in your state:
To View Full U.S. Map Click Here.