Advanced Practice Registered Nurse License Requirements in North Dakota
North Dakota's Advanced Practice Registered Nurses (APRNs) are licensed by the North Dakota Board of Nursing. There are multiple APRN designations based on role and population focus.
<!- mfunc feat_school ->
Featured Programs:
Sponsored School(s)
<!- /mfunc feat_school ->
The North Dakota Board recognizes four roles:
Nurse Practitioner
Nurse Anesthetist
Nurse Midwife
Clinical Nurse Specialist
The Board recognizes the following population foci:
Adult-Gerontology
Family (Lifespan)
Neonatal
Pediatrics
Psychiatric/ Mental Health
Women's Health or Gender-Related
Full licensure is dependent on completing graduate education and attaining national certification. Practitioners may be granted temporary credentialing after completing educational requirements.
APRNs apply for prescriptive authority separately.
Select a North Dakota Advanced Practice Registered Nurse Topic:
Licensure Requirements for In-State and Out-of-State Nurses
APRNs must hold RN licensure in North Dakota or, if they reside in other states that are party to the nurse license compact, in their own home state. Nurses who hold licensure in states that are not party to the nurse license compact may apply for RN reciprocity at the same time they apply for advanced practice status (https://www.ndbon.org/NurseLicensure/APRN/Index.asp).
Educational Requirements
A prospective APRN must earn a graduate degree that has a nursing focus and must complete an advanced practice track. The nursing program is to be nationally accredited (Nurse Practitioner programs in North Dakota).
An APRN may be eligible for licensing in North Dakota despite not meeting current educational requirements if requirements were lower at the time he or she was first licensed or certified (https://www.ndbon.org/RegulationsPractice/NursePracticesAct.asp).
Certification Options
Prospective CRNAs apply to the National Board on Certification and Recertification of Nurse Anesthetists for examination and certification.
Prospective nurse midwives apply to the American Midwifery Certification Board.
Nurse practitioners may apply to any of five certification agencies, depending on area of specialization. Those with neonatal and women's health/ gender-specific specializations apply to the National Certification Corporation. Those with family psychiatric mental health nurse practitioner specializations apply to the American Nurses Credentialing Center.
Family nurse practitioners and adult-gerontology primary care nurse practitioners may be certified by either the American Nurses Credentialing Center or the American Academy of Nurse Practitioners. Adult-gerontology acute care practitioners may be certified by the American Nurses Credentialing Center or the American Association of Critical-Care Nurses. Nurse practitioners with pediatric specialization may be certified by either the American Nurses Credentialing Center or the Pediatric Nurse Certification Board; the latter offers both primary care and acute care pediatric certifications.
There are three acceptable certifying agencies for CNSs. Pediatric clinical nurse specialists and adult-gerontology clinical nurse specialists may pursue certification through the American Nurses Credentialing Center or the American Association of Critical-Care Nurses. Neonanatal clinical nurse specialists must pursue certification through the American Association of Critical-Care Nurses. The Montana Board currently accepts one CNS certification offered by the Pediatric Nurse Certification Board: Pediatric Primary Care Mental Health Specialist, or PMHS.
Examination availability is subject to change. Some certifications have been retired and some new certifications have been developed in response to the APRN Consensus Model that was developed by the National Council of State Boards of Nursing. The Montana Board may accept some older certifications offered by recognized certification agencies.
Temporary permits may be granted to those who are awaiting examination or awaiting examination results. Scope of practice is limited. A temporary permit is valid for a maximum of 90 days. It is invalidated if a candidate fails an examination attempt.
<!- mfunc search_btn -> <!- /mfunc search_btn ->
Additional Requirements for Prescriptive Authority
An APRN who seeks prescriptive authority will document coursework in the following content areas:
Pathophysiology
Physical assessment
Advanced pharmacology
The applicant will need to demonstrate recent coursework in pharmacology: the Board requires the equivalent of 30 contact hours completed in the prior three year period. Recent graduates may count the pharmacology coursework they completed as part of their programs.
The Application Process
APRN applicants are required to have state and federal criminal background checks unless they have had background check carried out for the Board of Nursing during the very recent past (prior 90 days).
Fingerprints may be made through a local agency. The applicant may opt for electronic fingerprinting or traditional inked cards. An applicant who opts for inked cards will need to have two cards rolled. Fingerprint cards are to be included in the application package, along with criminal history record check form and $42.75 fee.
The application form can be downloaded from the APRN licensure page of the Board website (https://www.ndbon.org/NurseLicensure/APRN/Index.asp).
A North Dakota RN will note his or her license number. A nurse who is licensed in another compact state will include a copy of the qualifying license.
The Board requires primary source verification of certification status. A new graduate may arrange to have results sent to the Board immediately after they are known.
Transcripts are also to be submitted directly by the issuing institution. They may be mailed or sent electronically to 'transcripts at ndbon.org'.
The application packet includes an educational verification form that new graduates may use to document having met educational requirements.
The APRN license/ application fee is $100. Those seeking prescriptive authority pay an additional $50. The background check fee is $20
Application packets are to be sent to the Board office in Bismarck.
Continuing Education
An APRN is expected to complete 15 hours of pharmacology coursework every two years. The Board notes that pharmacology coursework can be simultaneously credited toward the continuing education required for RN renewal (https://www.ndbon.org/NurseLicensure/APRN/FAQ.asp).
Additional Information
APRN licensing information is available from the North Dakota Board of Nursing (https://www.ndbon.org/). The Board can be reached by telephone at 701-328-9777 or by email at 'contactus at ndbon.org'.
North Dakota boasts two advanced practice nursing associations:
North Dakota Nurse Practitioner Association http://ndnpa.org/
North Dakota Association of Nurse Anesthetistshttp://www.ndana.org/
Find Nursing Licensure Requirements in Your State: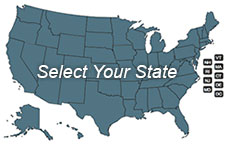 Learn about becoming a Registered Nurse, LPN or LVN in your state:
To View Full U.S. Map Click Here.