Advanced Practice Registered Nurse License Requirements in Ohio
Ohio's Advanced Practice Registered Nurses, or APRNs, are licensed by the Ohio Board of Nursing. Ohio recognizes all four nationally recognized advanced practice roles. The following titles are used:
Certified Nurse Practitioner (CNP)
Certified Nurse-Midwife (CNM)
Certified Registered Nurse Anesthetist (CRNA)
Clinical Nurse Specialist (CNS)
State licensure is dependent on graduate education and national certification. Nurse practitioners, clinical nurse specialists, and nurse midwives who need prescriptive authority must fulfill an experience requirement as well.
<!- mfunc feat_school ->
Featured Programs:
Sponsored School(s)
<!- /mfunc feat_school ->
In most cases, an advanced practice nurse will need a standard care arrangement with a collaborating physician.
An Ohio advanced practice nurse holds both an RN license and an APRN license; the latter is called a Certificate of Authority. Both licenses are state-specific; Ohio is not a member of the nurse license compact. An out-of-state RN will need to be endorsed into Ohio.
There have been changes to legal requirements in 2015. There may, in the future, be more changes, aimed at bringing Ohio in line with the National APRN Consensus Model. The Board has published a document that compares current Ohio APRN licensing and practice with the proposed national model (http://www.nursing.ohio.gov/Practice.htm#AdvancedPractice).
Select an Ohio Advanced Practice Registered Nurse Topic:
APRN Education and Certification Requirements in Ohio
Advanced practice nurses must earn graduate degrees (Nurse Practitioner programs in Ohio). The program must qualify the graduate to sit for an approved certification examination. Educational requirements will vary according to role and population focus. A prospective APRN can visit the website of his or her intended certifying agency to learn more.
The Board approves third party certifying agencies according to standards found in 4723.46 of state code. They are assessed on an annual basis.
The 2015 list includes the following organizations (http://www.nursing.ohio.gov/Practice.htm#AdvancedPractice):
<!- mfunc search_btn -> <!- /mfunc search_btn ->
Additional Requirements for Prescriptive Authority
Nurse practitioners, clinical nurse specialists, and nurse midwives who seek prescriptive authority must meet an additional set of requirements.
The nurse must have a course in advanced pharmacology. The course is to comprise at least 45 contact hours and be specific to the nurse's specialty or area of practice (http://codes.ohio.gov/orc/4723.482v2). It must include content specified in state code, for example, pharmacokinetic principles and issues surrounding prescription of controlled substances. The licensing agency expects that coursework will have been completed in the preceding three-year period. There were some changes in course requirements, effective September 29, 2015 (http://www.nursing.ohio.gov/Practice.htm#CTP). The Board notes that online course formats can now be accepted.
Ohio requires an externship in many circumstances (http://codes.ohio.gov/oac/4723-9). The standard externship for in-state applicants is 1,500 hours, with at least 500 hours under the direct supervision of a supervising professional.
A professional with previous prescriptive experience may be exempted from the externship requirement if prescriptive authority included controlled substances. The APRN is expected to have held prescriptive authority issued by another jurisdiction during at least one of the three preceding years; the licensing agency can accept U.S. government employment if authority was granted as a condition of employment. The individual will still need to complete a two hour course in state laws regarding drugs and prescriptive authority.
An out-of-state professional with prescriptive experience that did not include controlled substances may have reduced externship requirements.
There are three separate applications; the APRN will select the one that matches his or her experience. Currently, there is a $50 fee for both externship applications and out-of-state prescriptive authority applications.
A new law regarding prescriptive authority goes into effect October 15, 2015 (http://www.nursing.ohio.gov/Practice.htm#CTP). It represents some increase in scope of practice.
The Application Process
Application forms are available for download from the Board website (http://www.nursing.ohio.gov/forms.htm#RX). An individual may submit an application before all requirements have been met. However, application files are not retained for longer than a year.
The application packet includes an academic verification form to be completed by the program.
The licensing agency will also seek primary source verification of certification. Certification verification may be sent by email to 'aprn at nursing.ohio.gov' or mailed to the APRN Unit.
Applicants who answer "yes" to certain application questions will be required to submit additional documents. Some applicants, for example, will need to provide details about psychiatric treatment and descriptions of current condition.
The application fee is currently $100; this is non-refundable.
Application materials should be mailed to the Advanced Practice Unit in Columbus.
Recertification and Renewal
Licenses are renewed biennially.
Advanced practice nurses must recertify periodically with their third party certification agencies. They are directed to ensure that verification is sent to the Ohio Board.
The advanced practice nurse will need to meet continuing education/ continuing competency standards set by the certifying agency. Continuing education may also meet standards required for RN renewal (http://codes.ohio.gov/orc/4723.24). However, this is not the case in all instances.
Additional Information
The Ohio Board of Nursing (http://www.nursing.ohio.gov) is the source of current information about advanced practice licensure. The Board can be reached by telephone at (614) 466-3947. Applicants and licensees may direct email to 'aprn at nursing.ohio.gov' or 'practice at nursing.ohio.gov' depending on the type of information sought.
The following state professional associations are not involved with the licensing process but serve as additional professional resources:
Ohio Association of Advanced Practice Nurses http://www.oaapn.org/
Ohio Association of Nurse Anesthetists http://www.osana.org/
Ohio Chapter of the American College of Nurse-Midwives http://midwivesofohio.org/
<!- mfunc search_btn -> <!- /mfunc search_btn ->
Find Nursing Licensure Requirements in Your State: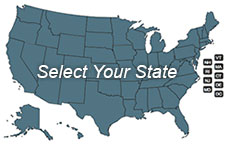 Learn about becoming a Registered Nurse, LPN or LVN in your state:
To View Full U.S. Map Click Here.