Advanced Practice Registered Nurse License Requirements in Oklahoma
Oklahoma's nurse practitioners and other advanced practice registered nurses are licensed as APRNs. There have been recent revisions to the Oklahoma Nurse Practice Act. Standards increase in 2016; these may affect endorsement applicants.
An APRN will also hold licensure as an RN. Nurses who do not Oklahoma RN licensure will need to apply for endorsement.
Oklahoma APRNs apply separately for prescriptive authority.
<!- mfunc feat_school ->
Featured Programs:
Sponsored School(s)
<!- /mfunc feat_school ->
Select an Oklahoma Advanced Practice Registered Nurse Topic:
APRN Educational Requirements in Oklahoma
A prospective APRN will pursue education at the graduate level (Nurse Practitioner programs in Oklahoma). The program must qualify the nurse for practice in one of four recognized roles. In order to be approved, an advanced practice program must meet standards set by the state, as included in the Nurse Practice Act and the rules promulgated under it.
A prospective nurse anesthetist will pursue a course of study accredited by the American Association of Nurse Anesthetists' Council on Accreditation of Nurse Anesthesia Educational Programs; a nurse midwife, a program accredited by the Accreditation Commission for Midwifery Education.
A clinical nurse specialist will pursue a program that holds accreditation, or is a candidate for accreditation, by one of the following three organizations: the Commission on Collegiate Nursing Education (CCNE), the Accreditation Commission for Education in Nursing (ACEN), or the Commission for Nursing Education Accreditation (CNEA).
Currently, a prospective nurse practitioner must graduate from a program that either 1) holds one of the above three accreditations or 2) meets Oklahoma mandates. To meet Oklahoma standards, a program must be university-based or affiliated and must include theory and content. It must comprise at least one year and must have measurable objectives related to the scope of practice. Beginning January 1, 2016, however, the program must hold one of the approved national accreditations or be a candidate for such.
Effective January 1, 2016, the Board will require that the advanced practice program have one of the following population foci:
Families and individuals across the lifespan
Neonatal
Pediatric
Adult-gerontology
Psychiatric/ mental health
Women's health/ gender
<!- mfunc search_btn -> <!- /mfunc search_btn ->
Certification Requirements
The advanced practice nurse must pass a certification examination and attain certification. The certification must be Board-recognized and consistent with training. There are many options, dependent on role and population focus. However, the Oklahoma Board stresses that not all advanced practice certifications are acceptable. One requirement is accreditation by the American Board of Nursing Specialties or the National Commission for Certifying Agencies.
The Board has approved a number of certifications offered by the following organizations:
American Midwifery Association
American Nurses Credentialing Center
National Certification Corporation
Pediatric Certification Board
American Academy of Nurse Practitioners
American Association of Critical-Care Nurses
National Board on Certification/Recertification of Nurse Anesthetists
Examinations offered by the following two organizations appear on the 2015 list, but are slated for removal:
HIV/AIDS Nursing Certification Board
Oncology Nursing Certification Corporation
Certifications change periodically as standards evolve. The Board periodically publishes and revises a document of approved certifications. Some certification examinations that were accepted in the past are no longer accepted. The document of approved certification programs includes a list of examinations no longer approved in Oklahoma as well as notations about which certifications are still allowable for endorsement candidates.
The Application Process
Application instructions can be found on the website of the Oklahoma Board of Nursing (http://www.ok.gov/nursing/forms3.html). The application itself may be submitted online. The applicant may instead request a hard copy from the Board.
The applicant will request that official transcripts be sent to the Oklahoma Board. If the nursing program is located out-of-state, the Board may request additional information.
Certification verification is also to be sent directly to the Board. If the certification agency is the American Association of Nurse Anesthetists, the American Midwifery Certification Board, or the National Certification Corporation, the Oklahoma Board may be able to verify status directly. In all cases, the applicant is to provide basic information about the certification on the application form.
Applicants who answer "yes" to questions about competency issues or adverse legal or professional history will be required to submit personal statements. In many cases, certified court or board documents will be required as well.
The application fee is $70.
A nurse whose RN license will be expiring in the near future is directed to renew RN status first.
Applicants must have fingerprint-based background checks. This step may be completed in advance. However, fingerprints cannot arrive more than 90 days before the application. The Board will mail coded fingerprint cards to out-of-state applicants. In-state applicants should go to an Oklahoma L-1 (MorphoTrust) center. They may register online http://www.identogo.com/FP/Oklahoma.aspx or call (877) 219-0197.
Out-of-State APRNs
Out-of-state applicants should be aware that Oklahoma has mandates for programmatic accreditation that apply even to endorsement candidates. These go into effect January 1, 2016.
Oklahoma requires that endorsement applicants be up-to-date in their qualifications. There are several ways to meet standards. The out-of-state licensee may have accrued 520 hours of work experience during the prior two-year period. He or she may instead complete a refresher course or six credit hours of academic coursework. To be creditable, academic coursework must include clinical and classroom instruction and must be geared toward the same role and population focus as the original program.
An endorsement candidate may be granted a temporary credential, valid for up to 90 days.
APRN Renewal
RN and APRN renewals are due at the same time. Currently, renewal is required on even-numbered years. The APRN will confirm that national certification is current.
Additional Information
The Oklahoma Board of Nursing (http://www.ok.gov/nursing/) can be reached by telephone at 405-962-1800.
Oklahoma boasts several advanced practice professional associations:
Association of Oklahoma Nurse Practitioners http://npofoklahoma.com/
Oklahoma Association of Clinical Nurse Specialists http://www.oacns.org/
Oklahoma Association of Nurse Anesthetists http://www.oana.org/
<!- mfunc search_btn -> <!- /mfunc search_btn ->
Find Nursing Licensure Requirements in Your State: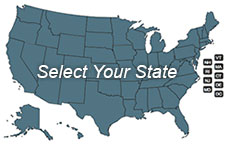 Learn about becoming a Registered Nurse, LPN or LVN in your state:
To View Full U.S. Map Click Here.