Advanced Practice Registered Nurse License Requirements in South Carolina
South Carolina's Advanced Practice Registered Nurses (APRNs) are licensed by the South Carolina Board of Nursing. South Carolina acknowledges all four advanced practice roles that are recognized on the national level. The following titles and abbreviations are used:
Nurse Practitioner (NP)
Certified Nurse Midwife (CNM)
Clinical Nurse Specialist (CNS)
Certified Registered Nurse Anesthetist (CRNA)
APRNs must meet all requirements for registered nursing (RN) licensure. The APRN license is placed on inactive status when the nurse achieves APRN status.
<!- mfunc feat_school ->
Featured Programs:
Sponsored School(s)
<!- /mfunc feat_school ->
RNs who seek APRN licensing must complete graduate nursing programs and pass national certification examinations. Educational requirements are modified for APRNs who graduated from advanced practice programs in the more distant past.
Select a South Carolina Advanced Practice Registered Nurse Topic:
APRN Educational Requirements
A prospective APRN may complete a program at the master's, post-master, or doctoral level (http://www.scstatehouse.gov/code/t40c033.php).
(See: South Carolina Nurse Practitioner programs)
CRNAs who graduated from accredited programs before December 31, 2003 may be licensed in South Carolina without holding degrees at the master's level.
Other advanced practice nurses can be exempted from the master's degree requirement if they graduated before December 31, 1994.
APRN Certification Requirements
The prospective APRN will seek national certification through a Board-approved third party certifying agency. Graduates are, in most cases, expected to achieve certification within a year of program completion. Psychiatric clinical nurse specialists are expected to achieve certification within two years of completion.
The Board maintains a list of approved certification organizations. It can be accessed from the home page of the Board of Nursing.
Currently, a nurse midwife must seek certification through the American Nurse Midwifery Certification Board (ANMC), a nurse anesthetist through the National Board of Certification & Recertification for Nurse Anesthetists (NBCRNA).
There are five approved nurse practitioner certification organizations: the American Nurses Credentialing Center (ANCC), the American Academy of Nurse Practitioners (AANP), the American Association of Critical-Care Nurses (AACN), the National Certification Corporation (NCC), and the Pediatric Nurses Certification Board (PNCB). According to the current Board list, ANCC offerings include Adult, Family, Gerontological, Acute Care, Pediatric Primary Care, Adult-Gerontology Acute or Primary Care, and Adult or Family Psychiatric-Mental Health. AANP options include Adult, Adult-Gerontology Primary Care, and Family. AACN certifications include Adult Acute Care and Adult-Gerontology Acute Care. Approved NCC certifications include Neonatal and Women's Health Care. One PNCB certification appears on the Board list: Pediatric.
A clinical nurse specialist may seek certification through the American Nurses Credentialing Center or the American Association of Critical Care Nurses. ANCC certifications include Adult Health, Gerontological, Adult-Gerontology, Pediatric, and Adult or Child/ Adolescent Psychiatric Mental Health. AACN options include Adult, Neonatal and Pediatric Acute Care and Adult, Neonatal and Pediatric Wellness through Acute Care.
Examination eligibility periodically changes.
<!- mfunc search_btn -> <!- /mfunc search_btn ->
Additional Requirements for Prescriptive Authority
A nurse practitioner, clinical nurse specialist, or nurse midwife who seeks prescriptive authority will need 45 contact hours of pharmacotherapeutics; qualifying coursework is to be completed in the two-year period prior to application.
Out-of-state APRNs who hold prescriptive authority constitute an exception; in this case, the requirement is 20 hours. Again, coursework must be recent.
The APRN will need to complete at least 20 hours of continuing education in pharmacotherapeutics during each two-year period.
CRNAs are not required to obtain prescriptive authority to administer anesthesia.
Background Check Requirement
Applicants are required to have fingerprint-based criminal background checks performed. There are separate procedures for in-state and out-of-state applicants. In-state applicants should schedule electronic fingerprinting through the approved vendor, Identogo (http://www.identogo.com/FP/SouthCarolina.aspx). Identogo can be reached by telephone at 866-254-2366.
Out-of-state applicants should have their fingerprints made on traditional FD-258 fingerprint cards, then scanned by Identogo. Out-of-state instructions are available on the South Carolina page of the Identogo website (http://www.l1enrollment.com/state/forms_sc/). Candidates will need the ORI number found in the application packet. Identogo does not provide blank FBI cards, but applicants may request them from the South Carolina Board.
The Application Process
Applicants are asked to read applicable law (Section 40-33-34 of the Nurse Practice Act) before submitting their applications.
Application forms and instructions are available for download from the Board website (http://www.llr.state.sc.us/POL/Nursing/index.asp?file=pub.htm#APRN). Applicants also have the option of submitting their applications electronically.
An RN who is currently licensed in South Carolina will file an update application. An out-of-state nurse will file an endorsement application.
All applicants are required to document education and certification. Transcripts are to be sent directly to the South Carolina Board from the issuing institution. A copy of the certification may suffice.
The applicant will attach a small signed photograph to the application.
An upgrade applicant will include a copy of his or her South Carolina RN license.
Out-of-state nurses will submit verification of original RN licensure and APRN licensure. Those who were originally licensed in a state that uses the NURSYS verification system may carry out the process online.
Endorsement applicants pay $130; there is an additional $10 fee for temporary licensure, if required.
Upgrade applicants pay just $30 unless seeking temporary licensure; those seeking temporary advanced practice licensure pay $40.
An upgrade application typically takes ten business days to process.
There is a separate application for prescriptive authority. The fee is $20.,/p>
Licenses are renewed on a biennial basis.
Additional Information
The South Carolina Board of Nursing (http://www.llr.state.sc.us/POL/Nursing/index.asp) can be reached by telephone at (803) 896-4550 or by email at 'NURSEBOARD at llr.sc.gov'.
Advanced practice nursing associations include the APRN Chapter of the South Carolina Nurses Association (http://www.scnurses.org/?APRN) and the South Carolina Association of Nurse Anesthetists (http://www.sccrna.org/).
<!- mfunc search_btn -> <!- /mfunc search_btn ->
Find Nursing Licensure Requirements in Your State: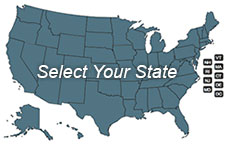 Learn about becoming a Registered Nurse, LPN or LVN in your state:
To View Full U.S. Map Click Here.