Licensed Nurse Practitioner Requirements in Virginia
Virginia's Licensed Nurse Practitioners (LNPs) are under the joint jurisdiction of the Board of Nursing and the Board of Medicine. Nurse midwife and nurse anesthetist are considered nurse practitioner specialties; the Board recognizes eight other specialties, representing various populations and areas of practice.
Nurse practitioners are licensed on the basis of graduate education and specialty certification.
Clinical nurse specialists are not considered nurse practitioners. However, they are registered with the Board of Nursing.
Nurse practitioners and clinical nurse specialists are licensed as registered nurses. If the nurse's home state is another state that is party to the nurse license compact, the nurse will hold RN licensure in the other state.
<!- mfunc feat_school ->
Featured Programs:
Sponsored School(s)
<!- /mfunc feat_school ->
Select a Virginia Nurse Practitioner Topic:
Nurse Practitioner Specialties
Virginia nurse practitioner licensing is not generic; licenses are issued with a specialty designation. According to state regulation, the following specialties are available to new applicants:
Acute Care Nurse Practitioner
Adult Nurse Practitioner
Certified Nurse Midwife
Certified Registered Nurse Anesthetist
Family Nurse Practitioner
Geriatric Nurse Practitioner
Neonatal Nurse Practitioner
Pediatric Nurse Practitioner
Psychiatric Nurse Practitioner
Women's Health Nurse Practitioner
The Committee of the Joint Boards of Nursing and Medicine may consider other specialties that meet requirements described in state code.
Nurse Practitioner Education
A prospective nurse practitioner will need to complete a graduate Nurse Practitioner program in a clinical specialty. The program must be approved. A program can be considered approved if it is accredited by an acceptable organization. The Joint Committee has approved the following agencies:
American College of Nurse Midwives
Commission on Collegiate Nursing Education
Council on Accreditation of Nurse Anesthesia Educational Programs/Schools
National League for Nursing Accrediting Commission*
The licensing agency may approve other programs that are located within schools of nursing or are offered jointly by schools of nursing and schools of medicine and meet other minimal standards (acceptable accreditation, issuance of graduate degree).
*The NCNAC is now the Accreditation Commission for Education in Nursing (http://www.acenursing.net/acenursing/ACEN).
Nurse Practitioner Certification
A nurse practitioner may be granted provisional licensure after completing educational requirements. However, full licensure depends on achieving national certification.
There are multiple nationally recognized organizations that offer advanced practice nursing certification in the various specialty areas. The Board accepts nurse practitioner, nurse midwife, and nurse anesthetist certification agencies that are recognized by the United States Department of Education or accepted by the National Council of State Boards of Nursing. Currently, the list includes the following:
American Academy of Nurse Practitioners
American Association of Critical-Care Nurses Certification Corporation
American Midwifery Certification Board
American Nurses Credentialing Center
National Board of Certification and Recertification for Nurse Anesthetists
National Certification Corporation
Pediatric Nursing Certification Board
The Joint Committee has the authority to recommend other certifications for approval. They must be examination-based; the certification agency must make completion of an approved program an eligibility requirement.
<!- mfunc search_btn -> <!- /mfunc search_btn ->
Provisional Nurse Practitioner Licensing
Graduates may be issued provisional licenses that will authorize practice until such time as 1) they are awarded permanent licensure 2) they receive notification of examination failure or 3) six months elapse.
An applicant seeking provisional licensure will need to have the certifying agency provide documentation of examination eligibility directly to the licensing agency.
Obtaining Prescriptive Authority
A Virginia nurse practitioner who holds current certification can be granted prescriptive authority.
A nurse practitioner can also be granted prescriptive authority on the basis of recent coursework in pharmacology or pharmacotherapeutics, whether or not the coursework was taken for academic credit. The licensing agency will look for one academic course or 30 contact hours. To be creditable, education must have been obtained during the prior five year period.
An experienced nurse practitioner may be granted prescriptive authority on the basis of recent practice and continuing education related to his or her practice area; the licensing agency will look for 1,000 hours of practice and 15 hours of continuing education during each of the preceding two years.
An LNP who holds prescriptive authority will need at least eight hours of pharmacology/ pharmacotherapeutics continuing education during each two year renewal period.
Out-of-State Nurse Practitioners
An out-of-state nurse practitioner can be licensed in Virginia on the basis of a current or lapsed out-of-state license if national certification is current. The license must be in good status or have lapsed while in good status.
The endorsement candidate will need to provide evidence of national certification in a specialty that is consistent with his or her education.
The Nurse Practitioner Application Process
The application process for initial NP licensure is now online (https://www.dhp.virginia.gov/nursing/nursing_forms.htm).
The applicant will need to provide evidence of national certification and qualifying education.
The LNP application fee is $125.
Renewal Requirements
Nurse practitioners must provide evidence of current certification, unless they were licensed in the past without national certification, in which case they will provide evidence of continuing education (https://www.dhp.virginia.gov/nursing/nursing_faq.htm).
A nurse practitioner who is licensed in another compact state must also provide evidence of continued licensing.
Clinical Nurse Specialist Requirements and Application Process
Prospective clinical nurse specialists are also required to pursue graduate education in nursing specialties and then seek national certification.
The clinical nurse specialist can apply online for Virginia registration.
Additional Information
Licensing information is available from the Virginia Board of Nursing (http://www.dhp.virginia.gov/nursing). Nurse practitioner, nurse anesthetist, and nurse midwife credentialing requirements are described in "Regulations Governing the Licensure of Nurse Practitioners" (http://www.dhp.virginia.gov/nursing/nursing_laws_regs.htm). Clinical nurse specialist information is found in the chapter "Regulations Governing the Practice of Nursing" (http://www.dhp.virginia.gov/nursing/nursing_laws_regs.htm_). Regulations change periodically; there were some revisions in 2015. The Board can be reached by telephone at (804) 367-4515 or by email at 'nursebd at dhp.virginia.gov'.
The state boasts multiple advanced practice professional associations:
Virginia Council of Nurse Practitioners http://www.vcnp.net/
Virginia Affiliate of the American College of Nurse Midwives http://www.virginianursemidwives.com/
Virginia Association of Nurse Anesthetists http://www.vana.org/
<!- mfunc search_btn -> <!- /mfunc search_btn ->
Find Nursing Licensure Requirements in Your State: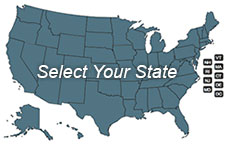 Learn about becoming a Registered Nurse, LPN or LVN in your state:
To View Full U.S. Map Click Here.