Advanced Registered Nurse Practitioner Requirements in Washington
Washington State's Advanced Registered Nurse Practitioners (ARNPs) are regulated by the Nursing Care Quality Assurance Commission, a part of the Washington Department of Health (DOH). ARNP is a broad license category that includes three advanced nursing roles: Nurse Practitioner (NP), Certified Nurse Midwife (CNM), and Certified Registered Nurse Anesthetist (CRNA). Of these, NP is the most common specialty. Clinical nurse specialists are not licensed in Washington.
ARNPs also hold licensing as Washington registered nurses, or RNs. Washington does not belong to the nurse license compact.
Select a Washington State Advanced Registered Nurse Practitioner Topic:
ARNP Educational Standards
A prospective ARNP must complete an approved advanced practice program. A nurse practitioner program may have a broad focus – family practice – or may focus on a narrower population (Nurse Practitioner programs in Washington State). The Nursing Commission reported that in 2013 to 2014, 138 of the state's newest master's level advanced practice nurses were family practice NPs; adult NP was a distant second with ten. The Commission notes that practitioners may not practice beyond their training but are allowed to sub-specialize and serve only a segment of the population that they were trained to serve.
<!- mfunc feat_school ->
Sponsored School(s)
Featured Programs:
Simmons University

: Designed for currently licensed Registered Nurses,

Nursing@Simmons

enables aspiring FNPs to earn an MSN online. Several scholarships are available for qualified applicants. **RN required.

Click Here

to learn more.

---

Utica College

is offering Online MS - Family Nurse Practitioner (FNP), MS - Nursing Leadership and MS - Nursing Education programs.

Click Here

to learn about program requirements and outcomes.

---

Seton Hall University

offers CCNE accredited Online MSN programs in Adult-Gerontology Nurse Practitioner and Health Systems Administration with Case Management.

Click Here

to learn about these programs. *Seton Hall University online programs are not available in Alabama, California, Kansas, Louisiana, Oregon, Tennessee, Wyoming.
<!- /mfunc feat_school ->
Washington State programs meet requirements found in WAC 246-840-455 (http://apps.leg.wa.gov/WAC/default.aspx?cite=246-840-455). Programs include diagnostic theory and health management, advanced coursework in physiology, health assessment, and pharmacology, and clinical and didactic preparation for the advanced practice role. Students will receive no fewer than 500 hours of patient care under faculty oversight. A Washington program will seek accreditation through an agency recognized by the Council on Higher Education Accreditation or the United States Department of Education. The Commission has provided a list of approved programs, current as of October 2015 (http://www.doh.wa.gov/LicensesPermitsandCertificates/NursingCommission/NursingEducation/NursingPrograms).
Any program located within the United States is expected to hold national accreditation (http://app.leg.wa.gov/wac/default.aspx?cite=246-840-340). Prospective nurse practitioners may find similarities between Washington standards and those set by their certifying agency. The American Nurses Credentialing Center, which offers a variety of certifications for nurse practitioners, lists among the requirements, 500 hours of clinical work under faculty supervision (http://www.nursecredentialing.org/certification.aspx). The ANCC mandates discrete courses in advanced physiology, health assessment, and pharmacology. It is expected that applicants will have completed programs that hold accreditation by the Commission on Collegiate Nursing Education or the Accreditation Commission for Education in Nursing. (International candidates will have additional steps.)
Some out-of-state advanced practice programs have been approved to provide clinical placements in Washington. The Commission has provided a list (http://www.doh.wa.gov/LicensesPermitsandCertificates/NursingCommission/NursingEducation/NursingPrograms). The list does not include those that have been approved only for single student placements.
Washington allows some exceptions to educational requirements (http://www.doh.wa.gov/LicensesPermitsandCertificates/NursingCommission/AdvancedRegisteredNursePractitioner/LicenseRequirements). Out-of-state licensees who are in good standing and have practiced actively during the previous two-year period may be licensed on the basis of programs of a year or more whether not they resulted in conferral of a graduate degree; a graduate degree is a requirement only for endorsement candidates who graduated in 1995 or later.
Certification Requirements
The student will need pass a national certification examination at some point after educational requirements have been met. Washington has approved four nurse practitioner certification organizations (http://app.leg.wa.gov/wac/default.aspx?cite=246-840-302):
American Nurses Credentialing Center
American Academy of Nurse Practitioners
Pediatric Nursing Certification Board
National Certification Corporation for Obstetric, Gynecological, and Neonatal Nursing
Nurse midwives take their certification examinations through the American Midwifery Certification Board while CRNAs go through the National Board of Certification and Recertification for Nurse Anesthetists.
Additional State-Specific Requirements
The applicant must complete seven hours of HIV/ AIDS training. (Many applicants will have received this as part of their program.)
An individual who is applying for prescriptive authority will need to demonstrate 30 hours of continuing education coursework in pharmacology, earned within the most recent two year period.
Active Practice Requirement
Applicants who graduated a year or more in the past are expected to have practiced in an advanced practice capacity for at least 250 hours during the preceding two years.
The Application Process
Applications are submitted after educational requirements have been met. An individual who has registered for a national examination may be granted an interim permit (http://app.leg.wa.gov/wac/default.aspx?cite=246-840-350). Status will be Graduate Advanced Registered Nurse Practitioner (GARNP).
Graduates are expected to apply for licensure within a year of graduation. Prospective licensees may petition for exemption in cases of hardship.
Application forms can be downloaded from the DOH website (http://www.doh.wa.gov/LicensesPermitsandCertificates/NursingCommission/AdvancedRegisteredNursePractitioner/ApplicationsandForms).
Applicants are asked to request official transcripts and have them sent directly to the licensing agency. However, DOH may accept transcripts in envelopes sealed by the institution.
Certification verification is also to be provided directly by the certifying organization.
The initial application fee is $92.
The applicant will need to attest to having read particular portions of Washington code; links are found in the application packet.
The application and fee are sent to the Department of Health. Documents that are sent later should be directed to the Nursing Commission.
The licensing agency will communicate via email.
International Applicants
International education must be equivalent (http://app.leg.wa.gov/wac/default.aspx?cite=246-840-340).
Organizations such as the American Nurses Credentialing Center require review of international credentials prior to certification.
ARNP Renewal
ARNP licenses are renewed every two years. The ARNP is expected to practice at least 250 hours in the advanced practice role and do at least 30 hours of continuing education.
An ARNP who has two licenses (for example, as an NP and CNM) will have higher requirements; one who has one license but multiple specialties/ certifications will not.
It will be necessary to complete 15 hours of pharmacotherapeutics coursework to renew prescriptive authority; these hours are in addition to the hours required for ARNP renewal. Coursework is to relate to the APRN's certification.
Additional Information
Information about Advanced Registered Nurse Practitioner credentialing is available from the Washington State Department of Health http://www.doh.wa.gov/LicensesPermitsandCertificates/NursingCommission
The Nursing Care Quality Commission can be reached by telephone at 360-236-4700 or by email at nursing at doh.wa.gov. Rules in progress are posted on the website (http://www.doh.wa.gov/LicensesPermitsandCertificates/NursingCommission/RulesinProgress). Interested individuals can join the Commission ListServ.
Additional professional resources include the following:
ARNPs of Washington State https://auws.enpnetwork.com/
American College of Nurse Midwives (ACNM) Washington Affiliate http://www.midwivesofwa.org/
Washington Association of Nurse Anesthetists http://wana-crna.org/
Washington State Nurses Association-Advanced Practice http://www.wsna.org/nursing-practice/advanced-practice
Find Nursing Licensure Requirements in Your State: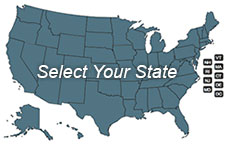 Learn about becoming a Registered Nurse, LPN or LVN in your state:
To View Full U.S. Map Click Here.